The number of catheter types and designs has increased with the advancement of new technology. This has added complexity to the catheterization process for both the nurse and the patient
General Considerations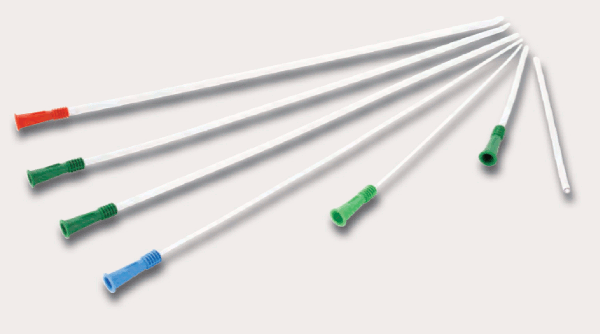 Catheter Sizing
Catheter types are now gender specific, acknowledging the anatomical differences in urethral length between men and women.
Standard male catheter length is 16" (~40cm)
Female catheters range in length from 6-12
Pediatric lengths are 6-10".
Many women find that shorter catheters do not shift and are easier to grasp and insert.
Measurement Units
A catheter diameter is measured in French units, similar to the size of indwelling urinary catheters. Sizes range from 6-12 French for children and 14-22 French for adults. The funnel end of the catheter is often color coded to allow for easier size identification.
Packaging
Some catheters are sold individually packaged, are more compact, and can be easily carried in a purse or pocket.
Intermittent Catheter Types
There are two main designs of catheters used for intermittent bladder drainage: coated and uncoated.
Noncoated
Noncoated catheters require separate external gel lubrication, before insertion and catheters with a coating that provides the lubrication when water is applied. Uncoated red rubber catheters are not appropriate for anyone with latex sensitivities and the flexibility of a red rubber catheter can make it difficult to insert.
Coated
Coated catheters are designed to improve catheter lubrication and ease of insertion, which may reduce trauma and urinary tract infections. The most common coating is a hydrophilic coating as there is evidence supporting single-use HC catheters' ability to prevent some of the most common catheter-associated complications, such as urethral trauma and CaUTIs.
In addition, design changes include the integration of all needed equipment (such as catheter, water-based lubricant, and drainage receptacle/ bag) into a compact and user-friendly system (closed system). The clinician who instructs the patient usually recommends the catheter choice, so knowledge of the different types of catheters is important.
Impact of Packaging
The type of catheter packaging can be decisive in the choice of a catheter. Consideration is made to the general clinical condition of the patient (injury, hand dexterity, any visual impairment, urethral considerations, gender, and age, are also considered before the cause of the bladder dysfunction.
The patient may need to try several catheters before finding the preferred type. Often patients require one type of catheter for use in their home and another for use when traveling or working or bring away from their own home.
Comparison of Types
Types

Characteristics

Concerns

Non-coated

Most commonly used catheter - made of medical-grade plastic (PVC) or silicone
Available in range of stiffness
Generally packaged with a separate gel. Usually in a foil packet that must be opened and applied directly to the catheter prior to insertion.

Applying the lubrication gel is an extra step, can be messy, and can be difficult to ensure complete lubrication of the entire catheter.

Hydrophilic coated (HC)

Have a polymer coating that adheres to the catheter surface that becomes slippery and smooth when wet. Coating ensures lubrication of the entire urethra during the catheter insertion and withdrawal, thereby reducing the coefficient of friction by at least 95%. Developed with the goal of reducing trauma during the catherterization process.

Becomes slippery and the sleeve provides ease for the patient to grasp and manipulate for insertion.
Single use only.
May not be covered by patients medical insurance.

Closed systems

Gel
Hydrophilic
Antibacterial

Pre-lubricated intermittent catheter with an attached collection bag and often includes a protective introducer tip
All inclusive - includes gloves, drape, underpad, antiseptic wipe or swabs
Allows user to catheterize without touching the catheter
Used for sterile technique

Can be difficult for some with limited dexterity to advance the catheter through the collection bag
Single use only
Video Lecture - Catheter Types and Designs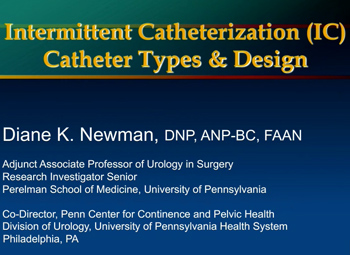 References
Chartier-Kastler E, Amarenco G, Lindbo L, et al. A prospective, randomized, crossover, multicenter study comparing quality of life using compact versus standard catheters for intermittent self-catheterization. J Urol. 2013;190(3):942-947.
Christison K, Walter M, Wyndaele JJM, et al. Intermittent catheterization: The devil is in the details. J Neurotrauma. 2018 Feb 1. doi: 10.1089/neu.2017.5413doiChristison K, Walter M, Wyndaele JJM, et al. Intermittent catheterization: The devil is in the details. J Neurotrauma. 2018 Feb 1. doi: 10.1089/neu.2017.5413
DeFoor W, Reddy P, Reed M, et al. Results of a prospective randomized control trial comparing hydrophilic to uncoated catheters in children with neurogenic bladder. J Pediatr Urol. 2017.
Goetz LL, Droste L, Klausner AP, Newman DK. Catheters Used for Intermittent Catheterization. Clinical Application of Urologic Catheters, Devices and Products. Cham: Springer International Publishing; 2018:47-77.
Håkansson MA. Reuse versus single-use catheters for intermittent catheterization: what is safe and preferred? Review of current status. Spinal Cord. 2014;52(7):511-516.
Newman DK. Devices, products, catheters, and catheter-associated urinary tract infections. In: Newman DK, Wyman JF, Welch VW, editors. Core Curriculum for Urologic Nursing. 1st ed. Pitman (NJ): Society of Urologic Nurses and Associates, Inc; 2017. p.439-66.
Newman DK, Willson MM. Review of intermittent catheterization and current best practices. Urol Nurs. 2011 Jan-Feb;31(1):12-28, 48; quiz 29. PubMed PMID: 21542441
Rognoni C, Tarricone R. Intermittent catheterization with hydrophilic and non-hydrophilic urinary catheters: systematic literature review and meta-analyses. BMC Urol. 2017;17(1):4.
Shamout S, Biardeau X, Corcos J, Campeau L. Outcome comparison of different approaches to self-intermittent catheterization in neurogenic patients: a systematic review. Spinal Cord. 2017;55(7):629-643.

Last Updated: August 2019