San Francisco, CA (UroToday.com) TITAN was a double-blind, placebo-controlled, phase III study which evaluated apalutamide 240 mg/day for patients with metastatic castration sensitive prostate cancer (mCSPC).1


In this study, which included 10.7% of patients who received prior docetaxel therapy, at the first interim analysis, overall survival (OS) at 24 months was improved with the addition of apalutamide (82% vs 73%) and the major side effect difference was rash. 51% of patients received subsequent prostate cancer therapy at the initial data cutoff, with 50.6% receiving subsequent hormonal therapy and 40.2% receiving subsequent chemotherapy. This oral presentation updates the original dataset and provides time to second progression by the different second-line therapies.
277 patients have received subsequent therapy for prostate cancer in this study. The majority of these patients originally received a placebo (190/277, 69%). 87 (31%) had received apalutamide. Of these 277 patients, 31% (86) received hormonal therapy next, in the form of either abiraterone or enzalutamide, and 25% (99) received chemotherapy (docetaxel or cabazitaxel) as their 1st subsequent therapy.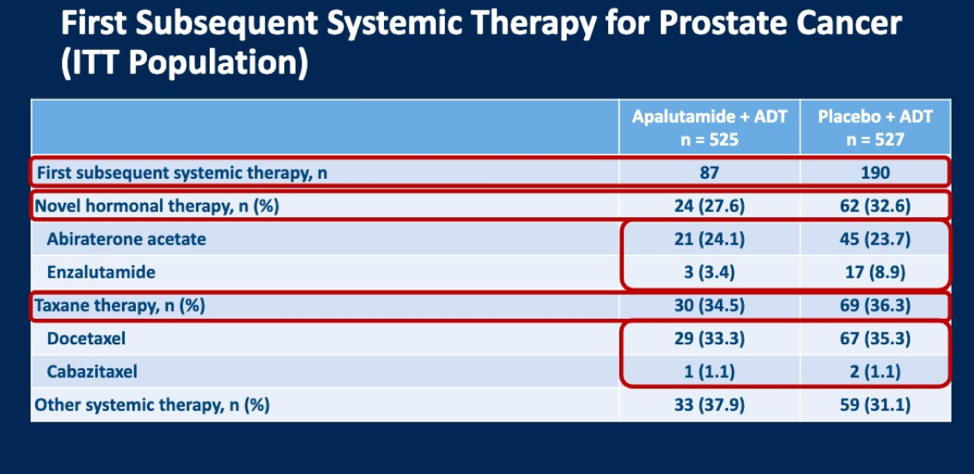 For patients receiving hormonal therapy, the median treatment duration was 11.9 months for those who initially received apalutamide and 11.1 months for those who received the placebo. In terms of chemotherapy, treatment duration was 11.0 months for apalutamide and 11.3 months for placebo. Regardless of whether or not a patient received hormonal therapy or chemotherapy in the second line, patients who initially received apalutamide had a decreased risk of the second progression compared to patients who received placebo initially.


This study demonstrates that taking apalutamide in the first line reduces the risk of progression regardless of which therapy you choose between another hormonal agent or chemotherapy. One question that was bought up in the discussion was why patients who received placebo initially progressed at relatively the same rate as those receiving apalutamide who subsequently received another hormonal agent. Longer follow-up is necessary to evaluate for OS in this study as the median OS has not yet been reached.

Written by: Jason Zhu, MD. Medical Oncologist, Division of Genitourinary Cancers, Levine Cancer Institute, Twitter: @TheRealJasonZhu, at the 2020 Genitourinary Cancers Symposium, ASCO GU #GU20, February 13-15, 2020, San Francisco, California
Presented By: Neeraj Agarwal, MD, Professor in the Division of Oncology, Department of Medicine, University of Utah School of Medicine, Salt Lake City, UT
References: