Chicago, IL (UroToday.com) Most renal cell carcinomas (RCC) are clear cell (80%).1 The clinical trial data for non-clear cell RCC (nccRCC) is, therefore, limited.2 The treatment guidelines for advanced nccRCC recommend enrollment in clinical trials or the use of the vascular endothelial growth factor inhibitor, sunitinib.3 There is an unmet need for a safe and effective treatment for advanced nccRCC patients. Therapies targeting the PD-1 pathway appear promising for clear cell RCC,2 but there is limited known data on the efficacy of a single agent PD-1 checkpoint inhibitor therapy in nccRCC.

Pembrolizumab is a highly selective humanized monoclonal antibody that blocks the interaction between PD-1 and its ligands, PD-L1, and PD-L2. It currently has several indications for multiple types of solid tumors. KEYNOTE-427 (NCT02853344) is an open-label, multicenter, global phase 2 study (Figure 1) evaluating the efficacy and safety of pembrolizumab as a first line treatment for patients with advanced or metastatic RCC. It is divided to:

Cohort A – showing the promising antitumor activity of a single agent pembrolizumab in previously untreated clear cell RCC4
Cohort B – Assessed single agent pembrolizumab in previously untreated nccRCC patients.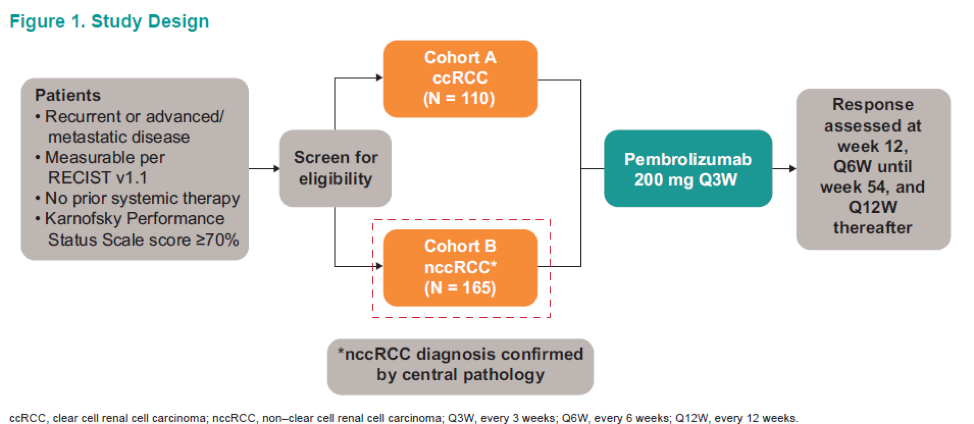 The objective of this study was to evaluate the efficacy, safety, and tolerability of pembrolizumab monotherapy in patients with nccRCC (cohort B) over one year of follow-up.

The patients in cohort B were required to have histologically confirmed nccRCC, measurable per the RECIST v 1.1 criteria, and not to have received prior systemic therapy of advanced RCC. The treatment continued until confirmed disease progression, unacceptable toxicity, completion of 35 doses of pembrolizumab, or withdrawal of consent. The primary endpoint was objective response rate (ORR). The secondary endpoints included duration of response (DOR), disease control rate, progression-free survival, overall survival, safety and tolerability, and ORR and DOR by the IMDC risk status. Additional exploratory endpoints were analyzed.

The patient disposition is shown in Figure 2, and baseline characteristics are shown in Table 1. Table 2 shows the confirmed ORR in the entire cohort and patient subgroups per RECISTS v1.1. Discontinuation of treatment due to treatment-related adverse events were reported in 12 (7%) patients. A total of 7 patient died because of adverse events. Figure 4 demonstrates the time to response and duration to response. Figure 5 demonstrates the Kaplan-Meier curves of the duration of response. Table 3 demonstrates the duration to response and time to response. Lastly, Figure 6 demonstrates the progression-free survival and overall survival of the entire cohort.

The authors concluded that after more than one year of follow-up, KEYNOTE-427 cohort B results continue to show the promising antitumor effect with first-line pembrolizumab monotherapy in nccRCC. The overall response rate (ORR) for the overall population was 21.6%, 28% for papillary RCC, 30.8% for unclassed RCC, and for chromophobe, it was 9.5%. A total of 35% of the patients were PD-L1 positive. The median duration of response (DOR) was 15.3 months, and more than half the patients had a response lasting more than 12 months. Lastly, the safety profile was as expected based on previously described studies. These results support further evaluation of pembrolizumab in patients with advanced nccRCC.



Presented by: Jae-Lyun Lee, MD, PhD, Asan Medical Center and University of Ulsan College of Medicine, Seoul, South Korea

Written by: Hanan Goldberg, MD, Urologic Oncology Fellow (SUO), University of Toronto, Princess Margaret Cancer Centre, @GoldbergHanan at the 2019 ASCO Annual Meeting #ASCO19, May 31- June 4, 2019, Chicago, IL USA
References:
Zhang T et al. Systematic Therapy for Non-Clear Cell Renal Cell Carcinoma. Am Soc Clin Educ Book, 2017;37:337-342.
Heng DY et al. Non-clear cell renal cancer: features and medical management. J Natl Compr Cnc Netw. 2009 Jun;7(6):659-65.
NCCN guidelines