(UroToday.com) Dr. Taplin began her discussion of the VISION trial by first reviewing the current therapeutic landscape of prostate cancer. While there are many life-prolonging options, unfortunately, the duration of response to these therapies in sequence is often short. The VISION trial was set up to evaluate the use of lutetium-PSMA in late-stage advanced prostate cancer after patients had received a second generation androgen-receptor signaling inhibitor and at least one but no more than two chemotherapies.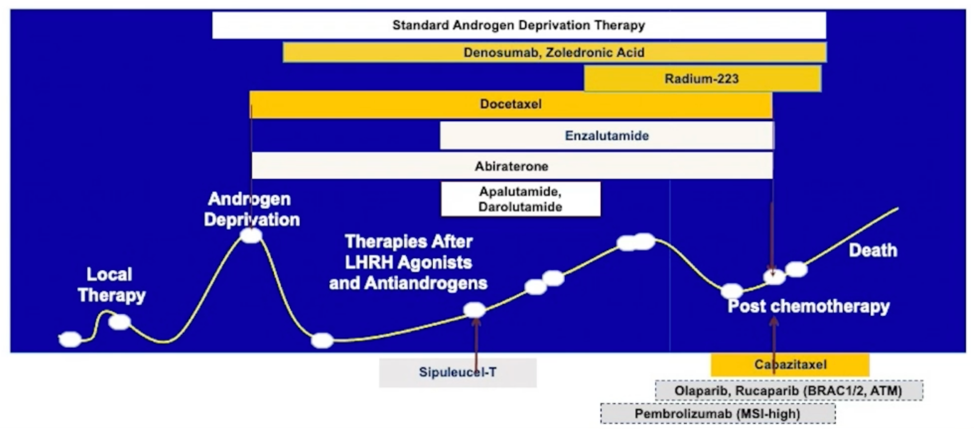 Dr. Taplin first her enthusiasm for the potential of PSMA-targeted radioligand pharmaceuticals. In this trial, she noted the investigators chose to use a "minimum positivity criteria" meaning that only 1 PSMA positive lesion was required, and multiple small PSMA-negative metastatic lesions were allowed. This resulted in a very high screening positivity rate (87%), which suggests the question of whether PSMA-PET imaging is required for use of this therapy. As a comparator, she discussed that we do not screen patients for any characteristics that might dictate response to androgen deprivation therapy, but rather trial it for all patients. Dr. Taplin wondered if the trial would have been positive in all enrolled patients.
Next, Dr. Taplin noted that enrollment of minority populations in this trial was quite low.
The trial was clearly positive, conferring a statistically significant four-month survival benefit with clear separation of the survival curves. However, she noted that in some ways she was disappointed that despite the novel therapeutic mechanism, this trial had similar outcomes to other trials over the past few decades in the same space. For context, she provided the table below which compares VISION to other phase three trials for FDA-approved mCRPC therapies. She also noted there is very little long-term benefit from the therapy, as only 10% of evaluable patients were alive two years after randomization.
Regarding the early high rate of dropout in the standard of care arm, Dr. Taplin noted that it is the responsibility of the consenting physician to educate patients about clinical trial requirements and not enroll patients who cannot or will not follow trial design. In the later discussion with Dr. Morris, there were thought to be at least two reasons for the early dropout. One was a disconnect between the nuclear medicine and medical oncology departments at certain centers as both treatment teams were needed for the care of enrolled patients. The second reason was likely a loss of equipoise as patients were enrolled on the trial to try and get the therapy.

Dr. Taplin then discussed the significance of there also being an rPFS benefit for this therapy. While overall survival is the key endpoint, an rPFS improvement of five months still reflects an improvement in quality of life for patients. This is in contrast to other approved mCRPC therapies such as radium-223 which did not show an rPFS benefit but did show an overall survival benefit.

The therapy was reasonably well tolerated, though there are side effects that require management like fatigue, dry mouth, nausea, vomiting, and cytopenias. There is a note of incidence of secondary malignancy, which were mostly skin cancers likely unrelated to the treatment.

There are likely to be access issues for this therapy in the United States as many centers do not currently have routine access to PSMA-PET or the facilities to administer Lu-PSMA.

Much work remains to understand the efficacy of these therapeutic modalities more fully. Could there be synergy in combination with radiotherapy, PARP inhibition, or chemotherapy in certain patient populations? What is the role of Lu-PSMA in earlier disease? And ultimately, which of the 30 radiopharmaceuticals in development may end up being the most efficacious and least toxic. Dr. Taplin ended her talk on an optimistic note, expressing her hope that this novel therapeutic strategy may ultimately prove to be helpful for patients across the spectrum of prostate cancer treatment. For general understanding of radiopharmaceuticals in cancer, Dr. Taplin recommended reading a review article by Sgouros et al.1

Presented by: Mary-Ellen Taplin, MD, Director of Clinical Research at the Lank Center for Genitourinary Oncology and Physician at the Dana-Farber Cancer Institute, Professor of Medicine at Harvard Medical School, Boston, MA


Written by: Alok Tewari, MD, PhD, Medical Oncologist at the Dana-Farber Cancer Institute, at the 2021 American Society of Clinical Oncology (ASCO) Annual Meeting, Virtual Annual Meeting #ASCO21, June, 4-8, 2021

References:
1. Sgouros S, Bodei L, McDevitt M, et al., Nedrow Radiopharmaceutical therapy in cancer: clinical advances and challenges. Nature Reviews Drug Discovery. 2020(19): 589–608

ASCO 2021: VISION Study Results – Phase III Study of Lutetium-177-PSMA-617 in Patients With Metastatic Castration-Resistant Prostate Cancer