(UroToday.com) Genomic characterization of bladder carcinoma in situ (CIS) mostly has been in the context of concurrent papillary tumors, and not necessarily unique CIS. Dr. Noah Hahn presented results investigating the feasibility of obtaining high-quality transcriptome data from CIS specimens utilizing the novel extraction-free EdgeSeq Precision Immuno-Oncology Panel (PIP) platform.



Cancer cells were macro-dissected from 135 unstained 5-micron thick slide specimens of archival paraffin-embedded pure CIS, CIS with concurrent papillary, and pure papillary tumors. 64% of patients were BCG-naïve. Samples were analyzed on the PIP panel comprised of 1,410 immunomodulatory genes. PIP data 87% specimens, including 84% of CIS specimens passed all quality control metrics and were included in analyses. Principal components analyses distinguished CIS from pure papillary specimens. Compared to high-grade papillary, CIS with or without concurrent papillary specimens demonstrated increased expression of genes featured in the epithelial-mesenchymal transition pathway.

In the subset of evaluable patients who received subsequent BCG therapy (n = 26), increased expression of antigen presentation and B-cell function genes were associated with a recurrence-free survival of 12 months or more (p < 0.001, FDR < 0.1; Figure).

Figure: Comparison of BCG responders versus non-responders.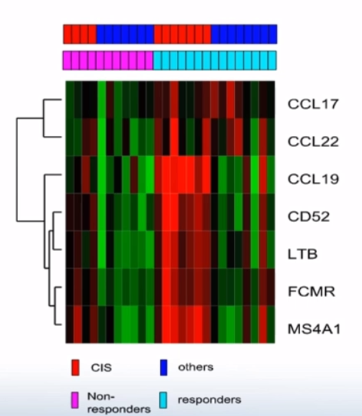 Dr. Hahn emphasized that at this time, the study primarily demonstrated the feasibility of using the PIP platform for comprehensive transcriptome profiling of archived CIS specimens, including pure CIS samples.

Presented by: Noah M. Hahn, MD, Johns Hopkins Sidney Kimmel Comprehensive Cancer Center, Johns Hopkins Greenberg Bladder Cancer Institute, James Buchanan Brady Urological Institute, Baltimore, MD, USA


Written by: Anirban P. Mitra, MD, Ph.D., Urologic Oncology Fellow, The University of Texas MD Anderson Cancer Center, Houston, TX, USA, Twitter: @APMitra, with Ashish M. Kamat, MD, MBBS, President of IBCN and IBCG, Endowed Professor, The University of Texas MD Anderson Cancer Center, Houston, TX, USA, Twitter:@UroDocAsh, at the International Bladder Cancer Network (IBCN) Annual Meeting, #IBCN2020, October 17, 2020.