(UroToday.com) The 2023 European Society of Medical Oncology (ESMO) Annual Congress held in Madrid, Spain between October 20th and 24th, 2023 was host to a non-prostate, genitourinary tumors mini oral session. Dr. Roberto Iacovelli presented the results of TIDE-A, a phase II study of avelumab plus intermittent axitinib in previously untreated patients with metastatic renal cell carcinoma (RCC).
Combinations of immune checkpoint inhibitors (CPI) with PD-1/L-1 inhibitors plus either CTLA-4 inhibitors or VEGFR-TKIs are the standard of care first line therapy for patients with mRCC across IMDC risk categories. In clinical trials of anti-PD-1/L-1 + VEGFR-TKIs, the VEGFR-TKI was reduced by 40 – 65% and discontinued by 7 – 30% of patients due to adverse events. Two studies (STAR3 and NCT011582224) have been reported and demonstrated that a TKI 'treatment break' is feasible in patients receiving 1st line therapy for mRCC with VEGFR-TKI alone. The aim of this study was to evaluate if patients treated with the combination of axitinib plus avelumab who achieve a tumor response can be maintained with avelumab alone in order to decrease the TKI-related toxicity and delay tumor resistance.
This phase II trial included 75 patients with metastatic ccRCC with no primary tumor, no bulky/symptomatic disease, and no liver metastases. These patients were planned for 36 weeks of avelumab 800 mg IV every 2 weeks + avelumab 5 mg oral twice daily. A tumor evaluation was performed at 36 weeks:
In patients with a complete or partial response, the axitinib was discontinued and avelumab continued at the same dose every 2 weeks until evidence of progressive disease, in which case dual therapy was re-initiated
Patients with stable disease would continue the combination until evidence of progressive disease
Those with progressive disease would naturally discontinue this therapy
The primary endpoint was the rate of patients free of progression after 8 weeks from axitinib discontinuation. Secondary endpoints included PFS, OS, ORR, and safety by local evaluation.

Among the 75 patients who were considered for the efficacy analysis, 57 (76%) had a tumor response (complete or partial), of whom 29 interrupted axitinib at 36 weeks. The median patient age was 64 years. All patients had undergone a nephrectomy consistent with the trial eligibility criteria. 40% of patients were IMDC favorable risk, with only 2.7% IMDC poor risk.
72.4% of patients were free of progression after 8 weeks of axitinib interruption.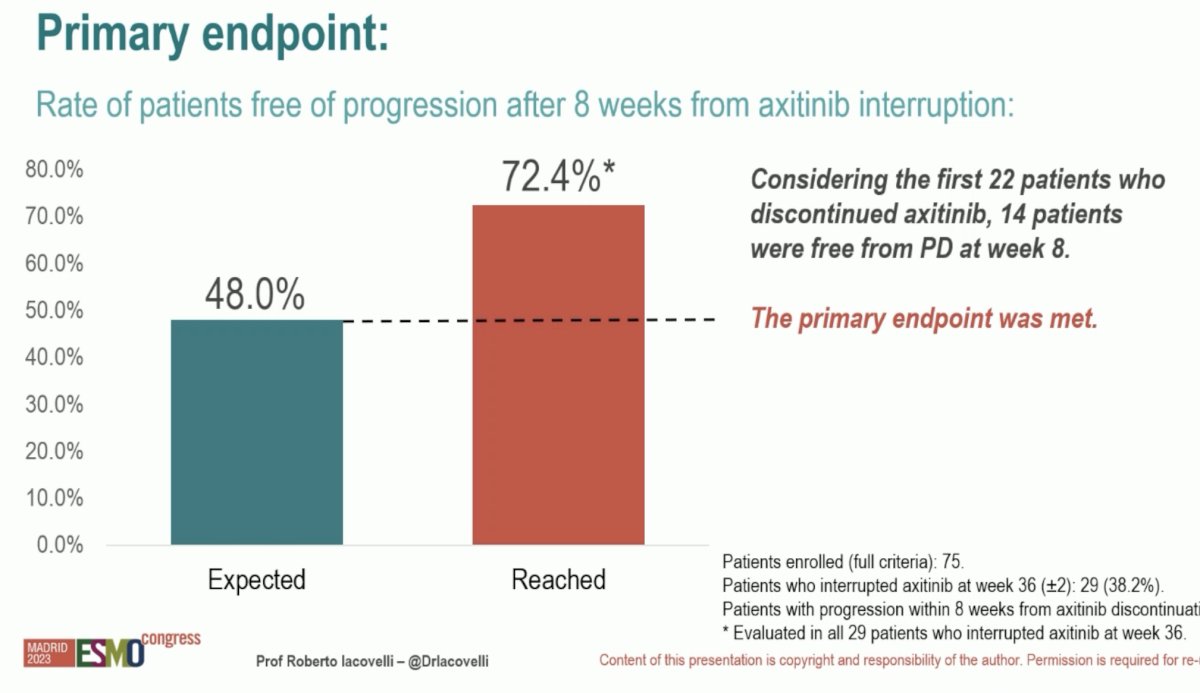 The median PFS was 24 months and median OS was not reached, with the 18-months OS at 94%. The median duration of 1st avelumab maintenance was 16 weeks.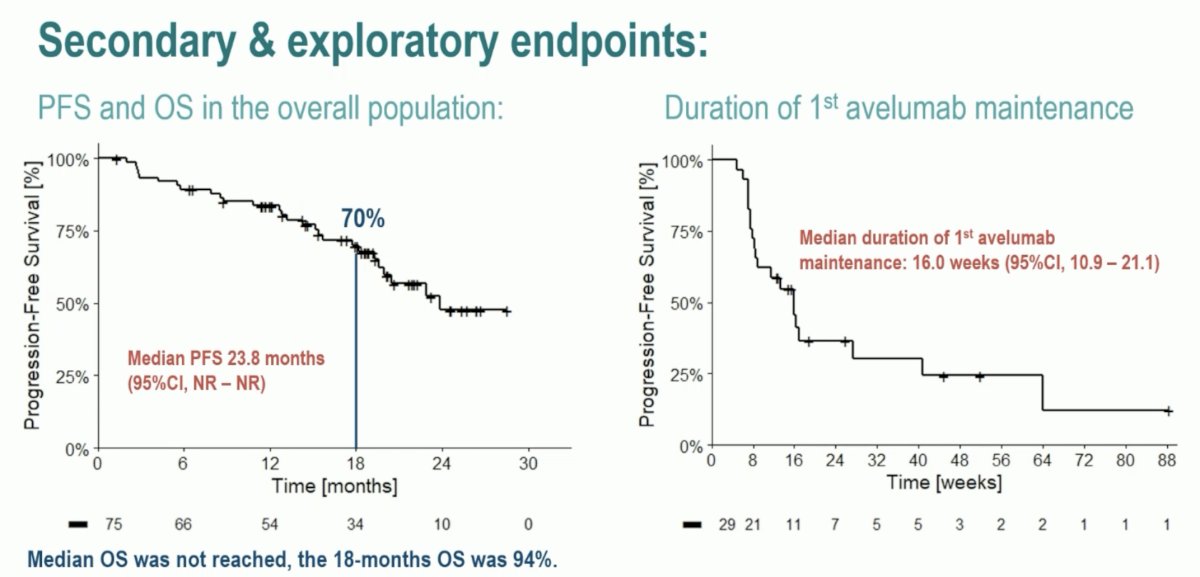 From a safety standpoint, axitinib-related any grade AEs occurred in 34% of all patients, with grade 3+ occurring in 11.4%. Following axitinib interruption, none of the patients experienced further Grade 3-4 axitinib-related AEs. Avelumab-related AEs occurred in 31.6% of patients. Notably, Grade 3 – 4 AEs occurred in 11.4% of patients receiving concurrent axitinib, and none of the patients did so following axitinib interruption.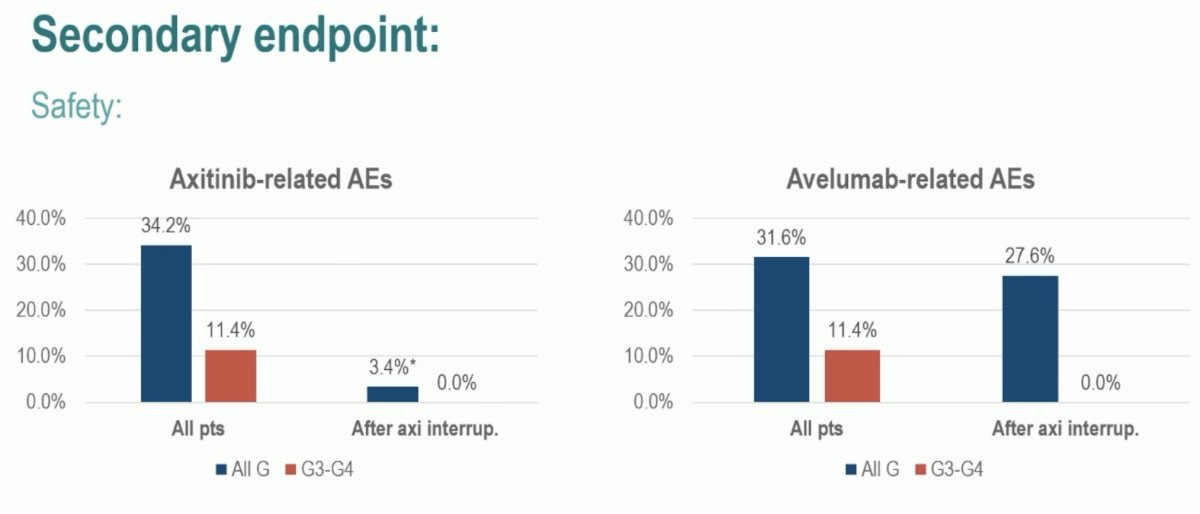 Dr. Iacovelli concluded the presentation of the TIDE-A study as follows:
TIDE-A is the first study showing the feasibility of the VEGFR-TKI interruption with the immunotherapy maintenance in patients with mRCC achieving maintained tumor responses following combination axitinib + avelumab therapy.
The VEGFR-TKI interruption decreased the treatment-related toxicity while the maintenance with the immunotherapy delayed the tumor progression.
TIDE-A confirmed the activity and safety of the combination of avelumab and axitinib in mRCC patients.
The selection of patients (only 2.7% poor prognosis, all with nephrectomy, no liver metastases), might have impacted survival rates.

These results warrant future investigations in a randomized trial.
Presented by: Roberto Iacovelli, MD, PhD, Medical Oncologist, Fondazione Policlinico Universitario Agostino Gemelli IRCCS, Rome, Italy

Written by: Rashid K. Sayyid, MD, MSc – Society of Urologic Oncology (SUO) Clinical Fellow at The University of Toronto, @rksayyid on Twitter during the 2023 European Society of Medical Oncology (ESMO) Annual Meeting, Madrid, Spain, Fri, Oct 20 – Tues, Oct 24, 2023.

References:


Motzer RJ, Penkov K, Haanen J, et al. Avelumab plus axitinib versus sunitinib for Advanced Renal-Cell Carcinoma. N Engl J Med 2019;380(12):1103-1115.
Motzer R, Alekseev B, Rha SY, et al. Lenvatinib plus Pembrolizumab or Everolimus for Advanced Renal Cell Carcinoma. N Engl J Med. 2021 Apr 8;384(14):1289-1300.
Brown JE, Royle K, Gregory W, et al. Temporary treatment cessation versus continuation of first-line tyrosine kinase inhibitor in patients with advanced clear cell renal cell carcinoma (STAR): an open-label, non-inferiority, randomised, controlled, phase 2/3 trial. Lancet Oncol. 2023;24(3):213-227.
Ornstein MC, Wood LS, Elson P, et al. A Phase II Study of Intermittent Sunitinib in Previously Untreated Patients With Metastatic Renal Cell Carcinoma. J Clin Oncol. 2017;35(16):1764-1769.