(UroToday.com) Many immunotherapy strategies have been pursued in metastatic castration-resistant prostate cancer (mCRPC) to date, with the dendritic cell vaccine sipuleucel-T representing the only approved therapy in this space. Recently, updated overall survival data from the CA184-043 trial of ipilimumab following radiotherapy to bone metastases in patients who had progressed on docetaxel suggested improved overall survival relative to placebo1 (plot shown below). Many novel strategies to boost immune responses and induce disease regression are being pursued, including bi-specific T-cell engagers, CAR-T cells, and antibody-drug conjugates.






Re-direction of endogenous T-cells using tumor-specific antigens can be accomplished by either engineering bispecific T-cell engagers or engineering chimeric T-cell antigens. Bispecific T-cell engagers consist of two single-chain variable fragments of different antibodies connected by a linker peptide. One antibody is against a tumor antigen, and the other is against CD3 antigens on T-cells. The addition of an Fc domain stabilizes the molecule such that it can be administered every 2 weeks. CAR-T cells are created by taking endogenous T-cells and introducing a gene encoding a new receptor that is targeted against a tumor antigen. These approaches have had more success in hematologic malignancies relative to solid tumors to date. Dr. Cora Sternberg provided the table below comparing CAR-T and BiTE approaches.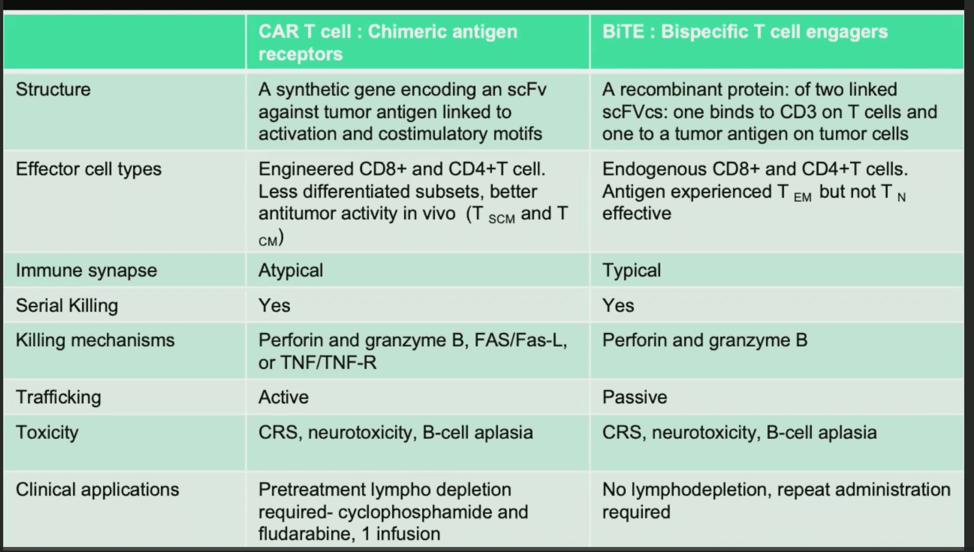 She then reviewed the landscape of ongoing T-cell engager clinical trials in prostate cancer patients including (1) NCT03792841 of AMG 160 against PSMA in combination with pembrolizumab, (2) NCT03577028 of the tri-specific HPN 424 against PSMA, (3) NCT03972657 of REGN5678 against PSMA in combination with the anti-PD1 drug cemiplimab, and (4) NCT03926013 of JNJ63898081 against PSMA. Multiple CAR-T trials are also ongoing, as shown in the slide below.




Dr. Sternberg discussed the results from abstract 609O, summarizing AMG 160 as an exciting new strategy using a highly expressed prostate cancer surface molecule. The available data is limited as this is only a small phase 1 study so far, but responses seem durable in heavily pretreated patients. The major toxicity was cytokine release syndrome, which was manageable especially with a mitigation strategy adopted in cohort 5 with lead-in dosing and steroids. She discussed the potential advantages of BiTE technology in general, most notably that it does not require leukapheresis to harvest T cells, lymphodepletion, and does not have issues with histocompatibility. The half-life extending the design of AMG160 makes the dosing regimen manageable.

While this presentation is very encouraging, many questions remain. These include whether a larger patient cohort will confirm the efficacy seen so far, what the significance of the anti-drug antibodies that developed is, what impact CRS mitigation with steroids has on efficacy, what underlying biology of the tumor promotes response or resistance, and whether responses will be consistently durable. Hopefully, these questions will be addressed in future studies.

Presented by: Cora Sternberg, MD, Medical Oncologist and Clinical Director of the Englander Institute for Precision Medicine, Weill Cornell Medicine, New York, USA, previously of Chief of the Department of Medical Oncology at the San Camillo-Forlanini Hospital in Rome, Italy, and as adjunct Professor of Oncology at La Sapienza University in Rome

Written by: Alok Tewari, MD, PhD, Medical Oncologist at the Dana-Farber Cancer Institute, at the 2020 European Society for Medical Oncology Virtual Congress (#ESMO20), September 19th-September 21st, 2020.

Related Content:
Interim Results from AMG 160 a half-life extended (HLE), PSMA-targeted, bispecific T-cell engager (BiTE®) immune therapy for metastatic castration-resistant prostate cancer (mCRPC) - Ben Tran