(UroToday.com) Immune checkpoint inhibitors (ICIs) such as atezolizumab (PD-L1), are considered standard therapy for patients with metastatic urothelial carcinoma (mUC) that has progressed after first-line platinum-based chemotherapy. However, only close to 20% of patients will derive sustained benefit from ICI treatment. Therefore, it is critical to find factors associated with the enhanced efficacy of ICIs in this setting. Several factors defined by Bellmunt et al.1 have been shown to affect expected overall survival (OS) in patients treated with second-line vinflunine.


It has been suggested that this algorithm could be further improved if the time from last chemotherapy (TFLC) was added to the established criteria of hemoglobin (Hb) <10 g/dL, liver metastases, and Eastern Cooperative Oncology Group (ECOG) performance status >02. TFLC has also been included as a selection criterion for second-line therapy in the current European Society for Medical Oncology guidelines3. However, the significance of these factors in the context of ICI therapy has yet to be investigated.

Patients receiving cisplatin-based chemotherapy in the first line have longer OS than those who do not, but about 50% of patients are not eligible for cisplatin and are treated with carboplatin4.

The benefit derived from second-line atezolizumab is most likely dependent on the chemotherapy used as first-line treatment, but this has yet to be thoroughly investigated.

The role of biomarkers, such as PD-L1 expression, to predict outcomes of ICI therapy in relapsed mUC in routine practice, is currently unclear. The SAUL (NCT02928406) trial is the largest phase IIIb international study to date, assessing atezolizumab use in patients with locally advanced/mUC, providing real-world data from a broader patient population than is typically enrolled in clinical trials5. Importantly, PD-L1 status was noted for most patients in SAUL. In this presented poster, the authors used the SAUL database to assess the prognostic significance of the above-mentioned factors in mUC patients who had previously received platinum-based chemotherapy.

The primary outcome was overall survival (OS). Secondary outcomes included progression-free survival (PFS) and objective response rate (ORR). Patients who did not receive cisplatin or carboplatin were excluded, and patients who had received both were categorized as cisplatin-pretreated.

Results:

A total of 969 patients were analyzed. The baseline characteristics are shown in Table 1. Overall, 551 patients (57%) had an ECOG performance status >0, 265 (27%) had liver metastases and 152 (16%) had anemia (Hb <10 g/dL).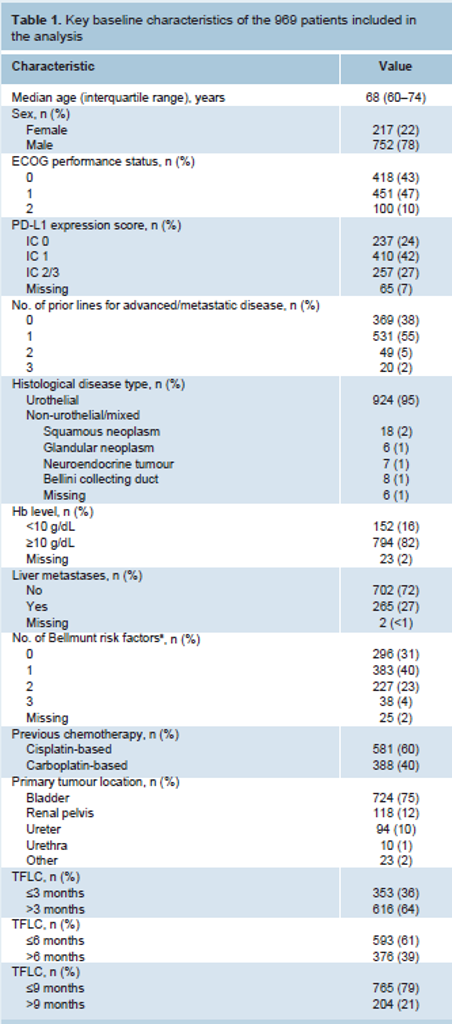 In the overall population, the median OS was 8.6 (95% CI 7.6–9.7) months, and the median PFS was 2.2 (95% CI 2.1–2.4) months. Results for primary and secondary outcomes in each subgroup are shown in Table 2. Importantly, the prognostic significance of the Bellmunt risk score was confirmed (Figure 1). The number of previous lines of therapy was not associated with outcomes (Table 2).
However, there was a strong association between median OS and:
– TFLC: 6.7 months (95% CI 5.4–7.8 months) for TFLC ≤3 months vs. 14.2 months (95% CI 10.0–not estimable) for TFLC >9 months (Figure 2)
– PD-L1 expression: 7.8 months (95% CI 6.5–9.0 months) for IC 0/1 vs. 11.6 months (95% CI 8.8–18.8 months) for IC 2/3 (Figure 3).




No interaction was observed between PD-L1 expression and other prognostic factors. There was a trend towards a better outcome in patients previously treated with cisplatin vs. carboplatin (p=0.056). However, further analyses stratified for other significant factors did not confirm a significant association between previous therapy and OS.

In summary, post-platinum atezolizumab demonstrates activity in mUC patients, irrespective of previous lines of therapy, or the type of previous platinum therapy. In addition to the established Bellmunt risk stratification, PD-L1 expression and TFLC were also strongly associated with OS, indicating a need to implement novel prognostic algorithms for immunotherapy-treated mUC patients.

Presented by: Aristotelis Bamias, PhD, Professor of Therapeutics-Internal Medicine-Oncology National & Kapodistrian University of Athens & Head of 2nd Propaedeutic Dept of Medicine, Medical School UoA, ATTIKON University Hospital, Athens, Greece


Written by: Hanan Goldberg, MD, MSc., Assistant Professor of Urology, SUNY Upstate Medical University, Syracuse, NY, USA @GoldbergHanan at the European Society for Medical Oncology Virtual Congress, ESMO Virtual Congress 2020 #ESMO20, 18 Sept - 21 Sept 2020



References:
1. Bellmunt J, Choueiri TK, Fougeray R, et al. Prognostic factors in patients with advanced transitional cell carcinoma of the urothelial tract experiencing treatment failure with platinum-containing regimens. Journal of clinical oncology : official journal of the American Society of Clinical Oncology 2010; 28(11): 1850-5.
2. Sonpavde G, Pond GR, Fougeray R, et al. Time from prior chemotherapy enhances prognostic risk grouping in the second-line setting of advanced urothelial carcinoma: a retrospective analysis of pooled, prospective phase 2 trials. European urology 2013; 63(4): 717-23.
3. Bellmunt J, Orsola A, Leow JJ, Wiegel T, De Santis M, Horwich A. Bladder cancer: ESMO Practice Guidelines for diagnosis, treatment and follow-up. Annals of oncology : official journal of the European Society for Medical Oncology 2014; 25 Suppl 3: iii40-8.
4. Bamias A, Tzannis K, Harshman LC, et al. Impact of contemporary patterns of chemotherapy utilization on survival in patients with advanced cancer of the urinary tract: a Retrospective International Study of Invasive/Advanced Cancer of the Urothelium (RISC). Annals of oncology : official journal of the European Society for Medical Oncology 2018; 29(2): 361-9.
5. Sternberg CN, Loriot Y, James N, et al. Primary Results from SAUL, a Multinational Single-arm Safety Study of Atezolizumab Therapy for Locally Advanced or Metastatic Urothelial or Nonurothelial Carcinoma of the Urinary Tract. European urology 2019; 76(1): 73-81.

Related Content:
SAUL Trial Data: Real World Experience of Atezolizumab in Carcinomas of the Urinary Tract- Cora Sternberg