Barcelona, Spain (UroToday.com) The current standard for advanced localized renal cell carcinoma (RCC) is nephrectomy. Unfortunately, for better or worse, the series of adjuvant therapy trials in patients with advanced localized RCC with targeted therapies (sutent, sorafenib, axitinib, pazopanib) have been either negative – or slightly positive and associated with significant adverse events. At this time, there are 4 reported in the adjuvant setting - ASSURE (Haas NB et al. Lancet 2016), S-TRAC (Ravaud A et al. NEJM 2016), PROTECT trials (Motzer RJ et al. JCO 2017), and ATLAS (Gross-Goupil M et al. Ann Oncol 2018). There are 2 ongoing trials that are likely to report soon – SORCE and EVEREST. However, the promise of targeted therapies for these patients is now limited.

In the treatment of metastatic RCC, immune checkpoint inhibitors (nivolumab-ipililumab, axitibin) has started to move their way up the treatment paradigm – indeed, nivo-ipi are now the recommended first line therapy for intermediate and poor risk mRCC patients. In CheckMate 214, the nivolumab plus ipilimumab treatment combination demonstrated significant improvement in overall survival (OS) in first-line treatment of advanced or metastatic RCC, with a manageable safety profile. As they have demonstrated efficacy in the metastatic setting, there is interest in their potential role as adjuvant therapies.

The phase III CheckMate 914 multinational study will evaluate adjuvant nivolumab plus ipilimumab vs placebo in patients with high risk of relapse after nephrectomy (NCT03138512).

Study Design and Protocol:
This is a phase III randomized international clinical trial. Patients are randomized 1:1 to receive nivolumab and ipilimumab at the specified dose on specified days for 24 weeks, or placebo infusions on the same schedule for 24 weeks or until recurrence, unacceptable toxicity, or withdrawal of consent. Patients will be randomized according to TNM staging and type of nephrectomy procedure (radical vs partial). Full protocol is below:




Inclusion/Exclusion Criteria:

Eligible patients include adult patients (≥18 years) who have undergone radical nephrectomy (or partial nephrectomy with negative surgical margins) within a 4- to 12-week period prior to randomization.


Must also have a pathologic analysis of their nephrectomy specimen indicating predominant clear cell histology (incl. patients with sarcomatoid features)
Pathologic TNM staging T2a (grade [G] 3 or 4), T2b (any G), T3 (any G), or T4 (any G) N0M0, or T any (any G) N1M0
Eastern Cooperative Oncology Group performance status of 0-1
Tumor tissue obtained ≤3 months pre-enrollment
Patients with the following will be excluded:


Clinical/radiological evidence of macroscopic residual disease or distant metastases post-nephrectomy
Conditions requiring corticosteroid or immunosuppressive systemic treatment, uncontrolled adrenal insufficiency, or autoimmune disease,
They have received prior treatment with drugs specifically targeting T-cell co-stimulation or checkpoint pathways
Prior systemic treatment for RCC
Outcomes:

The primary endpoint is disease-free survival per blinded independent central review

Secondary endpoints include:


OS (incl. 5-year OS rates)
Safety and tolerability
Exploratory endpoints include:


Health-related quality of life (measured using the Functional Assessment of Cancer Therapy-Kidney Symptom Index and EuroQoL's EQ-5D-3L)
Correlative biomarker analyses
Nivolumab plus ipilimumab pharmacokinetics and immunogenicity
Sample Size Enrollment and Current Status:

Enrollment began in July 2017 with a target of ~ 800 randomized patients in ~ 20 countries.

Current enrollment is not reported.

Current sites involved are: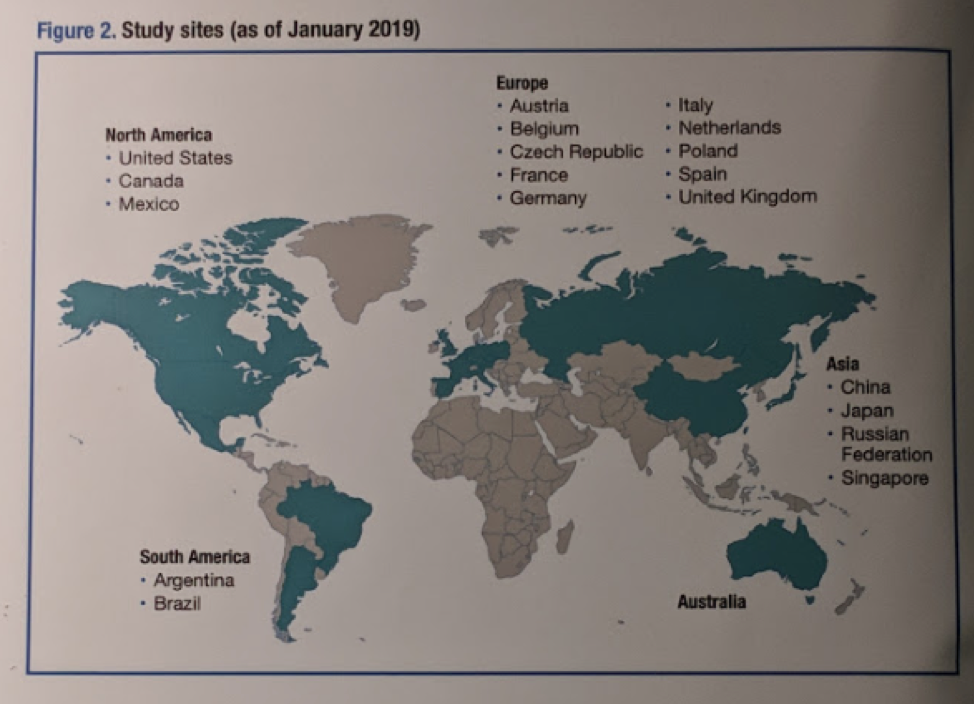 Presented by: Axel Bex, MD, Ph.D., Netherlands Cancer Institute, Amsterdam, Netherlands

Written by: Thenappan Chandrasekar, MD (Clinical Instructor, Thomas Jefferson University) (twitter: @tchandra_uromd, @TjuUrology) at the 34th European Association of Urology (EAU 2019) #EAU19, conference in Barcelona, Spain, March 15-19, 2019.