(UroToday.com) Nurse practitioner Lynn Allmond, FNP-BC, presented on neuromodulation, specifically PTNS (Laborie) and PTNM Medtronic at the virtual AUA 2020 conference. In these 2 modalities, neuromodulation provides indirect stimulation to the sacral nerve plexus via the tibial nerve, a mixed sensory-motor nerve that runs from the spinal roots L4-S3 to innervate the bladder & urethral sphincter. Although the exact mechanism for this treatment of overactive bladder symptoms (urgency, frequency, urgency incontinence) is not known, it is thought that stimulation affects the nerves that influence the bladder. It works through receptors in the spinal cord and by activating somatosensory afferent fibers. Contraindications are pregnancy, presence of a pacemaker or defibrillator, lower extremity nerve damage.
The procedure involves the insertion of a 34-gauge needle above the medial malleolus, as is shown in this photo: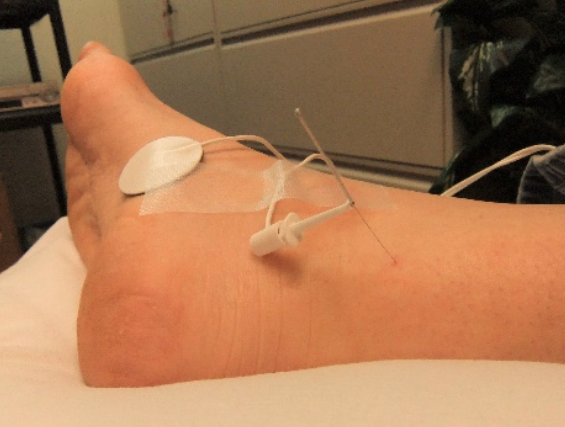 Lead wires are connected to the needle and stimulator, and grounding pad attached to the instep of the same foot. The current setting (mA) is increased until there is a sensory or motor response (flexion of the great toe or fanning of toes 2-5; or tingling at ball of foot). The sensation should be comfortable, not painful. Treatment is for 30 minutes, once a week sessions for 12 weeks. Ms. Allmond presented the results of the PTNS research: SUmiT efficacy Trial which was a double-blind, randomized vs SHAM trial of 220 patients and the 3-years follow-up study.3 There is also a prospective study that evaluated the efficacy of PTNM treatment. Ms. Allmond has been tracking overactive bladder symptom outcomes in her patient population and has seen similar efficacy with the PTNS treatment.

Presented by: Lynn M. Allmond, FNP-BC, Department of Surgery, Urology, Augusta University, Agusta, GA

Written by: Diane Newman, DNP, ANP-BC, Adjunct Professor of Urology in Surgery, Perelman School of Medicine, University of Pennsylvania and Co-Director of the Penn Center for Continence and Pelvic Health
References:
Kobashi et al. A prospective study to evaluate efficacy using the NURO™ percutaneous tibial neuromodulation system in drug-naïve patients with overactive bladder syndrome (OAB). Urology. 2019 Sep;131:77-82. doi: 10.1016/j.urology.2019.06.002. Epub 2019 Jun 11. PMID:31199966
Peters et al. Sustained therapeutic effects of percutaneous tibial nerve stimulation: 24-month results of the STEP study. Neurourol Urodyn. 2013 Jan;32(1):24-9. doi: 10.1002/nau.22266.
Peters et al. Randomized trial of percutaneous tibial nerve stimulation versus Sham efficacy in the treatment of overactive bladder syndrome: results from the SUmiT trial. J Urol. 2010 Apr;183(4):1438-43. doi: 10.1016/j.juro.2009.12.036.