San Francisco, CA USA (UroToday.com) Riccardo Bertolo, MD, presented data on the use of 3D printed and Virtual models for planning and patient counseling for robot-assisted radical prostatectomy (RARP) and robot-assisted partial nephrectomy cases. As an introduction to his talk, Dr. Bertol stated that a surgeon may not have the right perception of the real anatomical details with the standard imaging and that Fluorescece-based imaging and image guidance have been explored, but their use remains under scrutiny.

For this study the objective for Dr. Bertol and his team was to test the Face and Content validity of 3D virtual rendered printed models used to facilitate robot-assisted prostate cancer surgery and nephron-sparing surgery for both urologists and patients. Two populations were enrolled in the study during an event: Patient who underwent surgery (RARP/RAPN) and all the participants of the event (surgeons and attendees)

MRI and/or CT was performed for each patient. High resolution images in DICOM format were processed and a 3D virtual model was created. These models were then printed and presented during the surgery.




Before starting the surgery, the attendees actively participated by filling out a purpose-built questionnaire about their opinion expressed in a 1-10 likert scale about the use and application of 3D printed models. The questionnaire included subjective and objective questions according to a Face and Content validity model.




A comparable questionnaire was administered to the patient group to evaluate the usefulness of this technology to patients.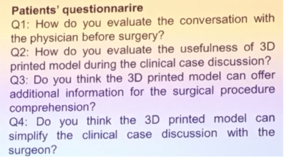 In the study, a total of 8 patients who underwent RARP and 10 Patients who underwent RAPN were in included in the study. 18 virtual and 3D printed models were made, and the questionnaire was filled out by 144 urologists. In the attendee questionnaire a score equal to or greater than 7 was given for all questions. No differences were found after stratification bases on level of expertise. In the patient questionnaire, all 18 patients gave a score of equal to or greater than 9 for all questions.




Dr. Bertolo concluded that face and content validity was achieved and believes 3D printing technology to be a useful tool for the purpose of surgical planning, physician training, and patient counseling.

Presented by: Riccardo Bertolo, MD

Written by: Renai Yoon, Department of Urology, University of California-Irvine at the 2018 AUA Annual Meeting - May 18 - 21, 2018 – San Francisco, CA USA