San Francisco, CA (UroToday.com) In parallel to the rapidly-shifting landscape of novel and combination therapies for advanced renal cell carcinoma, we have learned much about the landscape of genomic alterations that underpin this disease. Most notably from large sequencing efforts such as the Cancer Genome Atlas, and clinically-annotated cohorts such as MSK-IMPACT, our understanding of recurrent putative drivers has increased considerable in recent years. However, there has been ever increasing emphasis on study of tumor alterations that predict treatment benefit (e.g. PBRM1 alterations and immunotherapy benefit) or serve as possible actionable targets for new treatment approached. In the Renal Cell Carcinoma Rapid Abstract Session, Kyrollis Attalla, MD, from Memorial Sloan Kettering Cancer Center highlighted findings of a study describing the landscape of actionable alterations as well the corresponding evidence supporting prediction of response to therapy in renal cell carcinoma (RCC).
With this goal, the study team queried the institutional clinical sequencing database (MSK-IMPACT) to include tumor samples across all cancers. Furthermore, actionable alterations in clinical or biological evidence supporting response to targeted therapy were stratified by level of evidence using oncoKB – an oncology knowledge database.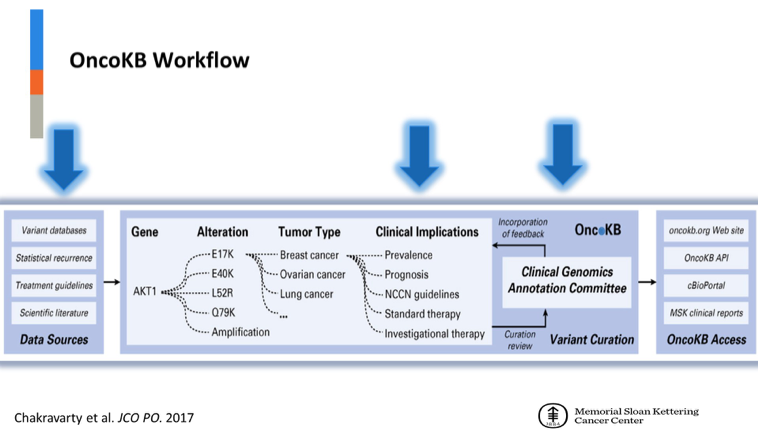 In turn, OncoKB allows for designation of therapeutic levels of evidence from 1 (FDA-recognized biomarker predictive of response to an FDA-approved drug for this indication) to 4 (compelling biological evidence supports the biomarker as predictive of response to a drug).
38,468 tumors in the MSK-IMPACT cohort were queried to refine down to 53 cases of renal cell carcinoma. 63.3% samples were from primary site and 36.% from metastases. Of the subtypes represented, clear cell was the most common (59.7%). With respect to clinical stage, most were metastatic (36.7%), 26.1% were primary lesions from patients with metastatic disease and 17% were primary lesions in non-metastatic RCC.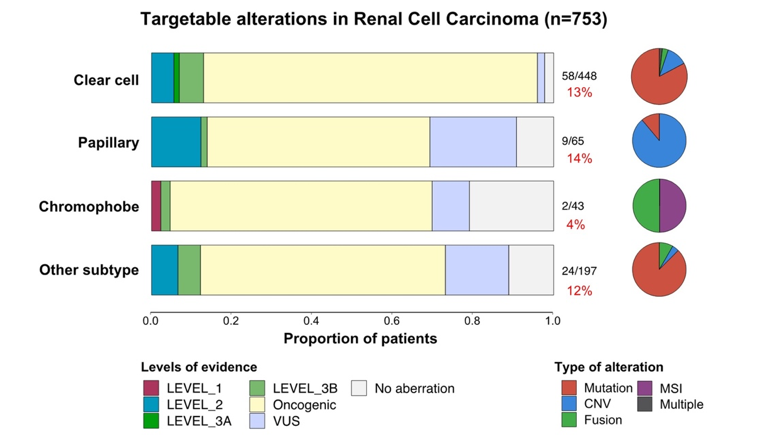 In total, there was a 12% prevalence of actionable alterations in RCC. 13% of clear cell cancer had evidence of targetable alterations. Other subtypes included papillary (14%), chromophobe (4%) and other (12%). Leading altered genes included TSC1 mutation, PIK3CA mutation and MET amplification.


Dr. Attalla highlighted the variation of types of alterations by histologic subtype, with clear cell associated with acquired somatic mutations and papillary RCC classically associated with MET amplification. Further work is being performed to assess the clonality of alterations and validate these findings in independent cohort.
These data help establish a landscape of potentially actionable alterations in RCC and are informative for the clinical use of next-generation sequencing to inform precision treatments approaches in RCC.
Presented by: Kyrollis Attalla, MD, Urologic Oncology Fellow, Memorial Sloan Kettering Cancer Center, New York, NY
Written by: Anis Hamid, MBBS, Medical Oncology Research Fellow at Dana-Farber Cancer Institute and Medical Oncologist, PhD candidate, University of Melbourne, Australia (Twitter: @anis_a_hamid) at the 2020 ASCO Genitourinary Cancers Symposium (#ASCO # GU20), February 13th to 15th, 2020, San Francisco, CA, at the 2020 Genitourinary Cancers Symposium, ASCO GU #GU20, February 13-15, 2020, San Francisco, California.