(UroToday.com) There has been a proliferation in treatment options for patients with metastatic castration-resistant prostate cancer (mCRPC) in the last 10 years. While the most commonly utilized approaches in prostate cancer are cytotoxic chemotherapy or target the androgen-axis (including abiraterone acetate and enzalutamide), there is an ongoing interest to explore and develop a novel therapeutic approach that may have more durable responses. While immune checkpoint inhibitors have been revolutionary in many solid tumors, mCRPC is typically immunologically cold and immune checkpoint inhibitor monotherapy has not been effective. In contrast, AMG 160, which binds to prostate-specific membrane antigen (PSMA) on cancer cells and CD3 on T cells, leading to T-cell infiltration, activation, expansion, and tumor cell killing, demonstrated a manageable safety profile with preliminary efficacy in heavily pretreated patients with mCRPC in a first-in-human study. In many aspects of oncology, combination systemic therapy has proven to provide better results than monotherapy. Preclinical data have demonstrated enhanced activity for patients treated with AMG 160 when AMG 404, an anti-PD-1 that can overcome T-cell exhaustion, is administered concomitantly.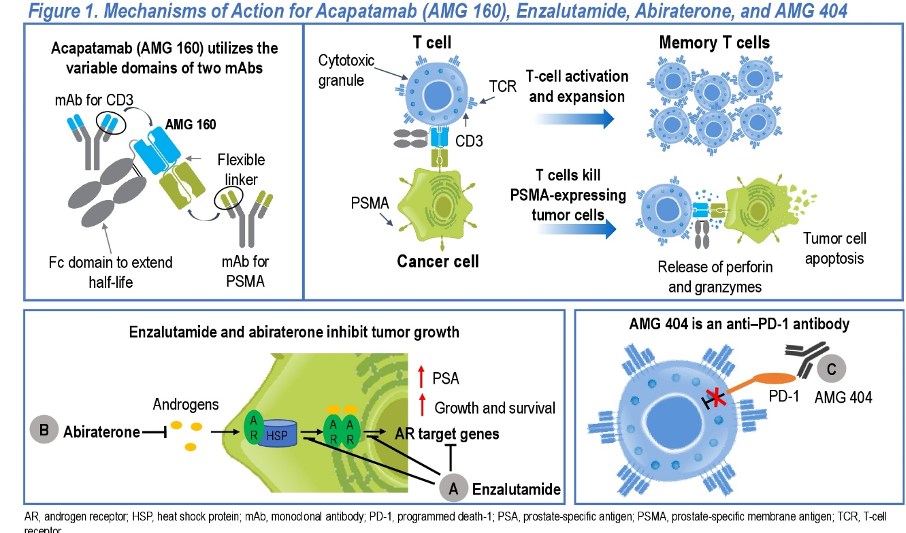 In the Prostate, Testicular, Penile Poster session at the 2021 American Society of Clinical Oncology (ASCO) Annual Meeting, Dr. Sumit Sududhi presented the design and overview of NCT04631601 which will examine the safety and efficacy of AMG 160 combinations.

This trial will enroll approximately 100 men with histologically or cytologically confirmed adenocarcinoma of the prostate to one of three subprotocols:

1. Subprotocol A is a phase 1b, multicenter, open-label study of the combination of AMG 160 + enzalutamide.
2. Subprotocol B is a phase 1b, multicenter, open-label study of the combination of AMG 160 + abiraterone acetate.
3. Subprotocol C is a phase 1b/2, multicenter study comparing AMG 160 + AMG 404 to AMG 404 monotherapy.






Patients who received prior PSMA radionuclide therapy may be eligible. Further, in subprotocol C, patients must have progressive disease on a neoadjuvant hormonal therapy (NHT) to be eligible. However, patients will be excluded if they have received prior PSMAxCD3 bispecific therapy or prior taxane treatment (unless approved by the sponsor) across subprotocols. Additionally, patients with central nervous system (CNS) metastases, leptomeningeal disease, or active autoimmune disease will be excluded.

AMG 160 will be administered via intravenous (IV) infusion with dexamethasone (or other corticosteroids) administered prior to AMG 160 administration in cycle 1 and possibly subsequent cycles. Treatment with enzalutamide or abiraterone will be administered according to their respective labels. Finally, AMG 404 will also be administered via IV infusion.

The primary study objectives are to evaluate safety and tolerability and determine the maximum tolerated dose (MTD) or recommended phase 2 dose (RP2D) of AMG 160 combinations. In subprotocol C, the authors will also preliminarily evaluate the antitumor activity of AMG 404 monotherapy. In addition to these primary objectives, the authors will further assess secondary objectives including preliminary antitumor activity and pharmacokinetics. The MTD/RP2D will be established in the dose-escalation phase, and the safety and tolerability of the MTD/RP2D will be confirmed in the expansion phase. Evaluation of preliminary antitumor activity will be based on RECIST 1.1 with Prostate Cancer Working Group 3 modifications, prostate-specific antigen (PSA) response, circulating tumor cell response, progression-free survival (PFS) (radiographic, PSA, clinical), overall survival, and 68Ga-PSMA-11 and 18F-FDG PET/CT imaging.




This currently active study is actively recruiting patients.


Presented By: Sumit K. Subudhi, MD, Ph.D., Assistant Professor, Department of Genitourinary Medical Oncology, Division of Cancer Medicine, The University of Texas MD Anderson Cancer Center

Written By: Christopher J.D. Wallis, Urologic Oncology Fellow, Vanderbilt University Medical Center Contact: @WallisCJD on Twitter at the 2021 American Society of Clinical Oncology (ASCO) Annual Meeting, Virtual Annual Meeting #ASCO21, June, 4-8, 2021