(UroToday.com) HPN424 is a first-in-class, prostate-specific membrane antigen (PSMA)-targeting T-cell engager designed as a small (~50kDa), globular protein to enable efficient solid-tumor penetration with prolonged half-life. HPN424 is derived from the TriTAC platform (Tri-specific T-Cell-Activating Construct) and engineered with three binding domains: anti-PSMA for tumor cell engagement, anti-albumin for half-life extension, and anti-CD3 for T-cell engagement. The mechanism of action of HPN424 is as follows: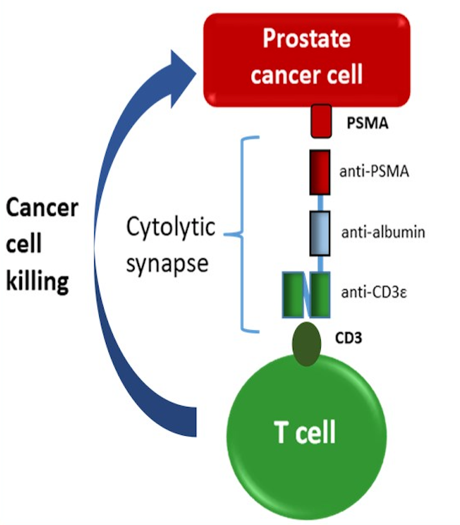 These features are designed to increase the therapeutic index compared to earlier generations of T cell engagers by minimizing off-target toxicities. HPN424 mediates potent target tumor cell killing in a PSMA-specific manner in vitro and in xenograft models in the presence of T cells, demonstrated at very low antigen densities. At the 2020 ASCO virtual annual meeting Johanna C. Bendell, MD, and colleagues presented results of a phase 1 study initiated to evaluate HPN424 in patients with mCRPC.
This phase I study is evaluating HPN424 in progressing mCRPC patients who have received >2 prior systemic therapies. The primary endpoints are safety, tolerability, and determination of MTD/RP2D. Secondary objectives are pharmacokinetics, pharmacodynamics, immunogenicity, and preliminary anti-tumor activity. HPN424 is administered IV once weekly and tumor assessments include PSA, CT, and bone scans every 9 weeks. Additional assessments will include cytokines and circulating tumor cells (CTCs). The trial design for this study is as follows:


As of May 11, 2020, 44 patients have been dosed across 11 cohorts ranging from 1.3 to 120 ng/kg. Patients received a median of 7 (range 2-16) prior systemic regimens, including a median of 2 (range 1-3) novel androgen receptor therapies, and 73% received prior chemotherapy for mCRPC. The median PSA at baseline was 244 ng/mL (range: 0.1 – 5000). Thus far there has been one dose-limiting toxicity at 96 ng/kg, which was grade 3 increased lipase. The most common grade >3 treatment-related adverse events were cytokine release syndrome (CRS) (n=4) and transient elevated liver transaminases (n=3) that occurred concurrently with CRS. All CRS events resolved and patients were successfully re-treated; short-term steroid premedication was effective in limiting CRS and allowing long-term weekly treatment. HPN424 demonstrated a dose-proportional increase in Cmax and AUC with a geometric median T1/2 of 24.9 hours (range 9.0-312). Dose-dependent, transient increases in peripheral cytokine and chemokine levels were observed, peaking at 5 hours post-infusion and returning to baseline 24 hours post-administration. Reduction in CTCs was seen in 12 of 27 patients with measurable CTC at baseline.


Eight patients had PSA decreases from baseline ranging from -3.8% to -76%, including two patients with PSA decline ≥50% from baseline.


Eleven of 29 patients (39%) with > 18 weeks follow-up remained on study beyond week 18 and eight of 26 patients (31%) remained on study > 24 weeks. Of the eight patients, seven (88%) continued on HPN424 treatment longer than the time on their most recent prior systemic regimen.
Dr. Bendell concluded this presentation of HPN424 with the following take-home points:
HPN424 represents a novel half-life extended PSMA-targeting T-cell engager that can be safely administered once weekly
Adverse events have been transient, manageable and consistent with the expected mechanism of action
Cytokine increases indicate T-cell activation, and CTC reductions in a subset of patients suggest target engagement
Early signs of clinical activity include PSA reductions and time on study, including 8 patients on study > 24 weeks and PSA reductions in many patients
Dose escalation is ongoing, including exploration of step dosing
Presented by: Johanna C. Bendell, MD, Sarah Cannon Research Institute/Tennessee Oncology, Nashville, TN
Co-Authors: Lawrence Fong, Mark N. Stein, Tomasz M. Beer, Ashley Ross, Xin Gao, Aaron Weitzman, Richard Austin, Vaishnavi Ganti, Che-Leung Law, Bryan Lemon, Holger Wesche, Johann S. De Bono; University of California San Francisco, San Francisco, CA; Columbia University Medical Center, New York, NY; OHSU Knight Cancer Institute, Portland, OR; Mary Crowley Cancer Research, Dallas, TX; Massachusetts General Hospital, Boston, MA; Weitzman Consulting Group LLC, Los Altos Hills, CA; Harpoon Therapeutics, Inc., South San Francisco, CA; Harpoon Therapeutics, South San Francisco, CA; The Royal Marsden Hospital and The Institute of Cancer Research, London, United Kingdom
Written by: Zachary Klaassen, MD, MSc – Assistant Professor of Urology, Georgia Cancer Center, Augusta University/Medical College of Georgia, Twitter: @zklaassen_md, at the 2020 ASCO Annual Meeting, Virtual Scientific Program #ASCO20, May 29-31, 2020.

Clinical trial information: NCT03577028