ORLANDO, FL USA (UroToday.com) - Dr. Melise Keays from the Children's Medical Center in Dallas (University of Texas, Southwestern) presented 2 observational studies on newborns with spina bifida. Both studies sought to characterize renal and bladder changes that may occur while low-risk patients are followed on an observational protocol for the first 3 years of life.
Newborns with spina bifida were followed with a standard protocol of video urodynamic study as part of their initial assessment at 3 months of age, 1 year, and 3 years. Renal ultrasound was performed at initial assessment and at 6 month intervals. Patients found to have a detrusor leak point pressure (DLPP) of < 40 cm were classified as "low risk" and placed on an observational protocol (instead of empiric clean intermittent catheterization and anti-cholinergic medication).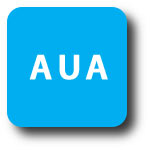 Forty-eight of 57 (84%) newborns were identified as low risk at a mean of 3-months of age. Thirty-three percent of these patients had abnormalities at baseline: 10 (21%) with low-grade hydronephrosis (Society of Fetal Urology grade 1-2) and 8 (17%) with vesicoureteral reflux (VUR) of which most were low grade but one patient had grade V. Most patients resolved these upper tract changes over 12 months (7/10 with hydronephrosis and 5/8 with VUR).
Over time, 9 patients converted to a high-risk categorization with DLPP > 40cm. Of this group, 4 had no upper tract changes, 1 had stable hydronephrosis, 3 patients had new VUR and 1 had persistent VUR.
The second study (Renal damage in spina bifida patients on observation during the first three years of life) followed the same population but looked at renal changes on DMSA scans which were performed at the initial assessment, 1 year, 3 years, and with any febrile UTI. Cortical defects, with or without changes in renal function, were considered insults. In this population, 96% presented with a normal DMSA at baseline. Only 2 (4%) had decreased function but no cortical defects ("congenital nephropathy"). In the group of 9 patients that converted to a high-risk category, 3 were found to have new cortical defects. However, the authors note that one patient was inappropriately placed in the low-risk category at the beginning of the study. This patient had grade 5 VUR and, due to parent preference, was placed on observation. This patient ultimately converted to high risk and was found to have new renal scars with febrile UTIs.
The authors conclude that an observation protocol preserved renal status in 93% of these patients. Medical management can be delayed with little risk of long-term renal damage. One of the study authors, Dr. Micah Jacobs, notes that managing patients conservatively with observation is reasonable, but they need to be followed closely for adverse indicators of deterioration.
Presented by Melise Keays, MD at the Society for Pediatric Urology (SPU) Annual Meeting held concurrently with the American Urological Association (AUA) Annual Meeting - May 16 - 21, 2014 - Orlando, Florida USA
Children's Medical Center in Dallas (University of Texas, Southwestern), Dallas, Texas USA
Written by Michaella Prasad, MD of the Medical University of South Carolina, Charleston, and medical writer for UroToday.com