SAN DIEGO, CA USA (UroToday.com) - Dr. Thomas Chi from the University of California, San Francisco gives a summary and some key points from his presentation and demonstration in a Skills Enhancement Workshop sponsored by BARD Medical during the AUA annual meeting in San Diego.
In this podcast, he highlights the importance of urologists gaining their own access during percutaneous nephrolithotomy (PCNL) to achieve safer outcomes and clear stones more effectively, and it also helps the patient by not having to first see an interventional radiologist who places the needle before the urologist removes the stones.
Dr. Chi also speaks about the anatomy and where to place the needle in order to access the kidney in a safe way, explaining that the safest area will be the posterior calyx. If the urologist does the whole PCNL procedure from beginning to end, it can be done more effectively concludes Dr. Chi.
Presented by Thomas Chi, MD at the American Urological Association (AUA) Annual Meeting - May 4 - 8, 2013 - San Diego Convention Center - San Diego, California USA
# # #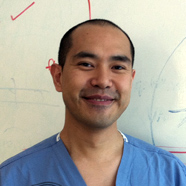 Thomas Chi, MD completed his residency training in urology in 2011 at the University of California, San Francisco and has continued at UCSF, currently as K12 scholar, during which time he is completing his fellow in endourology and laparoscopy. His research efforts have been focused on developing a novel animal model for the study of urinary stone disease to which he dedicated his research year from 2009-2010, establishing the foundation for this work. This project, done in collaboration between UCSF and the Buck Institute on Age Research, represents the first time a genetically-based invertebrate model has been developed for translational research in urinary stone disease. In additional to being a novel approach to understanding this disease process, these efforts could result in a significant impact on the clinical treatments available for stone patients. He is now completing fellowship training in endourology and minimally-invasive surgery and plans to pursue an independent career in academic urology after completion of his fellowship training.