(UroToday.com) Neoadjuvant chemotherapy (NAC) and radical cystectomy (RC) are standard of care for patients with muscle-invasive bladder cancer (MIBC). Despite level 1 evidence, and many guideline recommendations, supporting this approach, it is relatively underutilized in part due to the high patient burden from systemic toxicity and postoperative complications. Due to comorbidity or the toxicity of treatment, many patients are either ineligible or unwilling to receive this treatment approach. As a result, up to 60% of patients with MIBC may not receive definitive therapy for MIBC.

In a poster presentation at the Society of Urologic Oncology Annual Meeting, Dr. Daneshmand and colleagues presented initial results of the TAR-200-101 study (NCT02722538), assessing TAR-200 as a neoadjuvant treatment prior to RC in patients with MIBC. TAR-200 is a novel intravesical drug delivery system that provides continuous local delivery of gemcitabine through a small, flexible silicone tube.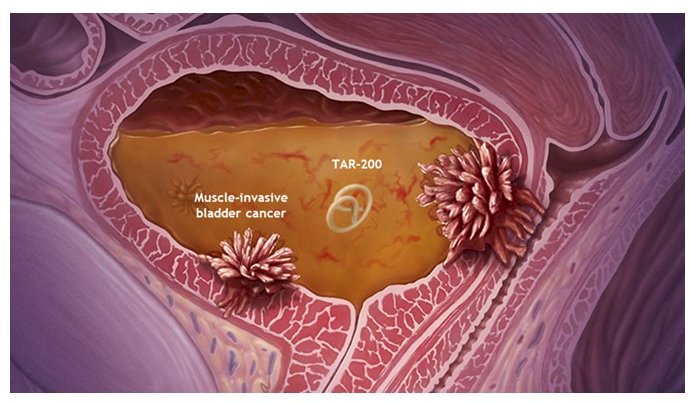 The TAR-200-101 trial is a phase 1, open-label study across 6 sites in the United States and Europe. The authors recruited patients aged ≥18 years with histologically confirmed MIBC (T2a-T3b N0-1 M0) urothelial bladder cancer who had refused/were ineligible for NAC and were candidates for RC.
In arm 1, patients had, at minimum, residual tumor >3 cm after transurethral resection of bladder tumor (TURBT) while, in arm 2, patients had had maximal TURBT with any residual tumor <3 cm.
Patients received two 7-day cycles of intravesical gemcitabine via TAR-200 prior to RC.

In this phase 1 trial, the authors assessed the primary endpoint of safety, assessed via treatment-emergent adverse events (TEAEs) per NCI CTCAE v4.0. Further, secondary endpoints were tolerability (including % patients not requiring unscheduled removal of TAR-200), pharmacokinetics of gemcitabine and its metabolite, 2',2'-difluorodeoxyuridine (dFdU), and preliminary efficacy (proportion of patients with pathological complete [pCR; T0 disease] or partial [pPR; <T2 disease] response at RC). The authors assessed all endpoints in the intention-to-treat (ITT) population.

The authors enrolled 23 patients in the ITT population of whom 20 were men and the median age was 70 [53-88] years. 11 patients were accrued in arm 1 and 12 were accrued in arm 22. Of the two scheduled TAR-200 cycles, 22 patients completed Cycle 1, and 20 completed both cycles.

Considering the primary safety endpoint, no patients were classified as intolerant to TAR-200. Ten patients (4 in Arm 1; 6 in Arm 2) experienced ≥1 TEAEs. Of these, 4 patients had TAR-200-related TEAE and 5 had procedure-related TEAEs. All, except one, TEAEs prior to RC was grade ≤2. One patient in arm 2 experienced grade 3 abdominal pain with disease progression. Pollakiuria (4/23 patients) was the most common TAR-200-related TEAE.

Assessing the secondary outcomes, plasma concentrations of gemcitabine were undetectable and plasma concentrations of dFdU did not exceed 0.332 μg/mL. For Arm 1 patients at RC, 4 out of 10 patients exhibited pathologic downstaging with 1 demonstrated a pCR and 3 a pPR. In Arm 2, 6 out of 10 patients exhibited downstaging with 3 experiencing a pCR and 3 a pPR.

In conclusion, these phase I data demonstrate that TAR-200 is safe and well-tolerated in patients with MIBC prior to RC. The ongoing phase 2b and phase 3 clinical trials in the SunRISe clinical trials program (NCT04640623, NCT04658862, NCT04919512) will better assess the safety and efficacy of TAR-200, combination with the anti-programmed cell death protein-1 antibody cetrelimab.

Presented by: Siamak Daneshmand, MD, Professor of Urology, Director of Clinical Research, Keck School of Medicine of USC, Los Angeles, CA



Written by: Christopher J.D. Wallis, University of Toronto Twitter: @WallisCJD during the 2021 Society of Urologic Oncology (SUO) Winter Annual Meeting, Orlando, FL, Wed, Dec 1 – Fri, Dec 3, 2021.