(UroToday.com) In the second Prostate Cancer session at this year's Society of Urologic Oncology (SUO) virtual annual meeting, Dr. Kara Maxwell provided an overview of biomarkers for patients with advanced prostate cancer. While many urologists are familiar with and may use, tissue-based biomarkers in early disease, there is an increasing number of actionable biomarkers in advanced disease.

She began with an overview of the categorization of biomarkers, including risk biomarkers, diagnostic biomarkers, and prognostic and predictive biomarkers. She emphasized that, based on evolving data, there is increasing overlap between these categories.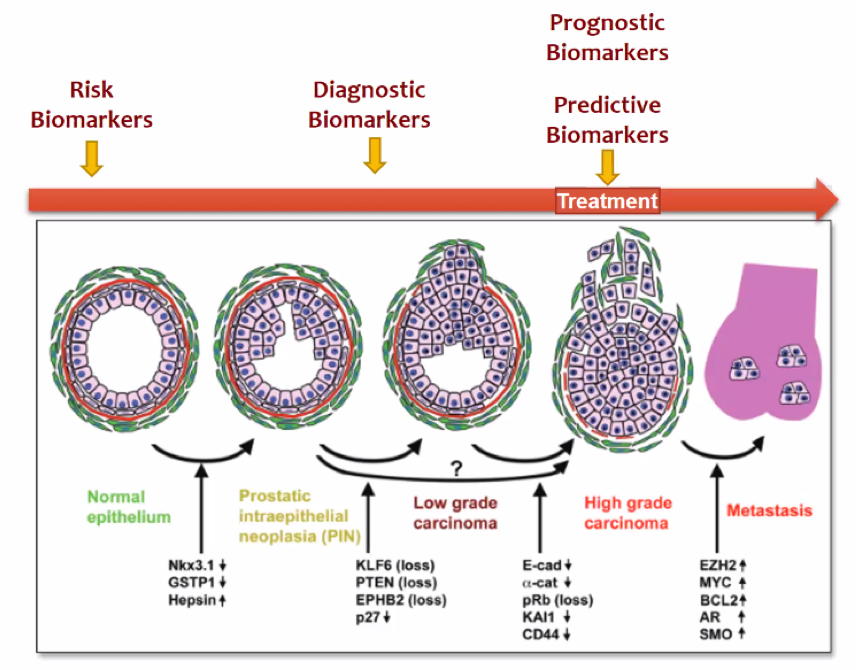 Dr. Maxwell discussed the risk stratifying biomarkers. Among these, there is a spectrum from the uncommon mutations with strong associations with cancer risk (such as BRCA1/2) to much more common abnormalities with much smaller associations with cancer risk (including polygenic single nucleotide polymorphisms. Most of the commonly available commercial assays assess less common and more strongly cancer-associated mutations. However, Dr. Maxwell pointed out that many of these mutations do not confer just risk of cancer development, but are also potentially prognostic and predictive of outcomes.


She emphasized that there is significant ongoing work assessing many of these "moderate" category mutations (including PALB2 and others). Additionally, recent work, including from Ambry Genetics has looked at the use of SNPs derived from GWAS analyses. While these are associated with the risk of developing cancer, unlike mutations such as BRCA1/2, they don't appear to have prognostic or predictive effects.
Dr. Maxwell emphasized that, given the vast array of genes of interest and variety of different platforms for testing, clinicians cannot and should not assume which genes have been evaluated until they see a report.
Moving past diagnostic biomarkers, she then focused on prognostic and predictive tests. The foundation for these rests upon the work from the Stand Up To Cancer group which published the Integrative Clinical Genomics of Advanced Prostate cancer. From that, a focus on DNA repair mutations evolved and, as of 2020, the National Comprehensive Cancer Network (NCCN), currently has biomarker-driven treatment recommendations for patients with advanced prostate cancer. In addition, a relatively new development is the introduction of tumor agnostic cancer treatment approaches that rely on biomarker-based assays. Two potentially relevant ones are NTRK inhibition and microsatellite instability. While NTRK inhibition has been shown to be relevant in a number of tumor types, no patients with prostate cancer were included in the initial studies. Subsequently, rare case reports have demonstrated this to be present in prostate cancer patients but it remains likely very uncommon. In contrast, microsatellite instability is somewhat more common in metastatic prostate cancer. Pembrolizumab was granted tumor agnostic approval for patients with microsatellite instability based on data from KEYNOTE-199, Phase II Trial of Pembrolizumab (MK-3475) in Subjects With Metastatic Castration-Resistant Prostate Cancer (mCRPC) (KEYNOTE-199), which did include patients with prostate cancer. Dr. Maxwell emphasized that there remains a need to identify biomarkers for patients who are most likely to benefit from this approach.
Dr. Maxwell then switched to discuss DNA repair defects, focusing first on the role of olaparib for metastatic prostate cancer. Based on the PROfound study, Study of Olaparib (Lynparza™) Versus Enzalutamide or Abiraterone Acetate in Men With Metastatic Castration-Resistant Prostate Cancer (PROfound Study), this was approved for the treatment of patients with deleterious germline or somatic mutations in homologous recombination repair (HRR) genes. She emphasized that, along with the therapeutic indication, two companion diagnostics were also approved. The first, which was used in the trial, is FoundationOneCDx though she noted that this was a somatic only assay. The second, myriad BRACAnalysis CDx® captures germline mutations (and also assays somatic mutations in those without germline mutations). In addition to olaparib, rucaparib was also recently approved for patients with BRCA mutations, though there was no associated companion diagnostic.
Finally, she closed by considering what test should be ordered. She emphasized that, among commercially available tests, there is significant heterogeneity in what is included and thus, clinicians need to be thoughtful in choosing the tests they order.


Presented by: Kara N. Maxwell, MD, Ph.D., Assistant Professor of Medicine, Assistant Professor of Genetics, Department of Medicine, Perelman School of Medicine
University of Pennsylvania, Philadelphia, PA
Written by: Christopher J.D. Wallis, MD, Ph.D., Instructor in Urology, Vanderbilt University Medical Center, Nashville, Tennessee @WallisCJD on Twitter at the 2020 Society of Urologic Oncology Annual Meeting – December 2-5, 2020 – Washington, DC

Related Content
SUO 2020: Results from the PROfound Study, A New Second Line Therapy for mCRPC
Patients with Metastatic Castration-Resistant Prostate Cancer (mCRPC) Can Be Preselected to Maximize Benefit of Olaparib - Maha Hussain
ESMO Virtual Congress 2020: KEYNOTE-199 Phase 2 Study of Pembrolizumab Plus Enzalutamide for Enzalutamide-Resistant mCRPC: Cohorts 4 and 5 Update