Acapulco, GRO. Mexico (UroToday.com) The natural history of the prostate cancer has changed over the years. In 1941 the relation between prostate cancer and castration was found and orchiectomy was the only option for advanced prostate cancer. Even with the advances over 70 years, options were limited due to castration resistance. Before 2010, the only available treatment for castration-resistant patients was chemotherapy. (Figure 1)



Since 2010, new therapies like abiraterone, enzalutamide, cabazitaxel, radium 223 and apalutamide have changed the natural history of prostate cancer seen since 1941. (Figure 2)


Surgical castration, rarely used, presents rapid results and stable PSA levels. However, there is an important psychological impact in the patient.

Oestrogens use is not recommended in new guidelines, however, it's an alternative when there are no other available options despite cardiovascular effects.

Antiandrogens are used as a combination with GnH agonists. They are not to be used as a monotherapy because of poor efficacy and serious adverse effects (hepatoxicity, gynecomastia, diarrhea). GnH agonists has not shown superiority compared with surgical castration, however this therapy has the advantage of reversibility (Figure 3). Antiandrogens must be used before GnH agonists therapy to prevent flare up in patients with bone metastasis in the spinal cord with risk of cord compression. PSA levels could present a "leak", related with poor survival and disease progression.


The GnH antagonists are as effective as agonists, with less cardiovascular events. However, the disadvantages are the costs and the dosage presentation (there is only monthly presentation). (Figure 4)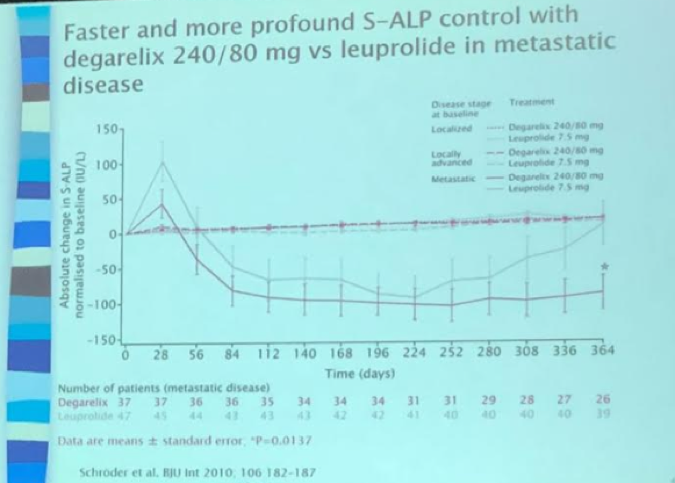 Currently, the androgen deprivation therapy is initiated at an early fashion before symptoms appear and intermittency must be offered. Patients selection is not well described, but current recommendation is: induction cycle with total androgen deprivation for 6-9 months, no progression and PSA <4ng/dl after induction cycle. (Figure 5)


Currently, ADT with GnH agonists plus antiandrogens are the first option for advanced prostate cancer. Current natural history of prostate cancer has changed since 2010 (Figure 6). Options for castration-resistant patients are discussed later in the meeting.



Presented by: Mendoza Valdés, Arturo, MD at Hospital Medica Sur at Mexico City, Mexico.

Written by: Carlos Jimenez Ornelas, MD. Resident of Urology. Instituto Nacional Ciencias Medicas y Nutricion Salvador Zubiran @dr.jimorn along with Dr. Ashish M. Kamat at the 2018 Congreso de la Asociacion Mexicana de Urologia Oncologica – July 25-28, 2018, Acapulco, Guerrero.