(UroToday.com) In this presentation, Dr. Mark Markowski discussed results of a Phase 1b/2 study of sabizabulin (VERU-111), an androgen receptor transport disruptor, in men with metastatic castration resistant prostate cancer (mCRPC) who failed an androgen receptor targeting agent (ARTA). Sabizabulin is an oral agent that inhibits microtubule assembly as well as disrupts androgen receptor transport from the cytoplasm to the nucleus.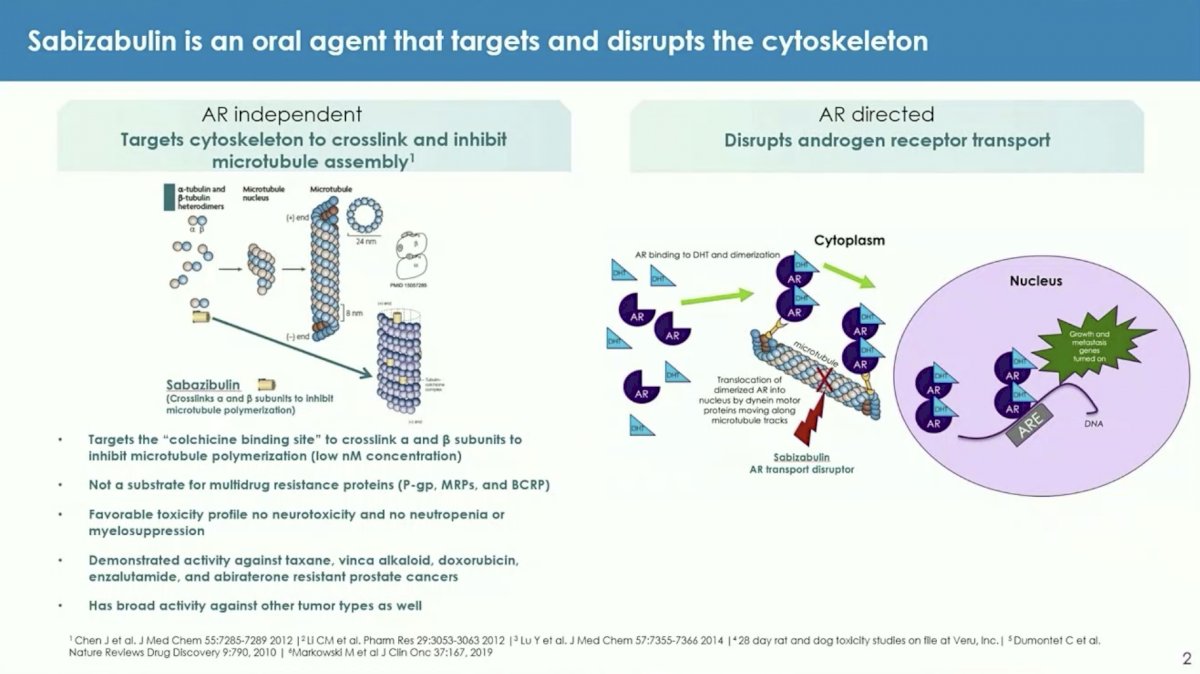 Results presented herein include patients enrolled on a Phase 1b/2 clinical trial of sabizabulin in men with mCRPC. The Phase 1b dose-escalation study (N=39) identified a dose of 63 mg daily to move forward to the Phase 2, which enrolled 44 men. Ten men in the Phase 1b study received 63 mg. Among the 54 men who received the recommended Phase 2 dose, sabizabulin was well tolerated with most adverse events being Grade 1-2. Notably, there were no reports of neutropenia or neurotoxicity.
Of the ten men on the Phase 1b study who received at least four cycles of continuous dosing, six had a decrease in PSA, four had a 30% decline in PSA, and two had a 50% decline in PSA. Two men had a partial response with the remaining eight having stable disease as best overall response. Median radiographic progression-free survival was greater than 12 months with two of the ten men still on study beyond 24 months.
Dr. Markowski concluded that sabizabulin was well-tolerated with evidence of significant and durable objective tumor responses. These promising results have led to a randomized Phase 3 clinical trial (VERACITY; NCT04844749), which is underway to evaluate the efficacy and safety of sabizabulin versus an alternative ARTA in men with mCRPC who progressed on at least on prior ARTA.

Presented by: Mark C. Markowski, MD, PhD, Medical Oncologist and Assistant Professor of Oncology at Johns Hopkins Sidney Kimmel Comprehensive Cancer Center

Written by: Jacob Berchuck, MD, Genitourinary Medical Oncologist, Dana-Farber Cancer Institute (Twitter: @jberchuck) during the 2021 European Society for Medical Oncology (ESMO) Annual Congress 2021, Thursday, Sep 16, 2021 – Tuesday, Sep 21, 2021.