(UroToday.com) In the Presidential Symposium 2 of the European Society for Medical Oncology (ESMO) Annual Congress focusing on prostate cancer, Dr. Gerhardt Attard presented a combined analysis from the STAMPEDE platform assessing the role of abiraterone acetate plus prednisolone (AAP) with or without enzalutamide (ENZ) added to androgen deprivation therapy (ADT) compared to ADT alone for men with high-risk non-metastatic (M0) prostate cancer (PCa).

Dr. Attard began by emphasizing that most patients who eventually die of prostate cancer have non-metastatic disease at baseline. Among these patients, those with high-risk M0 PCa are treated with ADT and when indicated, local radiotherapy (RT). Intensifying hormone treatment with abiraterone acetate, enzalutamide, or apalutamide improves outcomes of metastatic PCa but its efficacy in patients with M0 PCa starting ADT is unknown. In patients with M0 PCa, work from the ICECaP group has shown metastasis-free survival to be a valid surrogate of overall survival.
He further highlighted that, while docetaxel improves overall survival for men with metastatic prostate cancer, no such benefit is seen in non-metastatic disease, including in analyses from STAMPEDE and in the GETUG-12 trial. Novel second-generation hormonal therapies have shown benefit in patients with metastatic disease (in castration sensitive and castration resistant disease). However, it remains unclear whether the addition of abiraterone acetate is of benefit in high-risk non-metastatic disease.
As has been previously reported many times, STAMPEDE is a multi-arm, multi-stage trial that, as part of 2 separate comparisons, randomised patients with M0 node-positive or high-risk node-negative (>1 T3/4, PSA ≥40ng/ml, Gleason 8-10 or relapsing) prostate cancer 1:1 to ADT (control) vs ADT with abiraterone acetate (1000mg AA + 5mg P od) or ADT vs ADT with abiraterone acetate + enzalutamide (160mg od) for 2 years (y), unless RT was omitted when treatment could be to progression.
This analysis, according to an analytic plan amended in 2019, relies on a meta-analysis of the two comparisons.

The primary endpoint was metastasis-free survival (MFS, time to death or distant metastases). The sub-group of patients who received ADT +/- abiraterone acetate and prednisone was partially reported with metastatic pts in 2017 so one-sided type 1 error rate was set to 1.25%. All analyses were pre-specified, pooled using standard fixed-effects individual patient data meta-analyses methods, and stratified as described previously. The data cut-off was 3rd August 2021.
A total of 1974 patients with non-metastatic prostate cancer who participated in the STAMPEDE trial at 113 sites in the UK & Switzerland were included in this analysis. Between Nov 2011 to Jan 2014, 914 were allocated to ADT +/- abiraterone acetate. Between March 2016 to July 2014, 1060 patients were randomized to ADT +/- abiraterone acetate + enzalutamide.
In terms of baseline characteristics, the groups were well balanced with the median age of participants being 68 years (range 43-86). In terms of disease characteristics, the median PSA was 34 ng/ml (range 0.4-2773), 79% had Gleason 8-10 disease, 39% were clinically node-positive, and 85% were planned for RT (99% among those with N0 disease, 71% among those with newly diagnosed N1 disease, and 7% among previously-treated patients).
The median duration of follow-up was 72 months (85 months in the abiraterone alone comparison and 60 months in the abiraterone + enzalutamide comparison). The time to permanently stopping therapy was 23.7 months (IQR: 17.6-24.1) for abiraterone when given alone, 23.2 (IQR: 6.3-24) for enzalutamide, and 20.7 (IQR: 4.4-24) for abiraterone when started with enzalutamide.
180 MFS events occurred in the research group and 306 in the control group. The addition of abiraterone-based treatment improved MFS (HR 0.53, 95% CI 0.44-0.64, p=2.9×10-11).
Thus, at 6-years, metastasis-free survival improved from 69% in the control (ADT alone) arm to 82%.
In prespecified subgroup analysis, the MFS benefit was nearly identical whether patients in the intervention arm received abiraterone in addition to ADT or abiraterone and enzalutamide in addition to ADT.
Additional subgroup analyses including nodal status, age at randomization, and planned RT to the prostate did not demonstrate any heterogeneity of effect. However, WHO performance status and regular NSAID use did: patients with WHO PS 0 derived a much larger benefit than those of PS 1-2 as did regular NSAID users compared to non-users. However, Dr. Attard reported this as being not clinically important.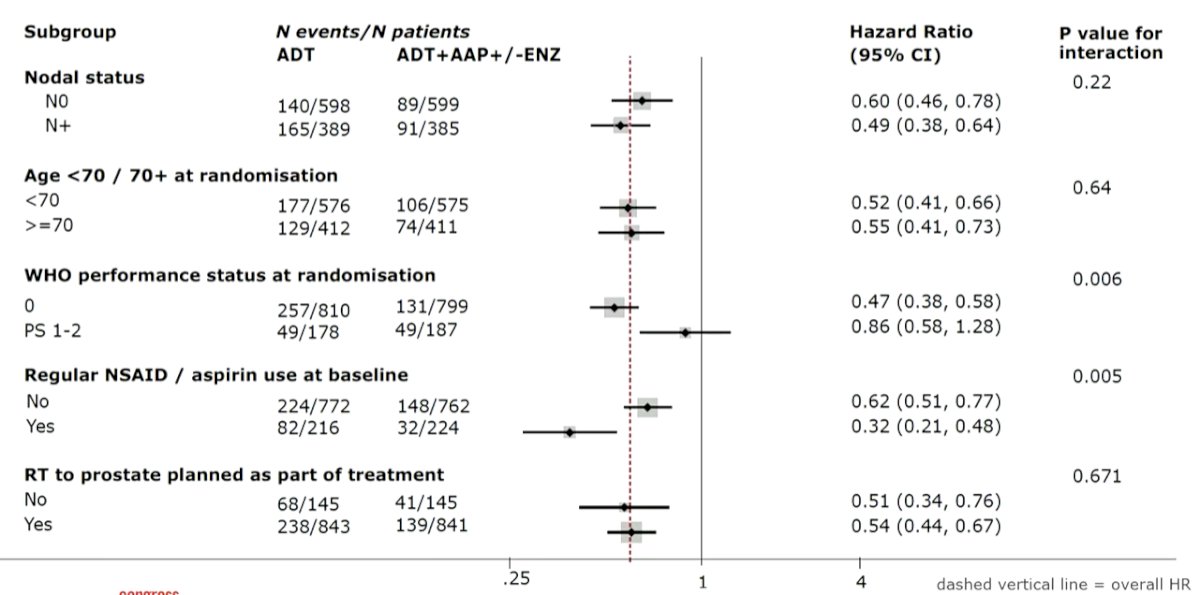 Further, the addition of abiraterone was associated with improvements in overall survival (HR 0.60, 95% CI 0.48-0.73, p=9.3×10-7) with an absolute improvement in 6-year survival of 9%, from 77% to 86%. This magnitude of benefit was substantially larger than was initially anticipated.
Again, stratified by treatment randomization period and other subgroup analyses, no meaningful differences were noted.
The addition of abiraterone-based treatment was associated with benefit across all secondary efficacy outcome measures including prostate cancer-specific survival (HR 0.49, 95% CI 0.37-0.65; absolute improvement of 8% at 6-years) and progression-free survival (HR 0.44, 95% CI 0.36-0.54).
In terms of toxicity, there was increased toxicity in the patients receiving both abiraterone and enzalutamide.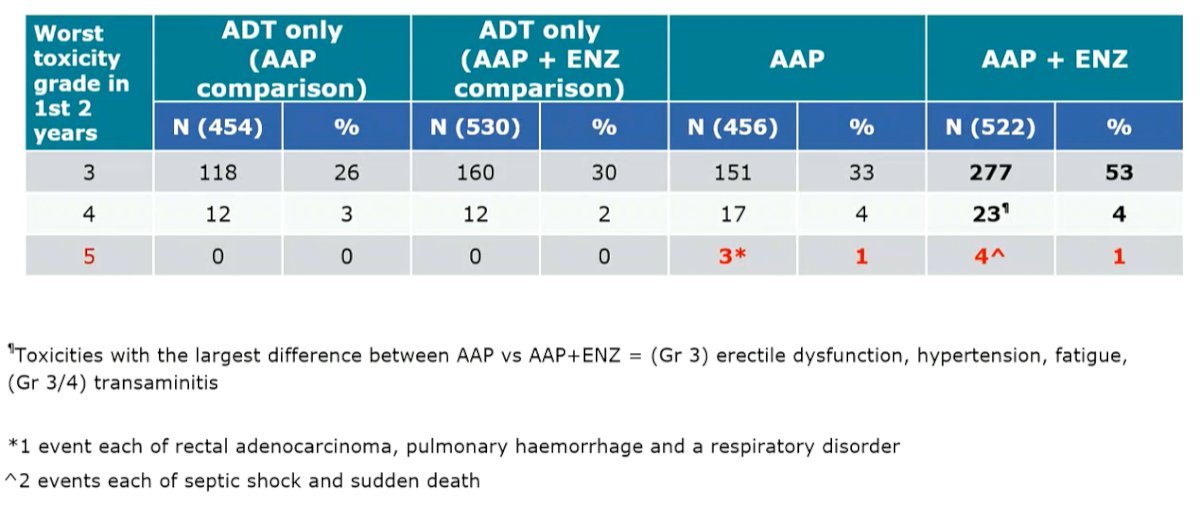 In conclusion, Dr. Attard emphasized that these data only consider 2-year treatment durations. However, this treatment approach with 2-years of abiraterone acetate-based therapy significantly improves MFS & survival of patients with high-risk non-metastatic prostate cancer starting ADT and should be considered a new standard of care. The addition of enzalutamide to abiraterone increases toxicity without benefit and should not be used.



Presented by: Gerhardt Attard, MD, PhD, University of College London, London, United Kingdom




Written by: Christopher J.D. Wallis, University of Toronto Twitter: @WallisCJD during the 2021 European Society for Medical Oncology (ESMO) Annual Congress 2021, Thursday, Sep 16, 2021 – Tuesday, Sep 21, 2021.