(UroToday.com) The European Society of Medical Oncology (ESMO) 2021 annual meeting's non-prostate cancer session included a presentation by Dr. Thomas Powles discussing the IMvigor011 trial concept and design, a phase 3 trial assessing atezolizumab versus placebo as adjuvant therapy in patients with high-risk muscle-invasive bladder cancer (MIBC) who are ctDNA positive after a radical cystectomy.

Treatment for MIBC generally includes radical cystectomy, with or without cisplatin-based neoadjuvant chemotherapy. Despite treatment with curative intent, the prognosis is poor, with approximately 50% of patients developing locoregional or distant recurrence within 2 years of surgical resection. Historically, distinguishing between patients with residual disease and those cured after cystectomy +/- neoadjuvant chemotherapy has been challenging, and no conclusive level 1 evidence is available to support the use of adjuvant chemotherapy use in MIBC. Therefore, both new treatment options for MIBC, as well as prognostic and predictive biomarkers for risk stratification of disease recurrence are needed to optimize treatment outcomes and improve MIBC management.



Atezolizumab is recommended for the treatment of several types of locally advanced or metastatic urothelial carcinoma. Additionally, ctDNA analysis is a promising approach for selecting patients potentially suitable for checkpoint inhibitors. In IMvigor010, ctDNA positivity identified patients with high-risk muscle-invasive urothelial cancer who may derive disease-free and overall survival benefit from adjuvant atezolizumab. ctDNA negative patients had a low relapse risk without improved outcomes with atezolizumab versus observation, suggesting they may be spared adjuvant treatment. Following on this premise, IMvigor011 is studying adjuvant atezolizumab versus placebo in patients with high-risk MIBC who are ctDNA positive post cystectomy.

IMvigor011 is a global, phase 3, randomized, placebo-controlled, double-blind study, and the IMvigor011 design is as follows: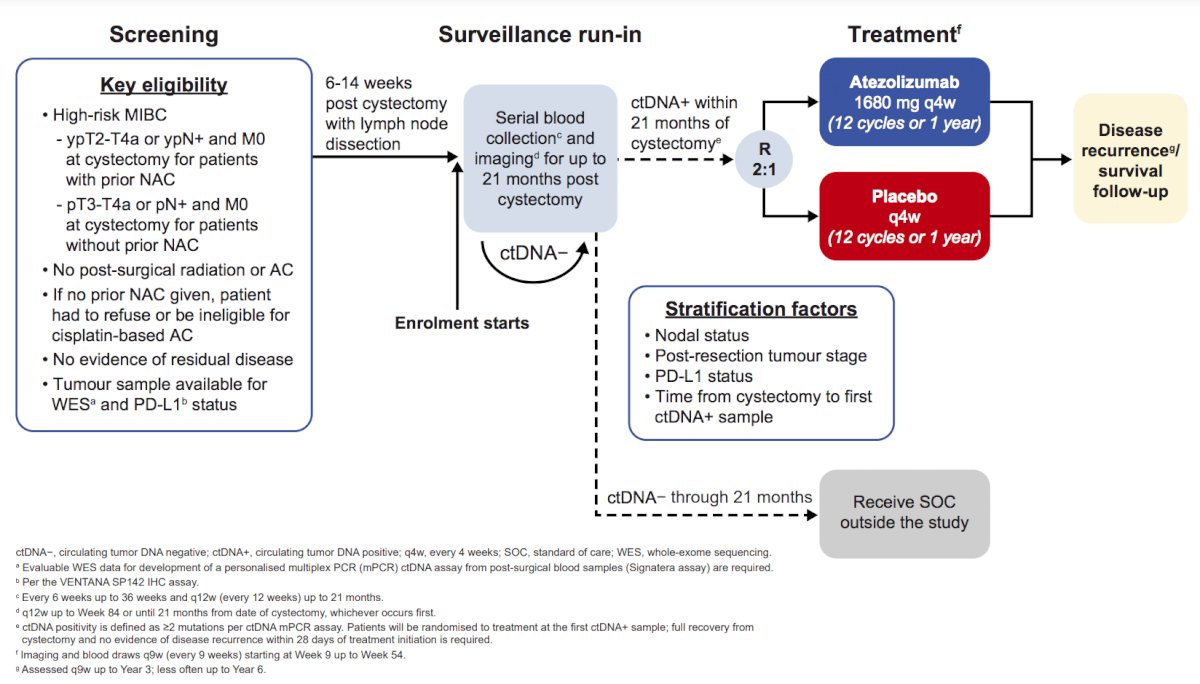 Approximately 495 patients (in order to randomize 213 patients in the primary analysis population) with histologically confirmed MIBC will be enrolled 6-14 weeks post cystectomy and must have had lymph node dissection and tumor sample for PD-L1 testing (VENTANA SP142 IHC assay) and whole exome sequencing. Evaluable whole-exome sequencing data for the development of a personalized mPCR ctDNA assay from post-surgical blood samples (Signatera assay) are required. Adjuvant chemotherapy or postsurgical radiation are not allowed. Patients given neoadjuvant chemotherapy must have ypT2−4a or ypN+ and M0 tumors. Patients not given neoadjuvant chemotherapy must be ineligible for or decline adjuvant chemotherapy with cisplatin and have pT3−4a or pN+ and M0 tumors. Patients meeting these criteria will enter a surveillance phase for plasma ctDNA testing (q6w up to 36 weeks; q12w up to 21 months). At the first ctDNA positive sample (≥2 mutations), patients with ECOG PS ≤2 and no radiographic recurrence may start a treatment phase with 2:1 randomization to atezolizumab or placebo 1680 mg IV q4w for 12 cycles or up to 1 year or until recurrence (assessed q9w in year 1-2; less often up to year 6) or toxicity. Stratification factors are nodal status, tumor stage post-resection, PD-L1 status, and time from cystectomy to first ctDNA positive sample. The primary efficacy endpoint is DFS in patients ctDNA positive ≤20 weeks post cystectomy (primary analysis population). Key secondary endpoints are OS (primary analysis population) and DFS (randomized population; including patients ctDNA positive >20 weeks post cystectomy). Safety and exploratory predictive, prognostic, and pharmacodynamic biomarkers will also be assessed. Enrolment will include 184 sites in 23 different countries as listed below: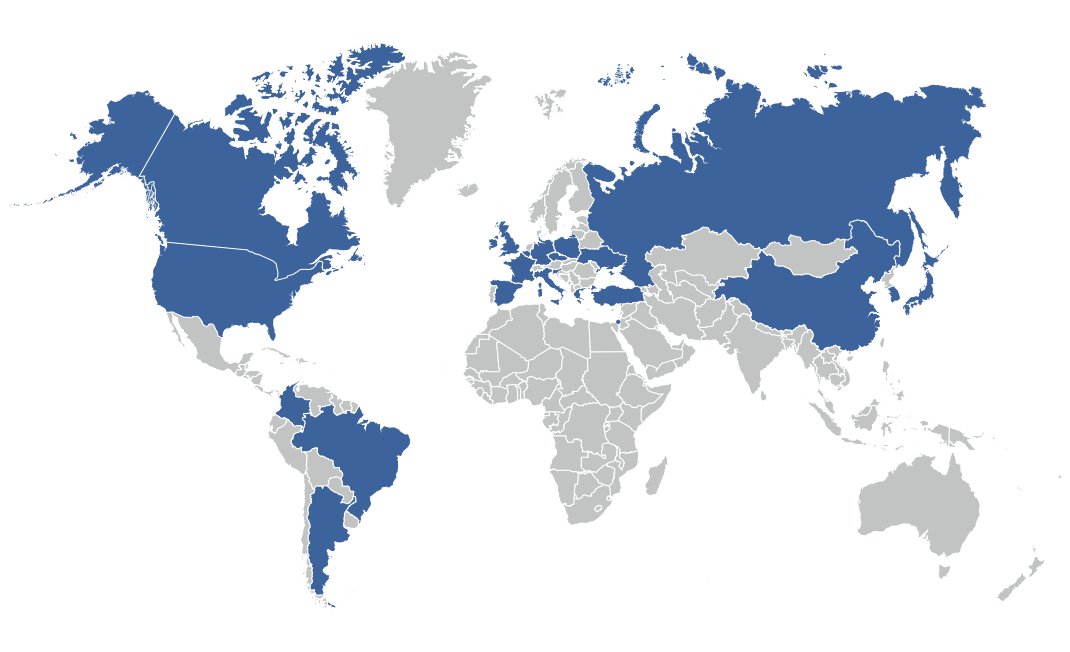 Presented by: Thomas Powles, MBBS, MRCP, MD, Professor of Genitourinary Oncology, Director, Barts Cancer Institute, Lead for Solid Tumour Research Barts Cancer Institute, Queen Mary University of London, St Bartholomew's Hospital, London, UK


Written by: Zachary Klaassen, MD, MSc – Urologic Oncologist, Assistant Professor of Urology, Georgia Cancer Center, Augusta University/Medical College of Georgia, @zklaassen_md on Twitter during the 2021 European Society for Medical Oncology (ESMO) Annual Congress 2021, Thursday, Sep 16, 2021 – Tuesday, Sep 21, 2021.