(UroToday.com) Docetaxel is an approved therapy for the treatment of men with metastatic castration-resistant prostate cancer (mCRPC) that may work in part by inducing immunogenic cell death of prostate cancer cells. The KEYNOTE-365 study (NCT02861573) tested this hypothesis in its cohort B arm with a study of standard dosing pembrolizumab and docetaxel with prednisone 5 mg daily. Initial results from this cohort were presented at ASCO 2019, showing an objective response rate in patients with RECIST-measurable disease of 14%, disease control rate of 50%, and median progression-free survival of 8 months. In this presentation, Dr. Emanuela Romano and colleagues present updated results after additional enrollment and longer follow-up.



The study schema is shown below.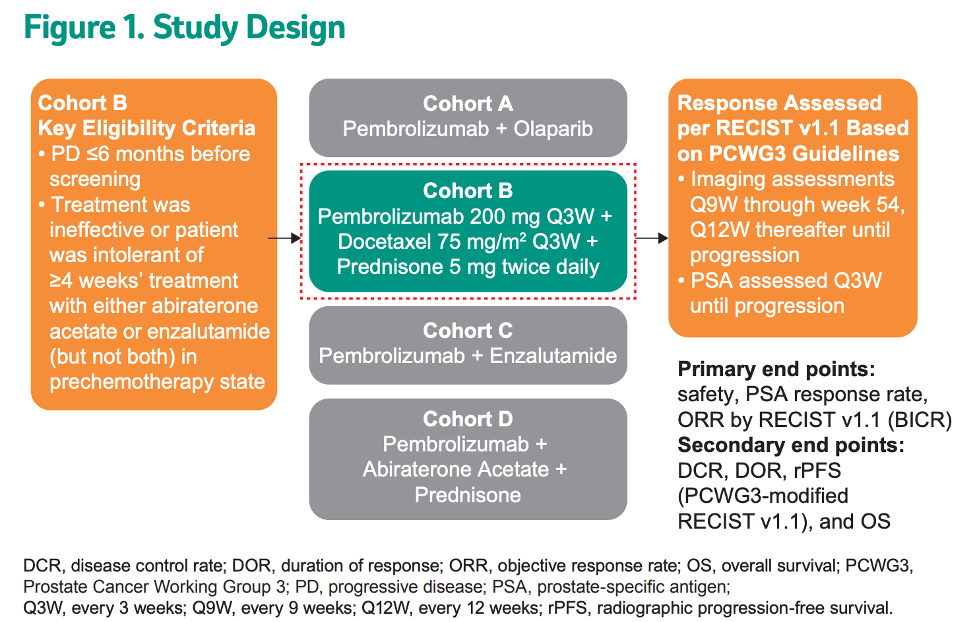 The objective response rate, now assessed by a BICR, showed an objective response rate of 17.9% and disease control rate of 51.3% at 19.9 months median follow-up. 92.3% percent of patients had some reduction in target lesion size reduction, with 35.9% of patients experiencing at least a partial response.


Radiographic progression-free survival in the updated cohort was 8.3 months, and the median overall survival was 20.4 months. Two patients died of pneumonitis that was attributed to treatment. The most common grade 3 and 4 adverse events were febrile neutropenia (12 patients) and anemia (5 patients).


This updated data confirms prior presented data suggesting clinical activity of the combination of docetaxel plus pembrolizumab in patients who had progressed on anti-androgen therapy with either enzalutamide or abiraterone. Results are awaited from the randomized phase 3 study of docetaxel + prednisone versus docetaxel + prednisone + pembrolizumab (KEYNOTE-921, NCT03834506) in mCRPC patients treated with exactly one prior anti-androgen therapy.


Presented by: Emanuela Romano, MD, Medical Director of the Center for Cancer Immunotherapy, Institut Curie, Paris, France
Written by: Alok Tewari, MD, Ph.D., Medical Oncologist at the Dana-Farber Cancer Institute, at the 2020 European Society for Medical Oncology Virtual Congress (#ESMO20), September 19th-September 21st, 2020