(UroToday.com) In an oral presentation in the Refining the Treatment of Bladder Cancer session at the 12th European Multidisciplinary Congress on Urological Cancers (EMUC), Dr. Matthew Glasky presented an overview of optimal first-line approaches to the treatment of metastatic bladder cancer.

Dr. Galsky began by highlighting the treatment approach in what he called the "not too distant past: in which patients underwent first-line therapy with platinum-based chemotherapy (with the choice of an agent determined based on cisplatin-eligibility) with relatively limited second-line therapy including taxanes or vinflunine.

Now, in 2020, there are many more available options. Though platinum-based chemotherapy remains the standard first-line approach, a variety of second and third-line approaches including immune checkpoint inhibitors and molecularly targeted agents have been introduced.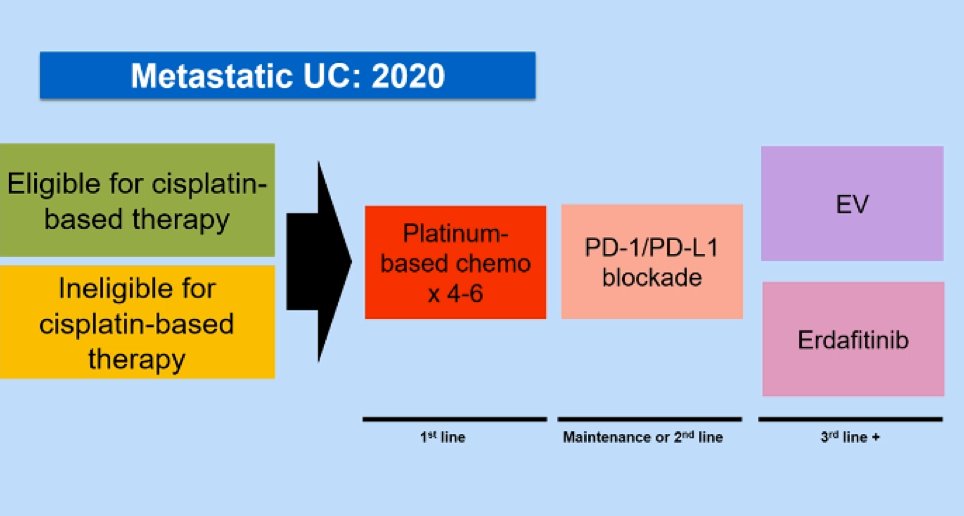 He focused on recently published trials that inform this new paradigm.

First, examining "switch maintenance", Dr. Glasky highlighted data from HCRN 14-182, Testing the PD-1 Inhibitor Pembrolizumab as Maintenance Therapy After Initial Chemotherapy in Metastatic Bladder Cancer (HCRN 14-182), and JAVELIN Bladder 100, A Study Of Avelumab In Patients With Locally Advanced Or Metastatic Urothelial Cancer (JAVELIN Bladder 100), which, in phase II and phase III approaches respectively, demonstrated a benefit (in progression-free survival and overall survival, respectively) to the use of immune checkpoint inhibitors (either pembrolizumab or avelumab) following induction chemotherapy.

A number of other phase III trials (including DANUBE, Study of MEDI4736 (Durvalumab) With or Without Tremelimumab Versus Standard of Care Chemotherapy in Urothelial Cancer (DANUBE), KEYNOTE-361, Study of Pembrolizumab With or Without Platinum-based Combination Chemotherapy Versus Chemotherapy Alone in Urothelial Carcinoma (MK-3475-361/KEYNOTE-361), and IMvigor 130, Study of Atezolizumab as Monotherapy and in Combination With Platinum-Based Chemotherapy in Participants With Untreated Locally Advanced or Metastatic Urothelial Carcinoma (IMvigor130)) further explored the role of immunotherapy as front line therapy, either alone or in combination with chemotherapy, and whether there is a role for biomarker selection for the use of immunotherapy.

While most of these studies included an immune checkpoint inhibitor monotherapy arm and a chemotherapy comparator, these differed in the third arm – with either single-agent immunotherapy added to chemotherapy or doublet checkpoint inhibition.




Addressing the first of these as represented by IMvigor 130 and KEYNOTE-361, Dr. Glasky highlighted that there was a slight improvement in objective response rate with the combination of chemotherapy and immunotherapy compared to chemotherapy alone though improvements in progression-free survival were minor, with differences in the results being due to differences in study design rather than true differences in outcome. Both of these trials failed to demonstrate significant improvements in overall survival.

In a comparison of single-agent immune checkpoint inhibition and chemotherapy, Dr. Galsky highlighted data from DANUBE, KEYNOTE-361, and IMvigor 130, each of which demonstrated better early survival among those treated with chemotherapy in unselected populations, though the lines cross and long-term survival may be higher among those receiving immunotherapy.

He then highlighted that the use of PD-L1 testing has been limited by the use of different biomarkers, different scoring approaches, and different cut-points for different agents testing in different trials. As a result of these differences, rates of PD-L1 high patients differed substantially across recent phase III trials. These differences have contributed to disparate findings between trials in terms of the comparison of chemotherapy vs immune checkpoint inhibition in PD-L1 positive populations.

He then discussed data on combination biomarkers, namely tumor mutational burden (TMB) and PD-L1, based on data from IMvigor 130. A combination of high levels of each of these biomarkers seemed to enrich for a response to immunotherapy.




Finally, he discussed a combination immunotherapy approach using anti-CTLA4 and anti-PD-L1 blockage, compared to chemotherapy, based on data from DANUBE. As with the previously discussed data, there is a crossing of the curves with improved early outcomes for patients receiving chemotherapy but a higher long term survival among those receiving chemotherapy. Given the non-proportional hazards, interpretation of the presented hazard ratios is somewhat difficult. However, the effect (and strength of immunotherapy doublet) appeared magnified in the PD-L1 positive population. The role of this approach will be further explored in CheckMate-901, Study of Nivolumab in Combination With Ipilimumab or Standard of Care Chemotherapy Compared to the Standard of Care Chemotherapy Alone in Treatment of Participants With Untreated Inoperable or Metastatic Urothelial Cancer (CheckMate901).

Among patients who are cisplatin-ineligible, Dr. Glasky highlighted a number of ongoing combination approaches, including enfortumab and pembrolizumab.

Finally, Dr. Galsky highlighted a number of evidence voids, across a variety of treatment disease spaces.




Presented by: Matthew Galsky, MD, Director of Genitourinary Medical Oncology, Tisch Cancer Institute, Professor of Medicine, Mount Sinai

Written by: Christopher J.D. Wallis, Urologic Oncology Fellow, Vanderbilt University Medical Center Contact: @WallisCJD on Twitter at the 12th European Multidisciplinary Congress on Urological Cancers (EMUC) (#EMUC20 ), November 13th - 14th, 2020

Related Content:
The Dynamic Advancements in Personalized Treatments for Metastatic Urothelial Cancer - Andrea Apolo