(UroToday.com) The 2023 European Association of Urology (EAU) annual congress held in Milan, Italy between March 10th and 13th, 2023 was host to an abstract session of studies addressing non-muscle invasive bladder cancer, from the initial diagnostic setting to follow-up. Dr. Thierry Lebret presented the results of VISIOCYT1, a French, multicenter, prospective trial evaluating artificial intelligence to improve cytology performance in the diagnosis of urothelial carcinoma of the bladder.

Urinary cytology combined with cystoscopy remains the gold standard for the diagnosis and surveillance of urothelial lesions of the bladder. Although a non-invasive test, cytology has high interobserver variability and low sensitivity, particularly in low-grade tumors. In order to improve the performance of urinary cytopathology, the VitaDX company (France) developed VisioCyt®, a medical device that uses whole-slide digitalization and artificial intelligence (AI) algorithms to identify tumor cells. The primary objective of the study was to evaluate the sensitivity and specificity of the VisioCyt® test. Secondary objectives included evaluating the specificity of VisioCyt® and comparing its performance to "conventional" urinary cytology.
VISIOCYT1 enrolled 319 patients across 14 French centers and included two groups of patients:
Non-muscle invasive bladder tumor (n=170)
Control patients (n=149)
Eligibility criteria for this trial were as follows:
How is the VisioCyt® test result generated? A voided urine sample is smeared across a thin prep slide with Papanicolaou staining. Next, the slide is processed through a scanner with fluorescence and brightfield slide images generated. An automated algorithm processes findings on these images and generates a yes/no answer for presence of bladder urothelial carcinoma.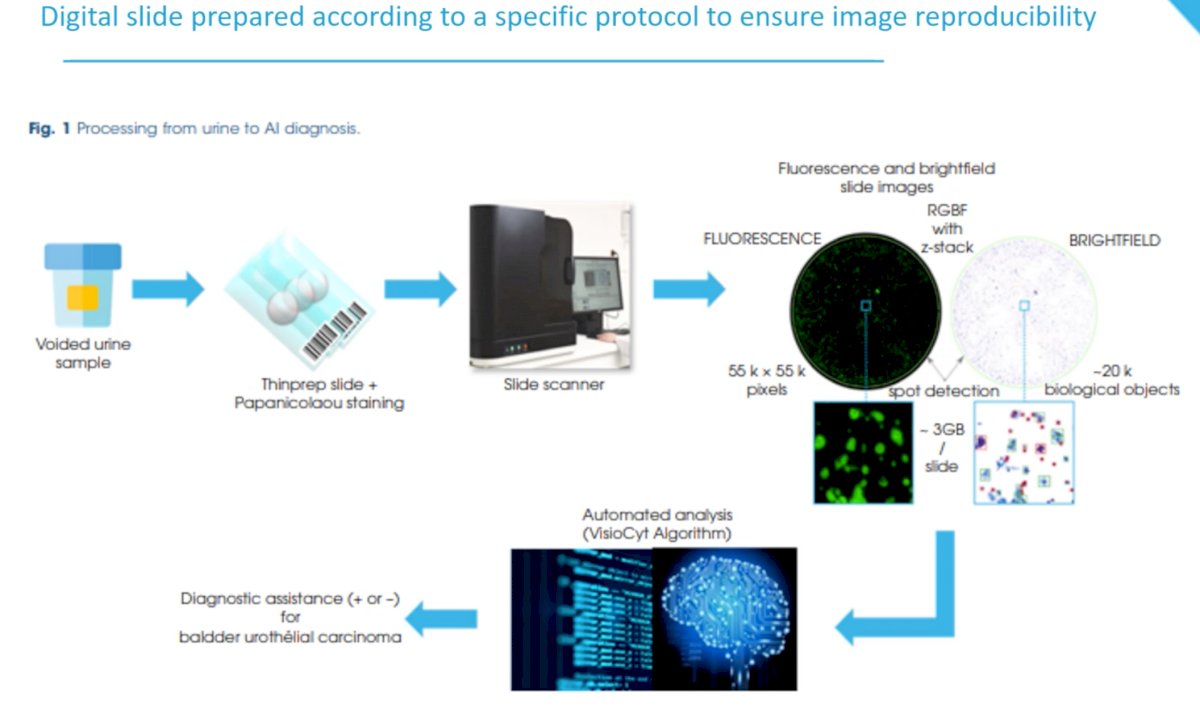 A phase 1 learning phase was previously performed with local and global annotations performed by expert pathologists.
The overall sensitivity of VisioCyt® was 81%, which was significantly higher than that of cytology (46%). This higher sensitivity persisted among patients with both:
Low grade: 67% versus 26% and
High grade: 94% versus 63%
The specificity of VisioCyt® was lower (62%) compared to conventional cytology (100% in this study given that patients with a negative cytology were included as control patients).
Dr. Lebret concluded that VisioCyt® is a promising diagnostic tool for non-muscle invasive bladder cancer. The test shows improved sensitivity compared to standard cytology, particularly in low-grade tumors, but with lower specificity. VisioCyt® is reproducible, reliable, and requires only voided urine samples. VisioCyt® could be performed before cystoscopy, helping the urologists to perform the cystoscopy and to schedule TURBT or other examinations. The performance of the AI-based VisioCyt® test is expected to improve with further training. Other studies are currently ongoing to confirm and assess the improved performance of the VisioCyt® test.
Presented by: Professor Thierry Lebret, MD, PhD, Department of Urology, Hospital Foch, Suresnes, France
Written by: Rashid K. Sayyid, MD, MSc – Society of Urologic Oncology (SUO) Clinical Fellow at The University of Toronto, @rksayyid on Twitter during the 2023 European Association of Urology (EAU) 38th annual congress held in Milan, Italy between March 10-13, 2023