(UroToday.com) The 2021 American Urological Association (AUA) Summer School session on Upper Tract Urothelial Carcinoma included a case-based discussion led by moderator Dr. Surena Matin who was joined by panelists Dr. Sima Porten and Dr. Vitaly Margulis. This case discussed high-risk ureteral urothelial carcinoma within the setting of node-positive disease. The patient was a 49-year-old male with a 1.5-year history of cT1HG plus CIS bladder cancer treated with TURBT, BCG induction, and maintenance therapy. He subsequently developed right flank pain and a CT scan showed new right hydronephrosis read by radiology as inflammation and recommendation for follow-up imaging. A CT scan 2 months later showed right hydronephrosis with a distal ureteral mass and a 2 cm interaortocaval lymph node. A biopsy of the lymph node confirmed poorly differentiated carcinoma and ureteroscopy confirmed a sessile tumor in the distal ureter (cT2) with no tumors above the ureteral lesion, no obvious bladder tumors, and no obvious metastatic disease. eGFR was 74 and a mutation panel from the biopsy showed FGFR3 and TP53 mutations: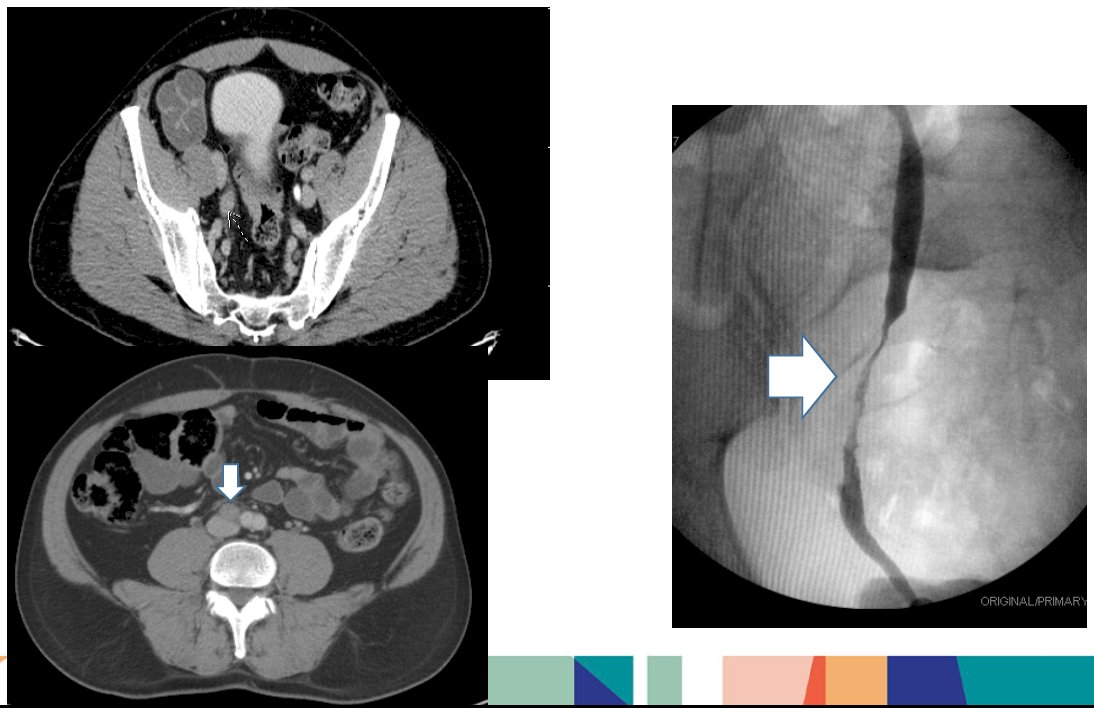 Dr. Matin notes that there are several questions and options for a patient with a cT2N1 distal ureteral tumor, which he posed to the panel:
Is the lymph node location consistent with distal ureteral tumor location?
Is the patient a candidate for distal ureterectomy? What else should be evaluated?
What are his options?

Initial chemotherapy?
Nephroureterectomy?
Distal ureterectomy plus psoas hitch/Boari flap?
Lymphadenectomy? Which template?
Given the location of the lymph node, Dr. Porten states that she would definitely want a biopsy of the lymph node in order to confirm the diagnosis. Dr. Margulis stated that although it would be ideal to get lymph node biopsy tissue, the location is difficult with no ideal window to obtain a percutaneous biopsy. Dr. Matin emphasized that when planning a distal ureterectomy, it is important to have a clear roadmap of the anatomy and to ensure that the proximal portions of the ureter have also been screened. Additionally, it is important to assess for bladder capacity and, if indicated, assess for bladder function.
This patient subsequently underwent six cycles of dose-dense MVAC followed by two cycles of adriamycin with CT imaging showing a good response and radiographic complete response to the lymph node. Repeat cystoscopy with ureteroscopy confirmed clear upper tracts above the tumor and a cystogram demonstrating adequate bladder capacity. Thus, he underwent a right distal ureterectomy, right pelvic and retroperitoneal lymphadenectomy, intravesicular gemcitabine, and a psoas hitch ureteral reimplant with final path showing ypT0ypN0/12R0.
Moderator: Surena F. Matin, MD, MD Anderson Cancer Center, Houston, TX

Panelists: Sima Porten, MD, MPH, University of California – San Francisco, San Francisco, CA & Vitaly Margulis, MD, UT Southwestern, Dallas, TX
Written by: Zachary Klaassen, MD, MSc – Urologic Oncologist, Assistant Professor of Urology, Georgia Cancer Center, Augusta University/Medical College of Georgia, @zklaassen_md on Twitter during the AUA2021 May Kick-off Weekend May 21-23.