(UroToday.com) In a sponsored educational session at the American Urologic Association Virtual Annual Meeting, Karim Chamie, MD, presented on the recently expanded kidney-sparing options for patients with low-grade upper tract urothelial cancer.
To begin, Dr. Chamie highlighted the evolution in thinking regarding kidney sparing treatment for patients with upper tract urothelial cancer (UTUC). While kidney-sparing approaches were initially only considered in patients with imperative indications, the usage of this approach has broadened over time.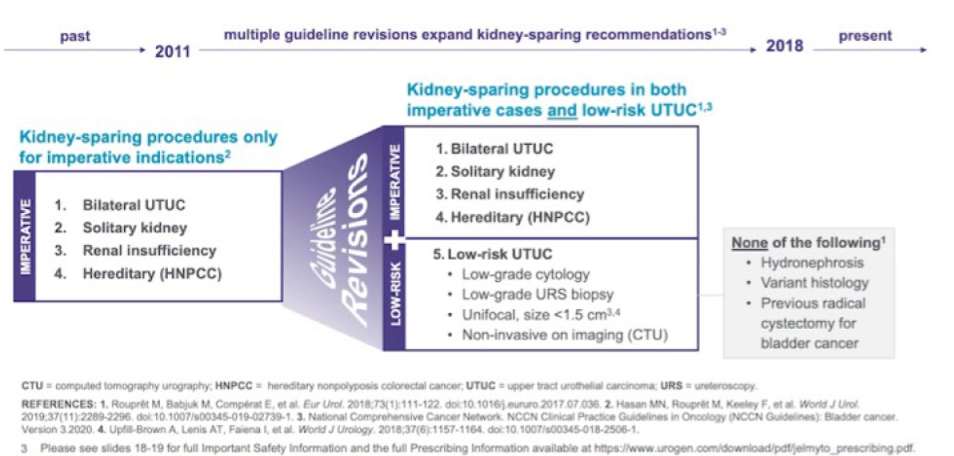 The rationale for kidney sparing approaches in UTUC comes from a balance of the oncologic outcomes of such extirpative surgery and the consequences of such major surgery. In addition to the immediate peri-operative risks, radical nephroureterectomy is associated with renal insufficiency. This has implications both widely and in the ongoing management of UTUC as it may preclude systemic therapy options and may raise further issues in the case of metachronous development of contralateral UTUC.

Prior observational data have suggested that, among carefully selected patients, kidney-sparing approaches provide similar outcomes to nephroureterectomy, both in terms of overall survival and cancer-specific survival.


Despite these promising data, there are notable limitations to kidney sparing approaches to date. The treatment has primarily been performed with ureteroscopic laser ablation. This approach is associated with high rates of local recurrence requiring re-treatment, in addition to bladder recurrences. In addition, due to technical limitations, some tumors are unable to be treated ureteroscopically.


As we know from extensive experience in urothelial bladder cancer, these tumors are sensitive to topical chemotherapeutic agents. Increasing dwell time has been shown to decrease recurrence rates. However, use in the upper tract has been limited due to dwell time as a result of the natural drainage of the upper tract.


To address this issue, MitoGel or JELMYTO was developed. JELMYTO is a combination of mitomycin C which has a long history of use in urothelial bladder cancer and a reverse-thermal gel which increases dwell time.
Data from the pivotal OLYMPUS trial demonstrated both the feasibility and promising outcomes of such a treatment approach, allowing many patients to avoid extirpative surgery.


To briefly summarize, the authors enrolled patients with new or recurrent non-invasive, low-grade UTUC and treated them with six one weekly JELMYTO instillations. Patients were then evaluated at 3 months following screening for the primary endpoint of complete response. Responders underwent ongoing maintenance therapy.

Nearly 60% of patients in the intention to treat population exhibited complete responses at 3 months.


Among those who had a complete response, 12-month durability rates were high (84.2% by Kaplan Meier analysis).
Dr. Chamie highlighted a number of important adverse reactions associated with JELMYTO treatment including ureteric obstruction. This was reported in 58% of the safety population, with a spectrum of severity.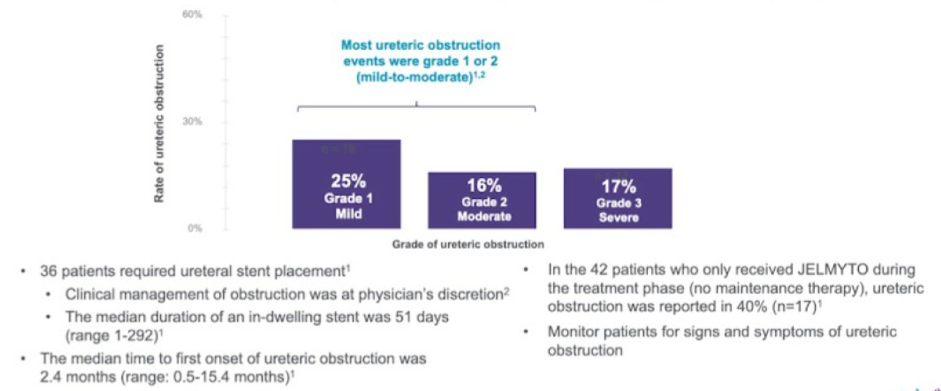 Dr. Chamie closed by considering some practice considerations in the use of JELMYTO including anesthetic considerations, catheter use, as well as pharmacokinetic properties including excretion and exposure.


Presented by: Karim Chamie, MD, Associate Professor of Urology, University of California, Los Angeles, Los Angeles, CA, USA
Written by: Christopher J.D. Wallis, Urologic Oncology Fellow, Vanderbilt University Medical Center, Nashville, TN, USA, Twitter: @WallisCJD, at the 2020 American Urological Association (AUA) Annual Meeting, Virtual Experience #AUA20, June 27- 28, 2020.