Chicago, IL (UroToday.com) Dr. Marilena Gubbiotti presented results of a research study conducted in sexually active women with idiopathic overactive bladder (iOAB). Previous research indicate that about 25% of women diagnosed with OAB experience some type of sexual dysfunction including hypoactive sexual desire, arousal disorder, and decreased sexual satisfaction and sexual activity. Multiple medications are available for the treatment of OAB, but there is no consistent data on their activity on female sexual dysfunction (FSD). The goal of the study was to assess the effects of Mirabegron on a number the FSD symptoms measured by the Female Sexual Function Index (FSFI) questionnaire.

Fifty women were enrolled into the study in 2 Italian centers. Eligible participants completed 3-day bladder diaries and the International Consultation on Incontinence Questionnaire-Short Form (ICIQ-SF) to document urinary symptoms at the baseline and a 3-month follow up. In addition, the study team conducted physical exams and collected post-void residual data. Change in quality of life was assessed by the VAS questionnaire. Study participants were prescribed 50 mg of daily Mirabegron for 12 weeks.

The study sample included women with a mean age of 49.3 ± 11.3 yrs (Table 1).


Table 1
At the beginning of the study 94% of participants reported urge urinary incontinence symptoms. At the 3-month follow visit, 56% of subjects regained continence. Data analysis demonstrated a statistically significant improvement in daytime and nighttime urinary frequency, daily urgency episodes, and urge urinary incontinence frequency per day (Table 2).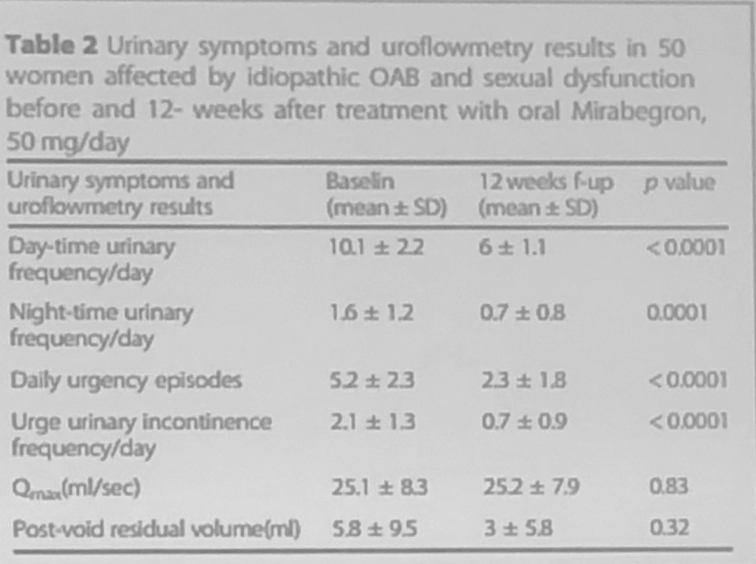 Table 2
Female sexual dysfunctions were noted in 98% of women at the baseline. According to the presenter, FSD symptoms either decreased or completely resolved in 12 weeks (Table 3).
Table 3
Quality of life outcomes have significantly improved from the baseline to the 3-month visit (3.9 ± 1.2 to 6.9 ± 1.2 (p < 0.0001)).
Study reveals that Mirabegron can potentially improve not only urinary incontinence episodes, but also reduce female sexual dysfunction occurrence. This phenomenon can relate to the overall improvement in continence and vasorelaxation of female genitalia induced by the medication.
Presented by: Marilena Gubbiotti, MD, Urologist, Perugia, Italy
Co-authors: Maurizio Serati, Varese, Italy, Antonella Giannantoni, Siena, Italy
Written by: Hanna Stambakio, BS, Clinical Research Coordinator, Division of Urology, University of Pennsylvania, Twitter: @AStambakio at
the American Urological Association's 2019 Annual Meeting (AUA 2019), May 3 – 6, 2019 in Chicago, Illinois