(UroToday.com) The field of advanced prostate cancer has rapidly progressed over the past 15 years. Prior to the publication of TAX-327, there were no proven life-prolonging therapies for patients with metastatic castration-resistant prostate cancer (mCRPC). Since that time, there have been many new agents that have proven survival benefits including taxane-based chemotherapy, agents targeting the androgen axis, and bone-targeting agents. Most recently, combining advances in targeted imaging with therapeutic intervention, the field of theranostics has begun to flourish in prostate cancer. The TheraP trial was designed to assess the role of LuPSMA, compared to cabazitaxel, in men who had progressed following treatment with docetaxel of mCRPC. A previous report demonstrated improved PSA response rates among those treated with LuPSMA (PSA reduction ≥50% of 66% vs. 37%).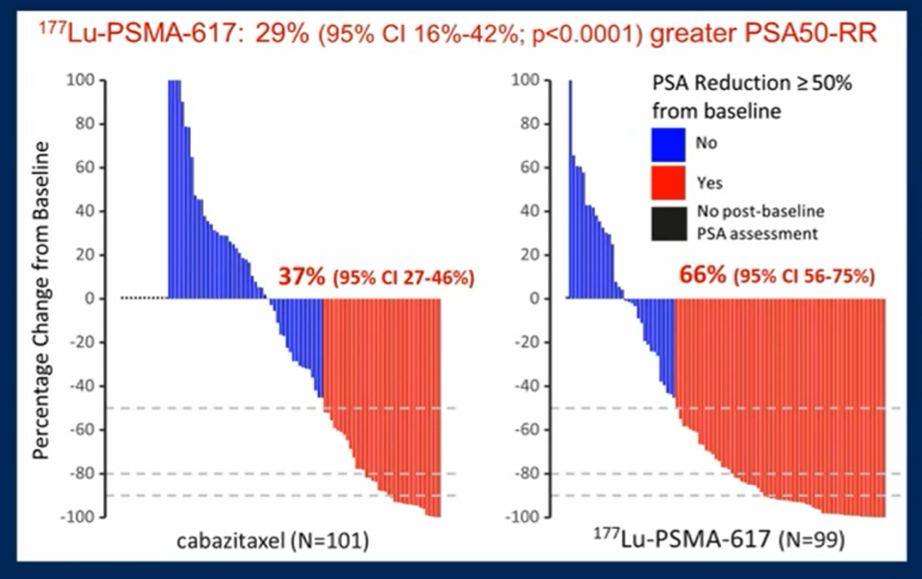 In a plenary abstract presentation in the Progress and Promise in Treatment Personalization for Advanced Prostate Cancer session at the 2021 ASCO GU Cancers Symposium, Dr. Michael Hofman presented an updated analysis of other clinical endpoints and patient-reported outcomes reached the pre-specified target of 170 PFS events. This study was concurrently published in The Lancet.1

To briefly summarize the methodology, TheraP enrolled patients with metastatic castration-resistant prostate cancer (mCRPC) who had previously received docetaxel and were eligible to receive cabazitaxel. Patients were required to have progressive disease with a rising PSA with absolute PSA of 20 ng/mL or higher. All patients underwent both Ga-68-PSMA-PET/CT and F-18-FDG-PET/CT prior to randomization. To be eligible for inclusion, patients must have had a high avidity lesion on PSMA PET/CT (SUV max >20 at any site) with measurable disease with SUV max of 10 or greater. Further, there could not be sites of disease which were FDG positive but PSMA negative.




Eligible men were randomized (1:1) to LuPSMA (6-8.5GBq q6wk up to 6 cycles; N = 99) or cabazitaxel (20mg/m2 q3wk up to 10 cycles; N = 101). While the primary outcome of PSA response has been previously reported, this analysis focused on secondary endpoints including PSA/radiologic PFS (PCWG3), pain response (≥2 point reduction on McGill-Melzack Present Pain Intensity scale, objective response rate (ORR) (RECIST 1.1), adverse events (CTCAE), PROs (EORTC QLQ-C30) and overall survival (OS). The cut-off date for analysis of July 20, 2020.

As of a data cut-off of July 20, 2020, median follow-up was 18.4 months. PFS was significantly longer in those assigned Lu-PSMA rather than cabazitaxel (rates at 1 year 19% [95%CI 12-27%] vs 3% [1-9%], hazard ratio (HR) 0.63, 95%CI 0.46-0.86; p = 0.003) based on173 events. As similar benefit was seen whether PFS was examined radiographically (rPFS, HR 0.64, 95%CI 0.46-0.88; p = 0.007; 160 events) or based on PSA (PSA-PFS, HR 0.60 95%CI 0.44-0.83; p = 0.002; 172 events).




Among men with measurable disease (n=78), objective response rates were significantly greater in the LuPSMA arm (49% vs 24%, RR 2.1, 95%CI 1.1-4.1; p = 0.019). Similarly, among those with pain at baseline (n=90), pain responses occurred in 60% in the Lu-PSMA arm vs 43% for cabazitaxel (RR 1.42, 95%CI 0.84-4.48; p = 0.10).




Overall, patient-reported global health status was similar between arms (LuPSMA 64 [95%CI 61-67] vs cabazitaxel 60 [57-64]), though significantly better function was noted for patients receiving LuPSMA with respect to fatigue, social functioning, insomnia, and diarrhoea domains. No PRO domains were superior for cabazitaxel.




The authors further assessed deterioration-free survival, defined as the time to a 10 point or greater decline in EORTC QLQ-C30 global health-related quality of life. Again, this favored the LuPSMA treated group.

Serious (grade 3-4) adverse events were similar to previous reports (with fewer overall toxicity events in the LuPSMA arm). Overall survival data remained too immature for analysis (90 events).

While there are many strengths to this trial including the first of its kind nature, the use of an active control arm, the careful inclusion of appropriate men, and the consistently large differences in primary and secondary endpoints, Dr. Hofman emphasized that OS data is still immature, the trial was unblinded with greater withdrawal rates in the cabazitaxel arm and that validation (expected through the VISION trial) is required.

Thus, the authors conclude that this extended follow-up of the TheraP study demonstrates that LuPSMA is a promising alternative to cabazitaxel in men who have progressed following docetaxel for mCRPC.

Presented by: Michael Hofman, MBBS (Hons), FRACP, FAANMS, FICIS, Director, Prostate Cancer Theranostics and Imaging Centre of Excellence (ProsTIC), Molecular Imaging & Therapeutic Nuclear Medicine Centre for Cancer Imaging, Peter MacCallum Cancer Center, Victoria, Australia

Written by: Christopher J.D. Wallis, Urologic Oncology Fellow, Vanderbilt University Medical Center Contact: @WallisCJD on Twitter during the 2021 American Society of Clinical Oncology Genitourinary Cancers Symposium (#GU21), February 11th-February 13th, 2021


References: