San Francisco, California (UroToday.com) Standard of care first-line approaches for the treatment of locally advanced and metastatic urothelial carcinoma include cisplatin. Unfortunately, this therapy is often toxic with overall response rates of 50% or less. Additionally, a significant proportion of patients are deemed medically unable to receive cisplatin therapy, and options for these patients are even more limited. These tumors consistently express the type I transmembrane cellular adhesion protein, Nectin-4 at high levels. Enfortumab vedotin (EV) is an antibody-drug conjugate against Nectin-4 with a chemotherapy payload of monomethyl auristatin E (MMAE) that has shown promising phase 1 and phase 2 results as monotherapy in cisplatin-ineligible patients who have received prior immunotherapy. In preclinical models, MMAE has been shown to induce immunogenic cell death, suggesting a hypothesis of potential synergy between MMAE and immune checkpoint blockade therapies. Early clinical trial data looking at the combination of enfortumab vedotin and pembrolizumab was recently presented at ESMO 2019.
This abstract presents updated durability, progression free survival and overall survival data for enfortumab vedotin and pembrolizumab in the first line setting for patients who could not receive cisplatin as first line therapy for the metastatic disease. The study design is shown below. A total of 45 patients are on protocol. The primary endpoint is safety and tolerability, with secondary endpoints including dose-limiting toxicities, response rates, progression free survival and overall survival.


Details of the patient cohort are shown below. The majority of patients are men with tumors originating in the bladder. More than 90% of patients had visceral disease, and there was an even mix of PD-L1 high and PD-L1 low expressing tumors.


93% of patients on study had evidence of tumor reduction, with a confirmed overall response rate of 73% including 15.6% complete response rate. Almost 90% of responses occurred by first assessment on trial at nine weeks. Durable responses have been observed, with some patients continuing on therapy for well over one year. The median duration of response has not been reached.


The median overall survival has not yet been reached. The median progression free survival is 12.3 months.


Side effects from the combination regimen were similar to the side effects unique and common to each drug. 16% of the cohort had serious adverse events related to therapy, and 1 patient passed away from treatment-related causes. The most common cause of treatment discontinuation was peripheral sensory neuropathy. In total, 18% of patient have received steroids for immune related adverse events.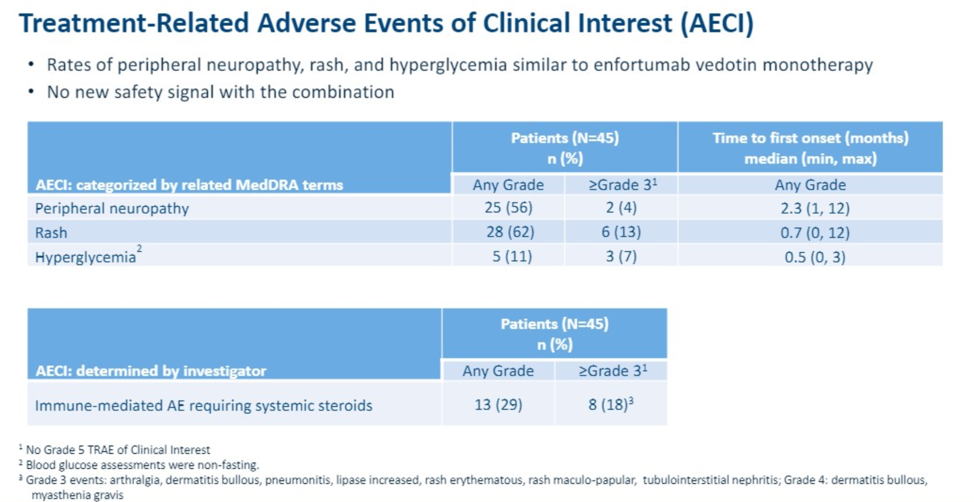 Dr. Jonathan Rosenberg concluded his talk discussing that combination therapy with enfortumab vedotin and pembrolizumab shows encouraging activity, with a high overall response rate that becomes evident within two months of therapy in most patients. Combination therapy did not result in any new safety concerns. Based on these findings, the EV-302 phase 3 study (NCT04223856) will be undertaken to evaluate this combination therapy versus standard of care gemcitabine and platinum in the locally advanced/metastatic urothelial carcinoma first line treatment setting.
Presented by: Jonathan Rosenberg MD, Chief of the Genitourinary Medical Oncology Service, Memorial Sloan Kettering Cancer Center

Written by: Alok Tewari, MD, PhD, Medical Oncology Fellow at the Dana-Farber Cancer Institute, at the 2020 Genitourinary Cancers Symposium, ASCO GU #GU20, February 13-15, 2020, San Francisco, California