San Francisco, CA (UroToday.com) The most common non-clear cell renal cell carcinoma is papillary renal cell carcinoma (pRCC). pRCC accounts for 15-20% of RCC and are subcategorized into Type 1 and Type 2. Type 1 pRCC are typically associated with MET alterations whereas Type 2 pRCC typically are found to have alterations in SETD2, TFE3, and CDKN2A.1

Savolitinib is a potent selective MET inhibitor which has been shown to have activity in patients with MET driven pRCC2. In a biomarker-based phase II study of savolitinib with pRCC, 61% of patients had some tumor shrinkage who were MET-driven, compared with 20% who were MET independent2. This study builds on the utility of savolitinib by adding an immune checkpoint inhibitor for combination therapy.





This is a single arm phase I/II clinical trial utilizing the combination of savolitinib and durvalumab for patients with metastatic papillary renal cell carcinoma (pRCC). Patients were given a 4 week run in with savolitinib 600 mg every other day, and then durvalumab 1500 mg every 4 weeks was added to the regimen.

Both treatment naïve and previously treated patients were included in this study and the primary endpoint was objective response rate as defined per RECIST 1.1. 41 patients received some form of study treatment. The median age was 62 and the majority of patients had IMDC good or intermediate risk. 85% of patients had prior nephrectomy and most patients were treatment naïve (68%).



12% of patient progressed, declined in performance status or died during the savolitinib run-in phase. After a median follow up of 8.9 months, the objective response rate was 27% (11/41) with a median PFS of 5.3 months. Overall survival analysis is immature at this time. Objective response rate (ORR) was similar in treatment naïve patients (29%, 8/28). In terms of safety, grade 3/4 toxicity occurred in 15 patients.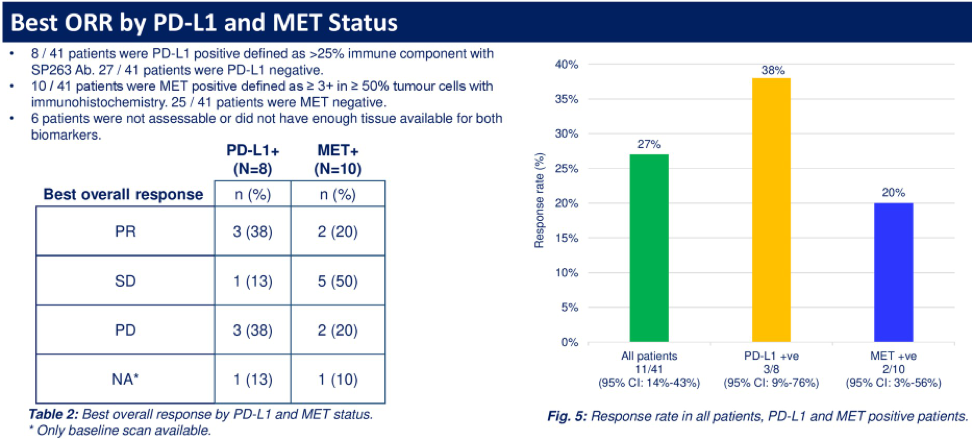 In terms of exploratory biomarker analysis, PD-L1 and MET expression did not clearly correlate with clinical outcomes. MET-positive patients, defined as ≥3+ in 50% of tumor cells, had an ORR of 20% and PD-L1+ patients had a ORR of 38%, compared with 27% of all patients.





In terms of safety, the most frequent grade 3/4 events were edema, nausea, and elevated transaminases.

The combination of savolitinib and durvalumab appears safe for patients with metastatic pRCC. Unfortunately, 12% of patients never received durvalumab due to clinical progression during the savolitinib run in phase, which speaks to the aggressive nature of the disease in this high-risk population. It is unknown what the optimal sequencing of these two agents are in this small patient population or what the optimal combination is, and several other abstracts at this GU ASCO are addressing this special population (Abstract 546, 548, 549).
Clinical Trial Information: NCT02819596

Presented by: Thomas Powles, MD, Ph.D., FCRP, Experimental Cancer Medicine, Professor of Genitourinary Oncology, Lead for Solid Tumour Research at Barts Cancer Institute, Director of Barts Cancer Centre, Queen Mary University of London, Barts and the London

Written by: Jason Zhu, MD. Fellow, Division of Hematology and Oncology, Duke University, twitter: @TheRealJasonZhu at the 2019 American Society of Clinical Oncology Genitourinary Cancers Symposium, (ASCO GU) #GU19, February 14-16, 2019 - San Francisco, CA

References:

Cancer Genome Atlas Research Network, Linehan WM et al. "Comprehensive Molecular Characterization of Papillary Renal-Cell Carcinoma," New England Journal of Medicine 374, (January 2016): 135-45.
Choueiri TK, Plimack ER, Arkenau H-T, et al. "A single-arm biomarker-based phase II trial of savolitinib in patients with advanced papillary renal cell cancer (PRCC)" American Society of Clinical Oncology 35, no. 6 (February 2017): 436-436.