(UroToday.com) Dr. Chris Labaki reports on the efficacy first-line (1L) immunotherapy (IO)-based regimens in patients with sarcomatoid and/or rhabdoid (S/R) metastatic non-clear cell renal cell carcinoma (nccRCC). It is work from the International Metastatic Renal Cell Carcinoma Database Consortium (IMDC).

Unfortunately patients with advanced renal cell carcinoma who have sarcomatoid or rhabdoid components exhibit poor clinical outcomes. Immunotherapy with checkpoint inhibition And combination therapies have demonstrated substantial efficacy among patients with metastatic sarcomatoid/rhabdoid (S/R) clear cell RCC (ccRCC) Compared to the older VEGF targeted therapies. In addition, IO based regimens or combinations had also demonstrated efficacy in advanced non clear cell renal cell carcinoma (nccRCC). therefore the authors of this abstract to assess the efficacy of these IO regimens among patients with S/R nccRCC.
The International Metastatic Renal Cell Carcinoma Database Consortium (IMDC) was utilized to identify patients with metastatic nccRCC (both S/R and non S/R) who are treated in the first line with either IO based regimens (IO/IO or IO/VEGF) or VEGF monotherapy. their goal was primarily to assess overall survival and time to treatment failure but they also looked at overall response rate as a secondary outcome. They did account for age, IMDC risk group, and nccRCC histologic subtype.
They included 103 patients with S/R nccRCC, of whom 33 (32%) received 1L IO regimens. Median follow up for this patient cohort was 31 months.
Looking first at OS: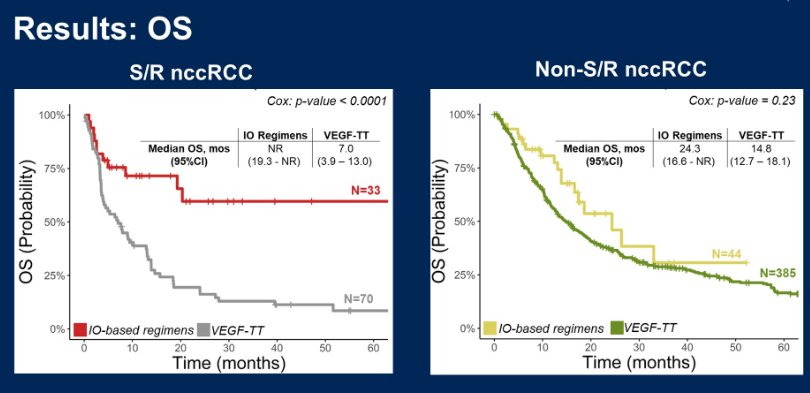 As seen above, there was a significantly improved overall survival outcome in S/R nccRCC patients treated with IO regimens compared to VEGF (median OS [mOS]: NR vs. 7.1 and mTTF: 9.4 vs. 2.9 mos for IO regimens and VEGF-TT, respectively). That same benefit was not seen in patients with non S/R nccRCC.
When looking at objective response rates (ORRs), they again noted a higher ORR was seen in patients with S/R nccRCC receiving IO regimens versus VEGF-TT (34.1 vs. 10.9%, respectively). Again, there was not the same degree of benefit in patients with non S/R nccRCC.
This is a very important finding that highlights the potential important benefit of IO therapy in patients S/R nccRCC. This may help better select patients for IO based therapies vs. VEGF targeted therapies alone.

Presented by: Chris Labaki, MD | The Lank Center for Genitourinary Oncology, Dana-Farber Cancer Institute and Brigham and Women's Hospital, Boston, MA



Written by: Thenappan (Thenu) Chandrasekar, MD – Urologic Oncologist, Associate Professor of Urology, University of California, Davis, @tchandra_uromd @UCDavisUrology on Twitter during the 2023 American Society of Clinical Oncology (ASCO) Annual Meeting, Chicago, IL, Fri, June 2 – Tues, June 6, 2023.