(UroToday.com) The 2023 American Society of Clinical Oncology (ASCO) annual meeting held in Chicago, IL between June 2nd and June 6th was host to a kidney and bladder cancers poster session. Professor Michael Staehler presented the results of CASSIOPE, a single arm, prospective study evaluating cabozantinib in vascular endothelial growth factor (VEGF)-targeted therapy pretreated patients with advanced renal cell carcinoma (aRCC).

Cabozantinib is a tyrosine kinase inhibitor (TKI) that was FDA approved in the United States in 2016 for the treatment of patients with aRCC who had received prior anti-angiogenic therapy. This was based on results of the METEOR trial that demonstrated progression-free survival (PFS) benefits with cabozantinib, compared to everolimus, for patients with aRCC that had progressed after prior VEGF-targeted therapy (median: 7.4 versus 3.8 months, p<0.001).1 However, a significant proportion of patients in the METEOR trial had required cabozantinib dose modifications. As such, the objective of this study was to conduct a real-world analysis of cabozantinib use for patients with aRCC.
CASSIOPE (NCT03419572) was a single arm prospective cohort study conducted across 11 European countries (91 sites) between April 2018 and May 2022. The European Medicines Agency (EMA) has approved cabozantinib as first-line therapy for patients with intermediate or poor risk aRCC, or after prior VEGF-targeted therapy. All patients had aRCC and had received ≥ 1 prior VEGF-targeted therapy (excluding cabozantinib). The decision to initiate cabozantinib was made prior to enrolment. Patients were initiated on full-dose cabozantinib at 60 mg once daily. The primary endpoint was cabozantinib usage (i.e., dose interruptions, reductions, or discontinuations due to adverse events [AEs]) in the second or ≥3rd line settings. Secondary endpoints included objective response rate (ORR), progression-free survival (PFS), overall survival (OS), and tolerability. Descriptive summary measures were used for patients with safety follow-up after ≥ 1 cabozantinib dose.

CASSIOPE included a total of 679 patients, 335 and 343 of whom received cabozantinib in the 2nd and ≥3rd line settings, respectively. The median age was 67 years (range: 29 – 93) and 73% were male. 86% had clear cell aRCC and 80% had received a prior nephrectomy.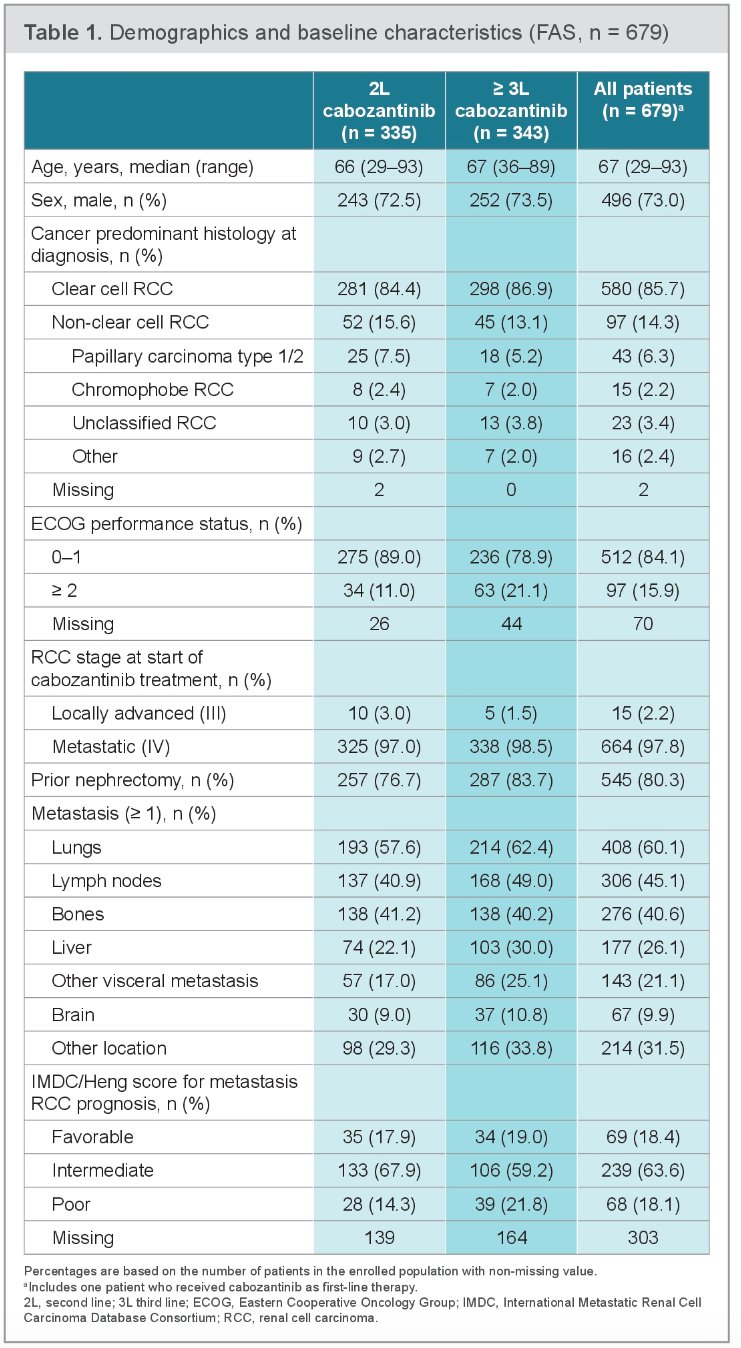 Median follow-up ranged between 8.5 and 9.3 months. As summarized below, dose modifications due to adverse events occurred in 76-78% of patients. Dose discontinuations due to AEs occurred in 23-25% of patients. The median cabozantinib daily dose ranged between 44.2 and 47.8 mg.
From an efficacy standpoint, the ORR and PFS rates were as follows:
2nd line setting: 22% (95% CI: 18 – 27%), 7.8 months (95% CI: 6.3 – 8.7)
≥3rd line setting: 38% (95% CI: 33 – 44%), 8.7 months (95% CI: 7.6 – 9.6)

Median OS was 13.0 months for 2nd line, and 17.1 months for ≥ 3rd line cabozantinib. Most patients (90.4%) reported treatment-related AEs (Grade 1: 71.1%; Grade 2: 70.3% of patients), most commonly any grade diarrhea (52.4%), palmar-plantar erythrodysesthesia syndrome (27.2%), decreased appetite (25.5%), hypertension (21.9%), asthenia (21.6%), fatigue (20.5%) and nausea (20.3%).
Professor Staehler concluded that the real-world CASSIOPE study demonstrates that the tolerability of cabozantinib in the ≥2nd line setting is consistent with that observed in the METEOR trial. Cabozantinib dose modifications due to AEs were common, but discontinuation rates due to AEs were substantially less frequent. Cabozantinib activity was maintained across lines.

Presented by: Michael D. Staehler, MD, PhD, Professor, Department of Urology, Ludwig-Maximilian University, Munich, Germany

Written by: Rashid Sayyid, MD, MSc – Society of Urologic Oncology (SUO) Clinical Fellow at The University of Toronto, @rksayyid on Twitter during

the 2023 American Society of Clinical Oncology (ASCO) Annual Meeting, Chicago, IL, Fri, June 2 – Tues, June 6, 2023.

Reference:
Choueiri TK, Escudier B, Powles T, et al. Cabozantinib versus Everolimus in Advanced Renal-Cell Carcinoma. N Engl J Med 2015;373(19):1814-1823.