(UroToday.com) Treatment options in metastatic castration-resistant prostate cancer (mCRPC) who have soft-tissue progression after second generation anti-androgen therapies are limited. Single agent studies of cabozantinib, a tyrosine kinase inhibitor that regulates cell growth, angiogenesis, and immune cell regulation, and the anti-PD-L1 antibody atezolizumab each showed limited efficacy as monotherapy. As cabozantinib may target pathways related to immune suppression, the phase 1b multinational COSMIC-021 study is evaluating this drug in combination with atezolizumab in various solid malignancies.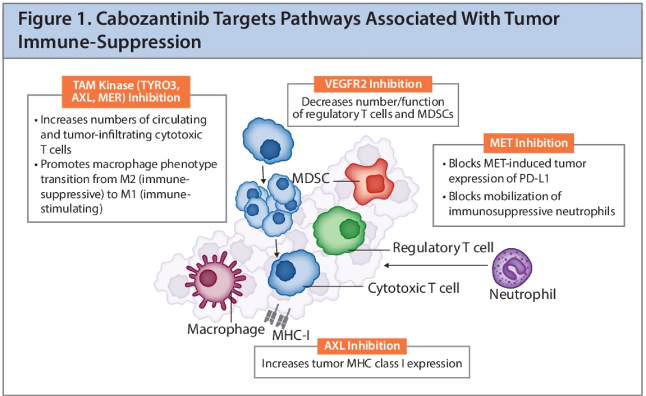 In this poster, Neeraj Agarwal, MD, and colleagues report up-to-date data from the 44 patients with mCRPC enrolled in cohort 6 of COSMIC-021 as of median follow-up of 15.8 months. These patients had radiographically measurable soft tissue disease progression after at least one anti-androgen therapy (enzalutamide and/or abiraterone) and could have received prior docetaxel therapy if administered for castration-sensitive metastatic disease. Treatment consisted of 40 mg daily of cabozantinib and 1200 mg of atezolizumab IV every three weeks. The primary endpoint in this cohort was objective response rate. Correlative molecular studies included PD-L1 expression as measured by the Ventana SP263 anti-PD-L1 IHC assay (positive expression defined as >= 1%) and immunophenotyping of whole blood to assess changes in circulating immune cell populations.
Tumor responses are shown below. For the primary endpoint, 32% of patients (N = 14) had either a complete or partial response, with median response duration of 8.3 months. Overall disease control rate was 80%.

Overall, 73% of patients experienced a decrease in target lesions per RECIST criteria. This response was not clearly associated with PD-L1 status.

After 21 days of therapy, the total number of cytotoxic T-cells increased, and the total number of immunosuppressive cells in circulation decreased.

No new safety signals were observed with the combination, and the most common adverse events were fatigue, nausea, decreased appetite, diarrhea, dysgeusia and hand-foot syndrome. Grade 3 and 4 side effects occurred in 59% of patients, most commonly fatigue, diarrhea, pulmonary embolism and hyponatremia. With regards to immune-related adverse events, 4 patients grade 3 side effects including transaminitis.
In conclusion, the combination of cabozantinib and atezolizumab resulted in an overall response rate in approximately one third of patients within this cohort, with a tolerable safety profile. Consistent with the hypothesis that cabozantinib targets immunosuppressive pathways, increased levels of cytotoxic T cells and decreased levels of immunosuppressive cells were observed in circulation after three weeks of therapy. Based on this data, the mCRPC cohort 6 has been expanded, and a phase III trial in mCRPC is planned.
Presented by: Neeraj Agarwal, MD, Professor of Medicine and Director of the Genitourinary Oncology Program at the Huntsman Cancer Institute, University of Utah School of Medicine, Salt Lake City, Utah.
Written by: Alok Tewari, MD, PhD, Medical Oncology Fellow at the Dana-Farber Cancer Institute, at the 2020 American Society of Clinical Oncology virtual annual meeting (#ASCO20), May 29th-May 31st, 2020