Chicago, IL (UroToday.com) There are plenty of effective adjuvant therapies for patients with renal cell carcinoma (RCC), who are at risk for recurrence after nephrectomy [1,2]. Treatment with inhibitors of the vascular endothelial growth factor receptor (VEGFR) have been extensively studied in the setting of adjuvant treatment. However, they are currently not recommended as treatment.
The expression of programmed death 1 (PD-1) ligands 1 (PD-L1) and 2 (PD-L2) could potentially predict poor prognosis in clear cell RCC disease. Furthermore, PD1 inhibitors were shown to have activity in metastatic RCC patients, and PD-1 may represent a new therapeutic target in the adjuvant setting. Pembrolizumab, a PD-1 inhibitor, has been shown to have antitumor activity with a relatively good safety profile in several tumors.

The Keynote-564 STUDY (NCT03142334) is a study aiming to evaluate the efficacy and tolerability of pembrolizumab, as a single therapy in the adjuvant setting of patients with RCC after undergoing a nephrectomy.
The primary endpoint of this study is comparison of disease free survival (DFS) in patients treated with pembrolizumab and placebo treated patients. Additional endpoints in this study include overall survival (OS), safety and tolerability, disease recurrence specific survival, and DFS and OS according to PD-L1 expression status.

This is a global phase 3, randomized double blind, multicenter placebo controlled trial aiming to explore the efficacy and safety of pembrolizumab as adjuvant therapy in post-nephrectomy patients with clear cell RCC, and a pathology of T2-T4, N0-N1, M0-M1, with grade 4 or sarcomatoid features, after nephrectomy and/or metastatectomy.
The plan is to enroll 950 patients and randomize them 1:1 to either pembrolizumab 200 mg or placebo, administered via intravenous infusion every 3 weeks (Figure 1).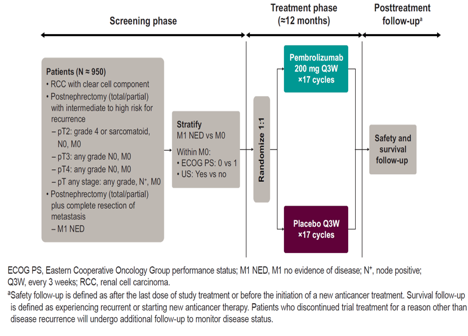 Patient eligibility criteria are demonstrated in figure 2.




Patients will be imaged with CT scans or MRIs of the brain, chest, abdomen, and pelvis, and bone scans during the screening period (within 28 days before randomization). These imaging will continue during the trial period, at 12,24,36, and 48 weeks after randomization. Patients are planned to complete 17 cycles of trial treatments, with follow-up continuing until disease recurrence, starting new therapy, withdrawal of consent, death, or end of trial.

Importantly, the adverse events will be monitored from the time of randomization to 30 days after the last treatment.
After speaking to the authors, enrollment is currently underway in 19 countries in Asia, Australia, Europe, North and South America (Figure 3).




Presented by: Toni K. Choueiri, Dana-Farber Cancer Institute, Boston, MA, USA

Written by: Hanan Goldberg, MD, Urologic Oncology Fellow (SUO), University of Toronto, Princess Margaret Cancer Centre, Twitter:@GoldbergHanan at the 2018 ASCO Annual Meeting - June 1-5, 2018 – Chicago, IL USA

References:
[1] Patel DN et al. Clin Adv Hematol Oncol 2016; 14:907-914
[2] Shin SJ et al. Ann Surg Oncol 2016; 23:694-702