(UroToday.com) The 2022 Advanced Prostate Cancer Consensus Conference (APCCC) Hybrid Meeting included a session on high-risk and locally advanced prostate cancer and a presentation by Dr. Darren Poon discussing the management of clinical N1 (cN1) prostate cancer.

With regards to local treatment for cN1 disease, Ventimiglia and colleagues performed a systematic review comparing oncologic outcomes associated with the use of any form of local therapy for prostate cancer patients with cN+ disease.1 Four studies compared the use of radiotherapy ± ADT versus ADT alone, whereas one study compared any form of local therapy ± ADT versus ADT alone. Overall, the use of radiotherapy and, generally speaking, any form of local therapy was associated with an OS as well as a CSS benefit over ADT alone, without any clear superiority shown either by radical prostatectomy ± ADT or by radiotherapy ± ADT.
Dr. Poon notes that with regards to contemporary radiotherapy for high-risk/cN1 prostate cancer, there is data available showing benefit of external beam radiotherapy, utilizing an intra-prostatic lesion boost (FLAME study), a brachytherapy boost (ASCENDE-RT study), whole-pelvic radiotherapy (POP-RT study), and MR-guided real-time adaptive radiotherapy with a nodal boost.
Therefore, when thinking about the disease spectrum, for high-risk cN0 there is a reliance on local treatment consolidation with a merging of local treatment consolidation and systemic therapy intensification for cN1M0 disease, and primarily systemic therapy intensification for low volume mHSPC disease: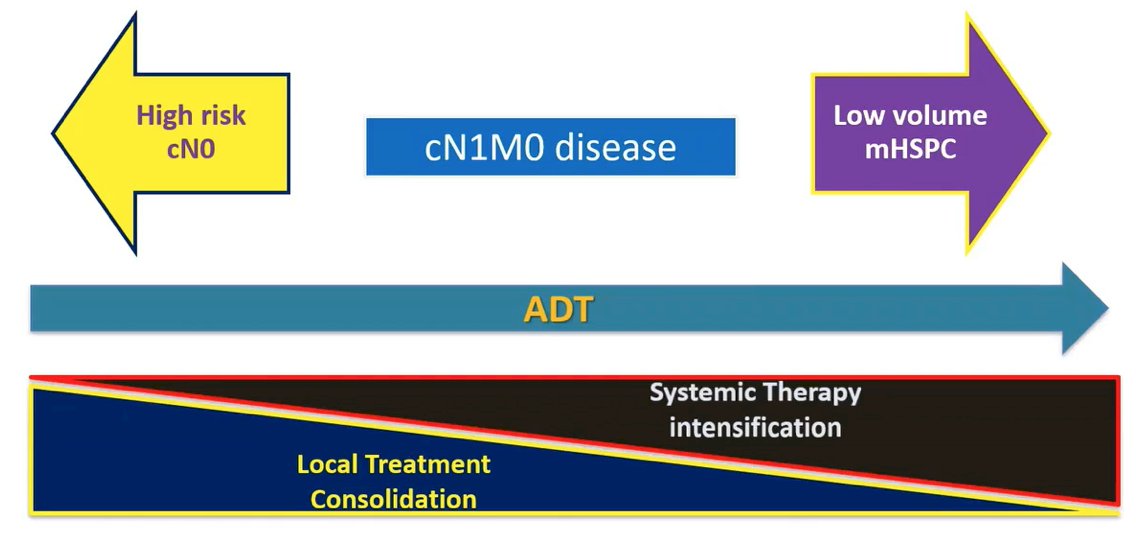 With regards to docetaxel in high-risk non-metastatic prostate cancer, Vale et al.2 performed a systematic review that did not show a survival benefit with the addition of docetaxel (HR 0.87, p = 0.218), but did show a benefit of docetaxel for failure-free survival (HR 0.70, p < 0.0001), with an absolute reduction of 4-year failure rates of 8%. Looking at data from the original STAMPEDE trial for patients with N+M0 disease,3 the addition of abiraterone to ADT improved overall survival with a hazard ratio of 0.75, but with a non-significant 95% CI of 0.48-1.18.
Dr. Poon then discussed the recently published PEACE-1 trial [4], which assessed new data from two randomized controlled phase 3 trials done in the multi-arm, multistage STAMPEDE platform protocol to assess the efficacy of adding abiraterone and prednisolone alone or with enzalutamide to ADT in this patient population. Local radiotherapy (as per local guidelines, 74 Gy in 37 fractions to the prostate and seminal vesicles or the equivalent using hypofractionated schedules) was mandated for node negative and encouraged for node positive disease. There were 1,974 patients randomized, including 39% of patients being N1, and 71% of these patients planned for local radiotherapy. With median follow-up of 72 months (IQR 60–84), metastasis-free survival was significantly longer in the combination-therapy groups (median not reached, IQR not evaluable [NE]–NE) than in the control groups (not reached, 97–NE; HR 0.53, 95% CI 0.44–0.64, p<0.0001). The 6-year metastasis-free survival was 82% (95% CI 79–85) in the combination-therapy group and 69% (66–72) in the control group. Overall survival (median not reached [IQR NE–NE] in the combination-therapy groups vs not reached [103–NE] in the control groups; HR 0.60, 95% CI 0.48–0.73, p<0.0001).
Additional AR agents are also being tested in the high-risk non-metastatic localized prostate cancer disease space including ATLAS (apalutamide in high-risk, localized, or locally advanced prostate cancer patients receiving primary radiotherapy), ENZARAD (enzalutamide in ADT with radiotherapy for high-risk, clinically localized prostate cancer) and NRG GU009 (testing abiraterone + apalutamide). In the perioperative space, unfortunately, the CALGB 90203 study testing neoadjuvant docetaxel and hormonal therapy versus prostatectomy alone was a negative study for the primary endpoint of biochemical PFS. However, we eagerly await the results of the PROTEUS study, which is nearing the end of recruitment. This study is testing neoadjuvant apalutamide + ADT followed by radical prostatectomy versus placebo + ADT followed by radical prostatectomy in patients with localized or locally advanced high-risk/very high-risk prostate cancer.
Finally, Dr. Poon discussed the proPSMA study [5], which demonstrated a detection rate of 20-23% in the staging of high-risk disease:
As has been mentioned several times throughout the meeting, we await the long-term results of these studies to assess if there is a clinical benefit to these improved detection rates.
Dr. Poon concluded his presentation on the management of cN1 prostate cancer with the following take-home messages:
For cN1 prostate cancer, this is listed as stage IVa disease by the AJCC 8th edition, with an intermediary stage between high-risk localized and low-volume mHSPC; ADT is the mainstay of treatment
Local treatment consolidation (radiotherapy or radical prostatectomy) shows improved oncological outcomes, with contemporary radiotherapy further substantiating the therapeutic window
Systemic therapy intensification includes abiraterone + ADT + radiotherapy versus ADT + radiotherapy in the STAMPEDE study, demonstrating an OS and MFS benefit in both high-risk localized and cN1 disease. Studies for other AR agents in combination with radiotherapy or radical prostatectomy are ongoing, whereas combination chemotherapy with radiotherapy or radical prostatectomy at this time has an unproven OS benefit
PSMA-PET for nodal staging has a detection rate for cN1 disease that is higher compared with conventional imaging, leading to an increasing incidence of cN1 disease. Studies are ongoing investigating PET-guided treatment with the goal of further improving clinical outcome



Presented by: Darren Poon, Comprehensive Oncology Centre, Hong Kong Sanatorium & Hospital, The Chinese University of Hong Kong, Hong Kong

Written by: Zachary Klaassen, MD, MSc – Urologic Oncologist, Assistant Professor of Urology, Georgia Cancer Center, Augusta University/Medical College of Georgia, @zklaassen_md on Twitter during the 2022 Advanced Prostate Cancer Consensus Conference (APCCC) Annual Hybrid Meeting, Lugano, Switzerland, Thurs, Apr 28 – Sat, Apr 30, 2022.

References:


Ventimiglia E, Seisen T, Abdollah F, et al. A Systematic Review of the Role of Definitive Local Treatment in Patients with Clinically Lymph Node-positive Prostate Cancer. Eur Urol Oncol. 2019 May;2(3):294-301.
Vale CL, Burdett S, Rydzewska LHM, et al. Addition of docetaxel or bisphosphonates to standard of care in men with localized or metastatic, hormone-sensitive prostate cancer: A systematic review and meta-analyses of aggregate data. Lancet Oncol. 2016;17(2):243-256
James ND, de Bono JS, Spears MR, et al. Abiraterone for Prostate Cancer Not Previously Treated with Hormone Therapy. N Engl J Med. 2017;377(4):338-351.
Attard G, Murphy L, Clarke NW, et al. Abiraterone acetate and prednisolone with or without enzalutamide for high-risk non-metastatic prostate cancer: A meta-analysis of primary results from two randomized controlled phase 3 trials of the STAMPEDE platform protocol. Lancet 2022 Jan 29;399(10323):447-460.
Hofman MS, Lawrentschuk N, Francis, RJ, et al. Prostate-specific membrane antigen PET-CT in patients with high-risk prostate cancer before curative-intent surgery or radiotherapy (proPSMA): A prospective, randomized, multicentre study. Lancet 2020 Apr 11;395(10231):1208-1216.