ORLANDO, FL USA (UroToday.com) - Access in PCNL cases remains challenging. The study group presented a novel approach combining direct ureteroscopic visualization of access location with ultrasound guidance. They aimed to compare outcomes in patients with US-guided percutaneous renal access to conventional fluoroscopic guided access.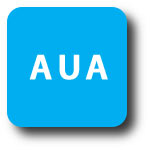 A ureterosope was placed in the kidney without using fluoroscopy and the optimal calyx for puncture was chosen. Under percutaneous US, the selected calyx was identified and punctured. A wire was then advanced into the calyx and pulled into the ureter. Balloon, sheath, and nephrostomy tube placement were all performed under direct ureteroscopic guidance. The researchers compared perioperative parameters of 10 consecutive patients (group I) with this novel technique to 20 patients who had undergone conventional fluoroscopic access (group II). Operative time, fluoroscopy time, EBL, stone-free rates, hospital stay, and complications were evaluated.
There was no difference in operative time (p=0.749), EBL (p=0.880), stone-free rates (p=0.377), mean hospital stay (p=0.155), or complication rates (p=0.559) between the two groups. But the study group showed a significant reduction in fluoroscopy time to achieve access (4.6 vs 790 sec; p < 0.001) and total fluoroscopy time (10.6 vs 859 sec; p < 0.001) when using this novel technique.
The authors demonstrate the feasibility of combined US and ureteroscopic assisted access for PCNL, including tract dilation and tube placement under direct endoscopic visualization. This novel approach results in a > 90% reduction in fluoroscopy time.
Presented by Javier Arenas, MD at the American Urological Association (AUA) Annual Meeting - May 16 - 21, 2014 - Orlando, Florida USA
Loma Linda, CA USA
Written by Achim Lusch, MD, University of California (Irvine), and medical writer for UroToday.com