ORLANDO, FL USA (UroToday.com) - Ureteral stent discomfort is a significant post-operative problem that remains a challenge to treat.
Despite the utilization of narcotics and alpha-blockers, patients often experience bothersome lower urinary tract symptoms and pain that may impair daily activities. The research group aims to evaluate the effect of combination therapy with an alpha-blocker and anti-cholinergic on stent discomfort and quality of life.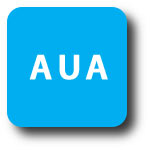 A double-blinded randomized controlled trial was completed from December 2012 to October 2013. Sixty-four patients were randomized, 34 to the combination group (tamsulosin 0.4 mg and tolterodine ER 4 mg) and 30 to the monotherapy group (tamsulosin 0.4 mg and placebo). Patients with prior ureteral stent placement and current anti-cholinergic therapy were excluded from the study. The patients filled out the Urinary Stent Symptom Questionnaire (USSQ) prior to stent placement on the day of surgery, the day after stent placement, the morning of stent removal, and the day after stent removal. The questionnaire included questions regarding urinary symptoms, general health, body pain, work history, and sexual history.
A total of 64 patients (34 males: 30 females) with a mean age of 51.75 were included in the study. Between the two groups, there was no significant difference in urinary symptoms, body pain, and activities of daily living from preoperative to prior to stent removal (p= 0.84, 0.46, 0.67, respectively). Although there was no difference between groups, both had improvement in urinary symptoms from the time of initial stent insertion to just prior to stent removal (difference -0.48 for combination, -0.41 for monotherapy). The duration of the stent, 8.9 days ±10.8 for combination and 9.9 days ±8.0 for monotherapy, had no significant impact on the results (p= 0.67).
The study group showed, that a combination therapy with tamsulosin and tolterodine does not appear to improve urinary symptoms, bodily pain or quality of life in patients after ureteral stent placement for nephrolithiasis. Both groups experienced worsened urinary symptoms, pain, and quality of life. Further research is necessary to improve stent discomfort.
Presented by Necole M. Streeper, MD at the American Urological Association (AUA) Annual Meeting - May 16 - 21, 2014 - Orlando, Florida USA
Madison, WI USA
Written by Achim Lusch, MD, University of California (Irvine), and medical writer for UroToday.com