ORLANDO, FL USA (UroToday.com) - In this podium presentation, Dr. Laurence Klotz presented follow-up data of nearly 20 years on a large single center active surveillance cohort which included 840 men with low- or intermediate-risk prostate cancer. The cohort was initiated in 1995 and consisted primarily of patients with Gleason 3+3=6 disease with a PSA less than 10. Patients with Gleason 3+4=7 disease and/or PSA 10-15 were included if they were over the age of 70. These men were followed with PSA checks every 3 months for 2 years then every 6 months, as well as with repeat prostate biopsy around 1 year after initial diagnosis and then every 3-5 years until age 80. Intervention for this cohort was offered if repeat biopsy demonstrated grade increase, if PSA doubling time was less than 3 years until 2009, or if a significant lesion was seen on MRI since 2010.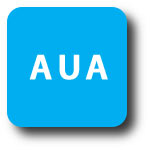 He reported the rate of upgrading of disease was 20% at the start and then approximately 1% per year afterwards, which he stated could be attributed to natural biologic progression of disease. At a median follow up of 8.1 years, 17.5% of the cohort had died, with only 1.5% of the cohort dying from prostate cancer. An additional 1.2% of patients were alive with metastatic disease. Dr. Klotz stated that these rates of metastatic disease and mortality were in line with patients undergoing immediate definitive therapy for favorable-risk disease. Actuarial prostate cancer-specific mortality at 10 and 15 years was 1.9% and 5.7%, respectively. He reported that in this cohort, the odds of dying of other causes were nearly 10 times higher than the odds of dying of prostate cancer. At 5, 10, 15, and 20 years, 77%, 63%, 52% and 52%, respectively remained on active surveillance. Overall 208 patients were treated, and post-treatment BCR was experienced by only 6.3%. The most common trigger for intervention was PSA doubling time less than 3 years (43.5%), which Dr. Klotz emphasized would change going forward as the use of PSA doubling time has been supplanted by the use of MRI imaging criteria.
Dr. Klotz concluded that active surveillance was feasible and safe for patients with low- or intermediate-risk prostate cancer in a 15-year time frame. Improvements could be made to decrease the mortality rate in this low-risk cohort, and focusing on better ways to risk stratify may further improve the safety of this approach.
During the Q&A portion, Dr. Klotz stated that when looking at outcomes for Gleason 3+3 versus Gleason 3+4 patients, Gleason 3+4 disease was not predictive of disease progression or mortality. He made note of the fact that none of the patients with Gleason 3+3 disease, confirmed on radical prostatectomy, ultimately developed metastatic disease. This highlighted the relatively indolent nature of those who truly have Gleason 6 disease.
Presented by Laurence Klotz, MD, FRCS(C) at the American Urological Association (AUA) Annual Meeting - May 16 - 21, 2014 - Orlando, Florida USA
Sunnybrook Health Sciences Centre, Toronto, ON Canada
Written by Timothy Ito, MD, medical writer for UroToday.com