ORLANDO, FL USA (UroToday.com) - In this podium presentation, Dr. Robert Blackwell presented complications with urologic relevance in seen in 888 patients undergoing radiation therapy (RT) for prostate cancer at a single institution between 1992 and 2013. Patients receiving RT as primary or salvage therapy were included. With a median follow up of 4 years, the study found that 5- and 10-year risk for gross or microscopic hematuria was 23% and 42%, occurring at a median of 36 months. Overall 15% of the cohort experienced gross hematuria. Smoking history was found, on multivariate analysis, to be associated with an increased risk of hematuria (HR 2.6, p=0.001).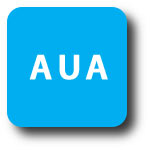 Urethral stricture 5- and 10-year risk was 7% and 12% respectively, occurring at a median of 38 months. The majority of strictures were seen in the bladder neck and bulbar urethra, and on multivariate analysis, combined RT (EBRT+brachytherapy, HR 3.8, p=0.006) and adjuvant RT (HR 3.1, p=0.02) were associated with a higher risk for developing a urethral stricture than EBRT alone. Obesity also was associated with higher risk for stricture (HR 2.5, p < 0.01). The 5- and 10-year risk for bladder cancer was 2% and 5%, occurring at a median of 57 months. Histology was urothelial in all cases, and of concern, 37% of the bladder cancers in the cohort were muscle-invasive or metastatic at presentation.
On multivariate analysis, each year increase in age at the time of RT was associated with a 10.5% increased risk of developing bladder cancer (p=0.03). Interestingly smoking was not associated with an increased risk of bladder cancer in this cohort on multivariate analysis. Dr. Blackwell noted that, strikingly, the incidence for each of these 3 sequelae continued to increase over time, and further, that the side effects for RT for prostate cancer treatment are likely underestimated and urged further study to better understand their long-term significance.
Presented by Robert Blackwell, MD at the American Urological Association (AUA) Annual Meeting - May 16 - 21, 2014 - Orlando, Florida USA
Loyola University Medical Center, Maywood, IL USA
Written by Timothy Ito, MD, medical writer for UroToday.com