(UroToday.com) The joint session of the European Association of Urology and the Urological Society of Australia and New Zealand at the 2021 European Association of Urology annual meeting included a presentation by Dr. Suzanne Chambers discussing prostate cancer survivorship.

Dr. Chambers notes that in 2020, the NIH and the NCI designate an individual as a cancer survivor from the time of diagnosis and throughout the balance of his/her life. There are many types of survivors, including those living with cancer and those free of cancer. The National Comprehensive Cancer Network survivorship care focuses on the "vast and persistent impact both the diagnosis and treatment of cancer have on the adult survivor", but this is still an evolving area of care. Dr. Chambers highlights that men with prostate cancer should be regularly screened for psychological distress, given that not an insignificant number of prostate cancer survivors will have depression, distress, and even suicidal ideation.
In 2014, the American Cancer Society published their prostate cancer survivorship care guidelines, developing clinical follow-up care guidelines to facilitate the provision of posttreatment care by primary care clinicians.1 Specifically, these guidelines address health promotion, surveillance for prostate cancer recurrence, screening for second primary cancers, long-term and late effects assessment and management, psychosocial issues, and care coordination among the oncology team, primary care clinicians, and non-oncology specialists. However, Dr. Chambers notes that these guidelines have no documented consumer input, there is limited evidence basis for these recommendations, they are reliant on expert opinion, there is a lack of translation into policy and practice, and given that they were written in 2014, they are due for a revision/update.
Dr. Chambers' group has undertaken the prostate cancer survivorship essentials project, which is a series of four systematic reviews, three rounds of Delph surveys with 43 prostate cancer specialist nurses, and in-depth interviews with 50 prostate cancer survivors. Specific stakeholders that were included were partners/caregivers, LGBTIQ individuals, rural men, and indigenous participants. The recommendations for practitioners from this initiative were published last year in BJU International.2 Six key descriptors for men's current prostate cancer survivorship experience that emerged were: dealing with side effects, challenging, medically focused, uncoordinated, unmet needs, and anxiety. In all, 26 survivorship elements were identified within six domains: health promotion and advocacy, shared management, vigilance, personal agency, care coordination, and evidence-based survivorship interventions. This is highlighted in the following figure: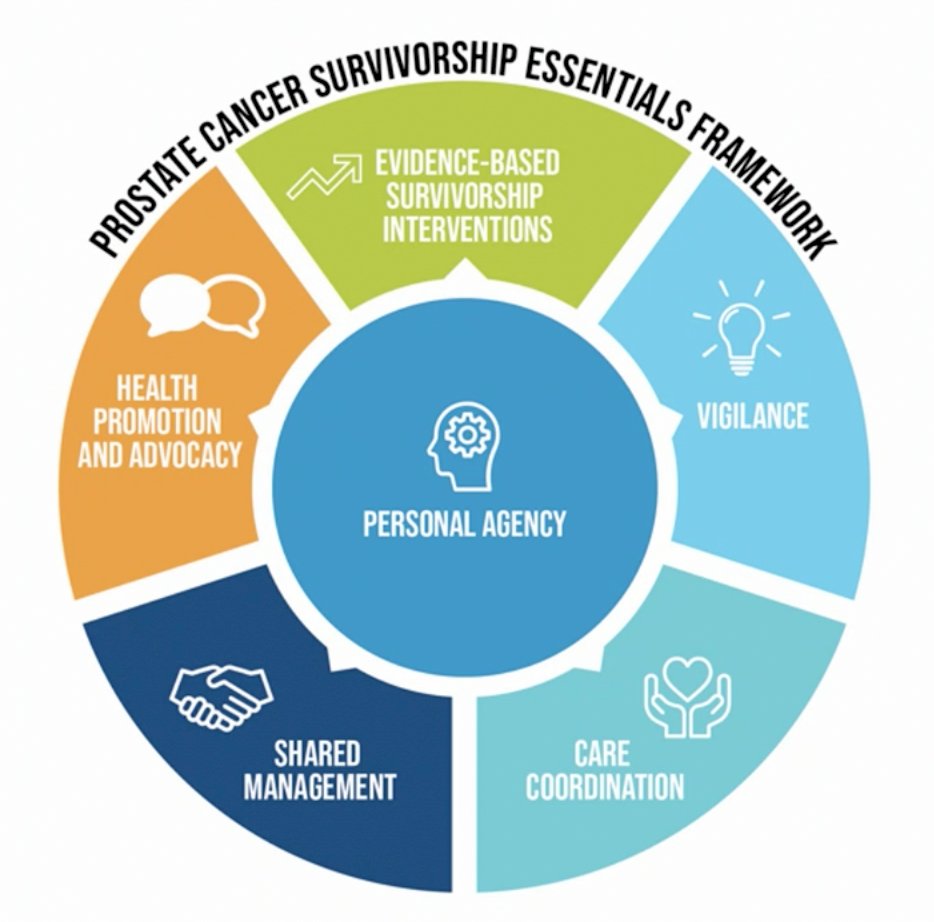 Dr. Chambers notes that the high incidence of prostate cancer, coupled with improving long-term survival, leads to a correspondingly high prevalence rate and high community disease burden. Given that many men with prostate cancer experience long-term deterioration of their mental and physical quality of life, they are overall at greater suicide risk than non-cancer peers. Thus, survivorship care for men with prostate cancer is crucial both in the short and long term.

Dr. Chambers concluded that an initiative such as the prostate cancer survivorship essentials framework is a colossal effort and would not be feasible without partners such as USANZ, ANZUP, and the European Association of Urology Nurses, amongst others.

Presented by: Professor Suzanne Chambers, University of Technology Sidney, NSW, Australia



Written by: Zachary Klaassen, MD, MSc – Urologic Oncologist, Assistant Professor of Urology, Georgia Cancer Center, Augusta University/Medical College of Georgia, @zklaassen_md on Twitter during the 2021 European Association of Urology, EAU 2021- Virtual Meeting, July 8-12, 2021.



References:
Skolarus TA, Wolf AMD, Erb NL, et al. American Cancer Society prostate cancer survivorship care guidelines.

CA Cancer J

Clin

. Jul-Aug 2014;64(4):225-249.