(UroToday.com) In this presentation, Dr. Smith presented results of the ARASENS study. ARASENS is a randomized phase 3 trial of darolutamide versus placebo in combination with docetaxel and androgen-deprivation therapy (ADT) for metastatic hormone-sensitive prostate cancer (mHSPC). Darolutamide is a highly potent androgen receptor (AR) inhibitor with low blood-brain barrier penetration and limited drug-drug interactions.
In the phase 3 placebo-controlled ARAMIS trial in patients with non-mCRPC, darolutamide improved metastasis-free survival (MFS) by approximately two years and reduced the risk of death by approximately 30%. Notably, adverse events (AEs) were similar between patients receiving darolutamide and placebo. The addition of docetaxel to ADT has been shown to prolong survival in patients with mHSPC. ARASENS was designed to evaluate the effect of darolutamide in combination with ADT and docetaxel on OS in patients with mHSPC.
ARASENS enrolled patients with mHSPC with ECOG performance status 0 or 1, and were candidates for ADT and docetaxel. Eligible participants were randomized to receive ADT and six cycles of docetaxel plus placebo or darolutamide. Patients were stratified by extent of metastatic disease and alkaline phosphatase level. The primary endpoint was overall survival (OS).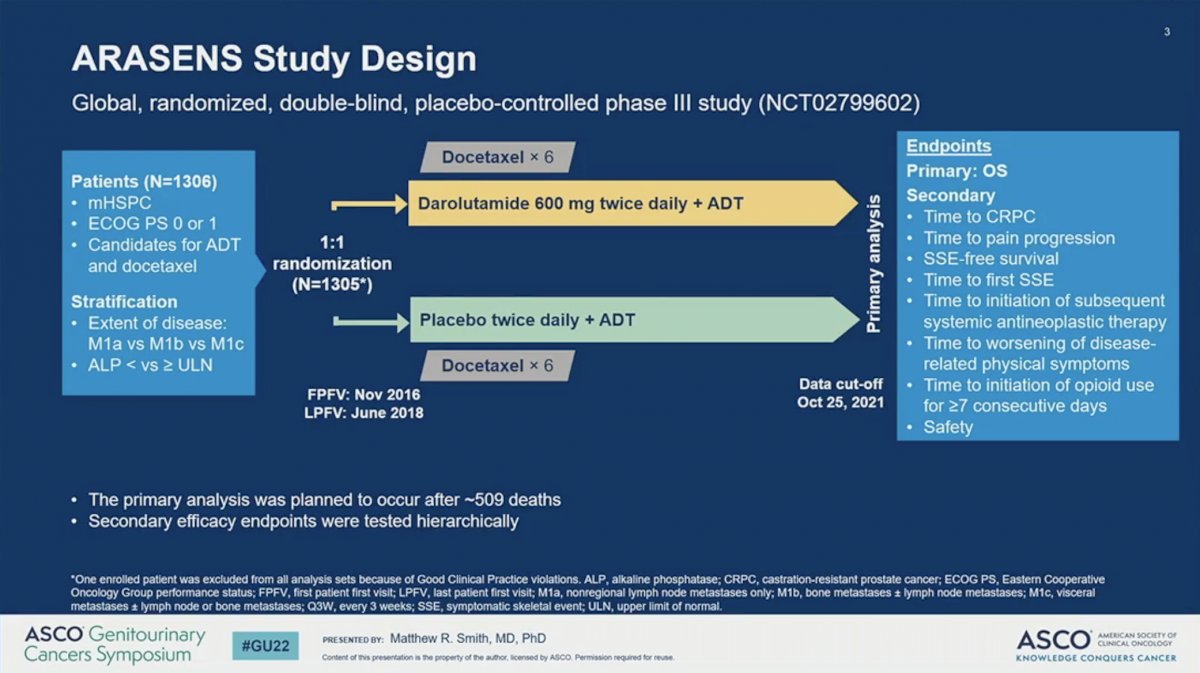 In the analytical cohort, 651 patients were randomized to receive darolutamide and 654 to receive placebo. Overall, baseline demographics and disease characteristics were well-balanced between the two arms. Notable characteristics included approximately 78% of patients on both arms with Gleason 8 or higher disease at diagnosis, approximately 86% with de novo metastatic disease, and approximately 18% with M1c (visceral metastases). Of note, the trial was designed prior to the CHAARTED study being reported, so patients were not characterized as high- and low-volume.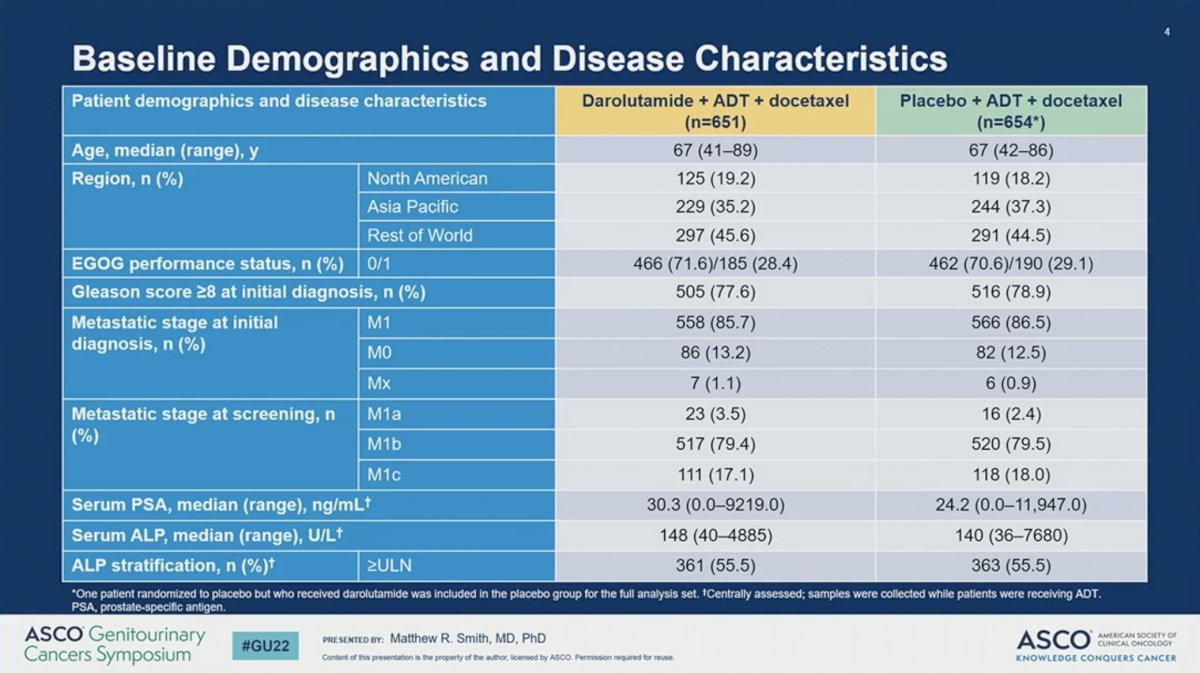 ARASENS met its primary endpoint. The addition of darolutamide to ADT plus docetaxel resulted in a 32% improvement in OS (HR = 0.68, 95% CI 0.57-0.80; P < 0.001). The median OS was 48.9 months for the placebo arm and not reached for the darolutamide arm. The improvement in OS with the addition of darolutamide to ADT plus docetaxel was despite 76% of patients on the placebo arm receiving subsequent life-prolonging therapy with most of them receiving an AR pathway inhibitor. The OS benefit was consistent across subgroups.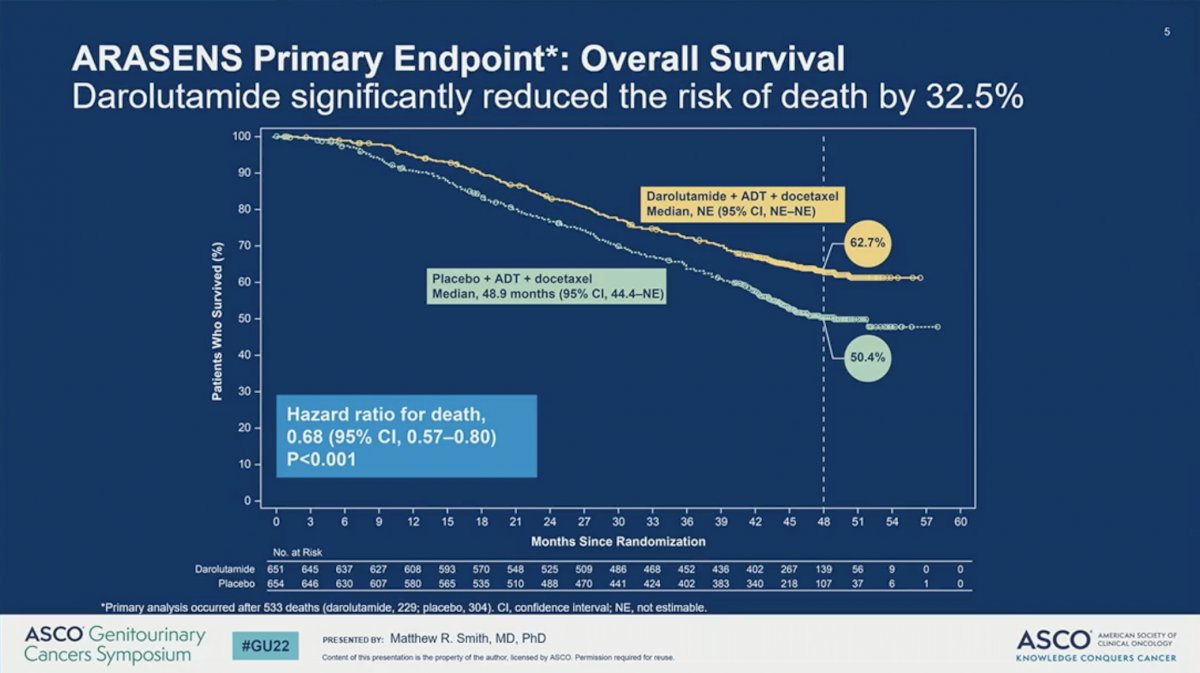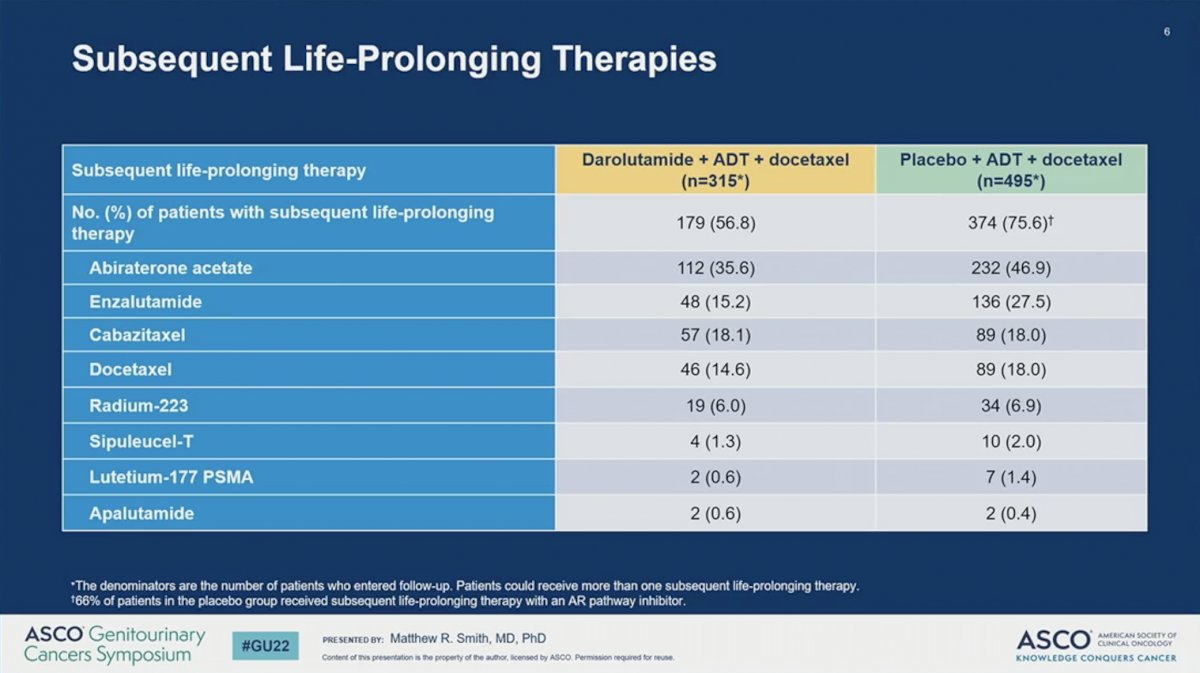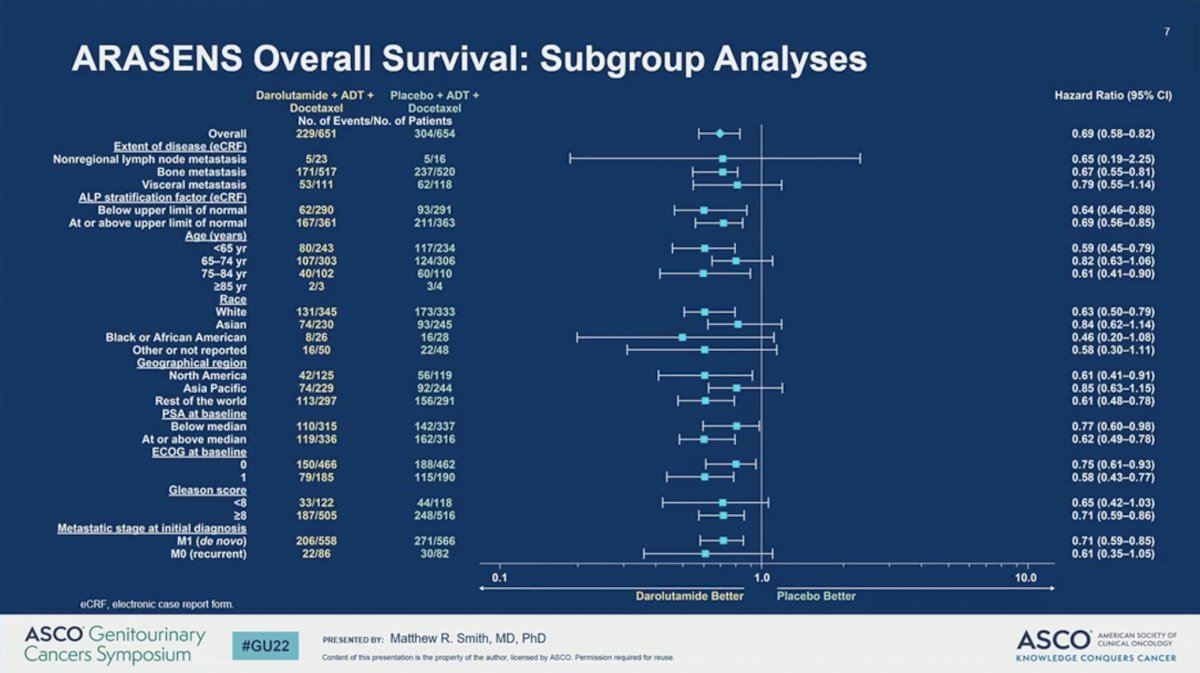 Key secondary endpoints, including time to mCRPC, time to pain progression, time to symptomatic skeletal event (SSE), and time to subsequent anti-neoplastic therapy, all favored the addition of darolutamide to ADT plus docetaxel.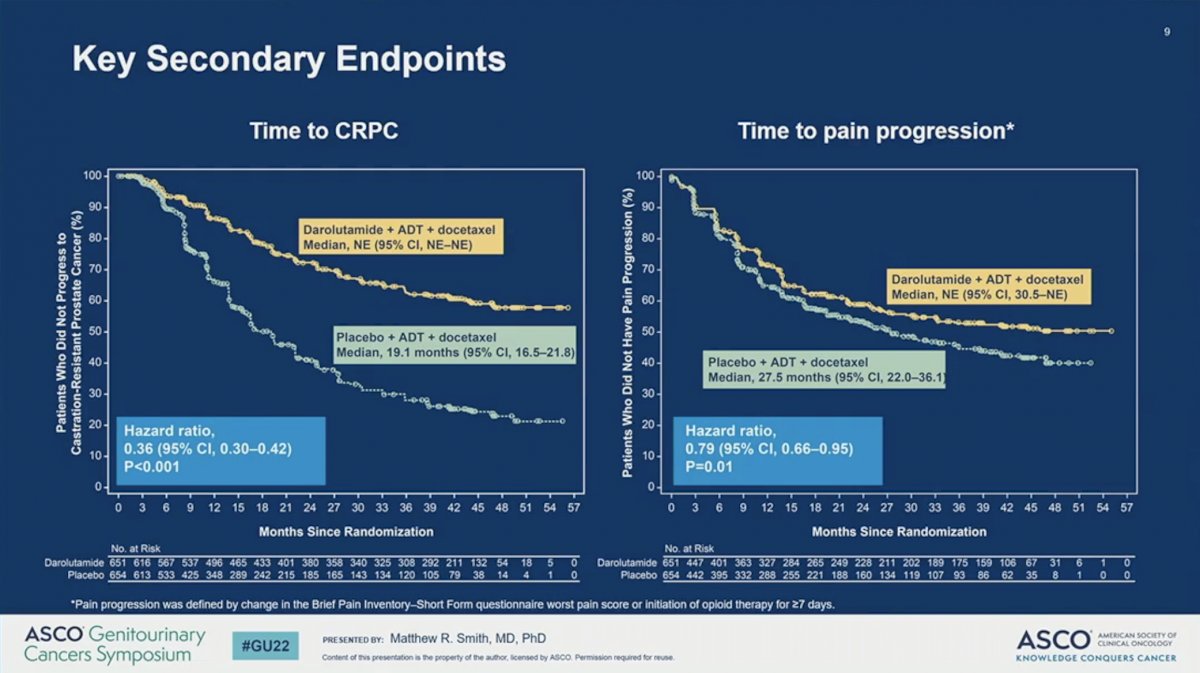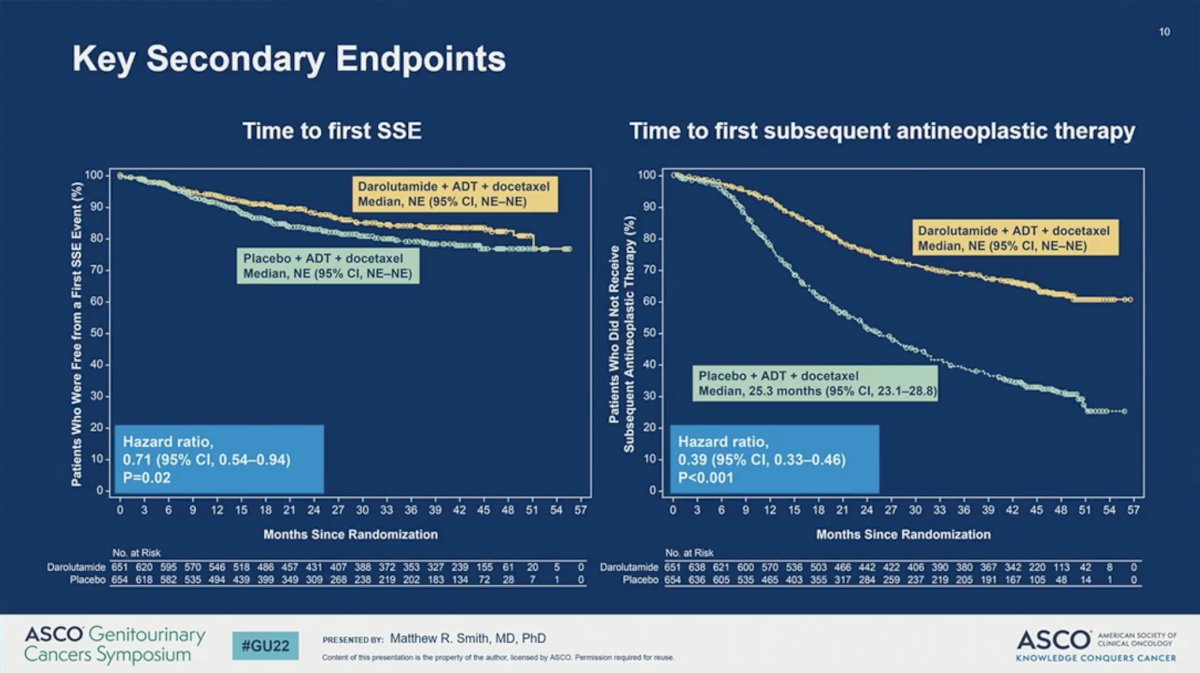 The addition of darolutamide to ADT plus docetaxel was well-tolerated. Overall, AEs and grade 3/4 AEs on the darolutamide arm were similar the placebo arm. There were no new safety signals for ADT plus docetaxel plus darolutamide.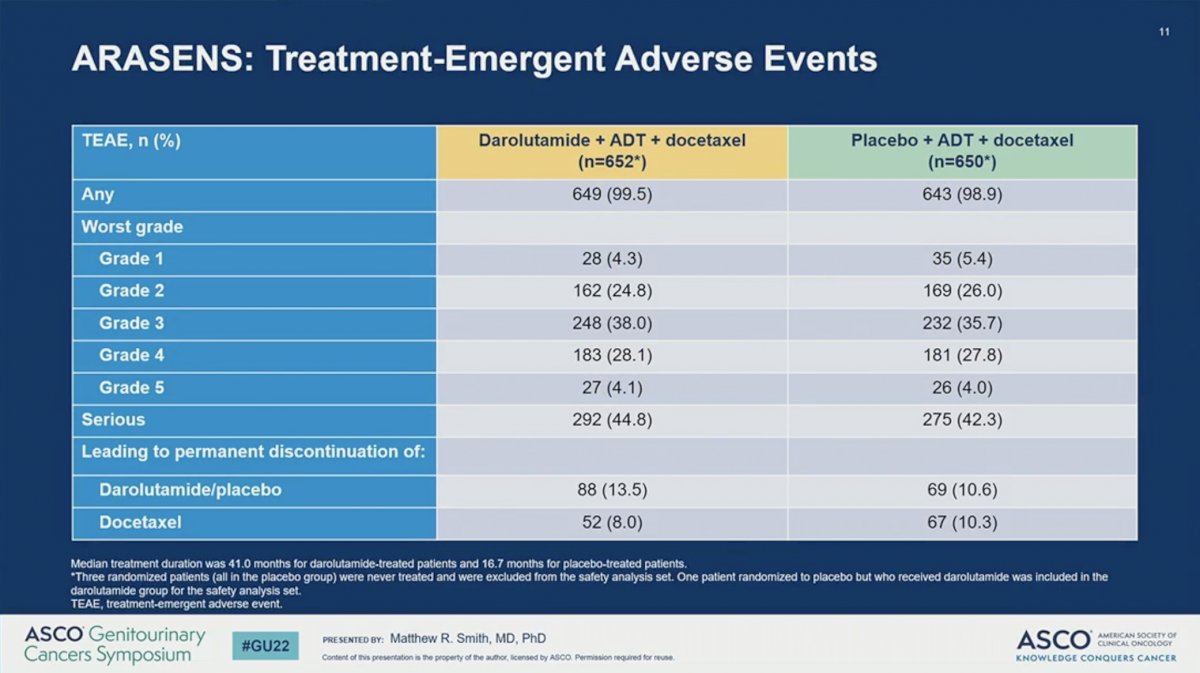 Dr. Smith concluded that darolutamide in combination with ADT and docetaxel significantly improved OS compared with ADT and docetaxel in patients with mHSPC. Darolutamide reduced the risk of death by 32% despite a high rate of subsequent life-prolonging systemic therapy in the placebo group. The OS benefit for darolutamide was consistent across pre-specified subgroups. Darolutamide also significantly improved key secondary endpoints, including time to mCRPC, time to pain progression, time to first SSE, and time to first subsequent anti-neoplastic therapy. Importantly, the addition of darolutamide to ADT plus docetaxel was well-tolerated. As such, Dr. Smith concluded that darolutamide in combination with ADT and docetaxel should become a new standard of care for treatment of mHSPC
Presented by: Matthew R. Smith, MD, PhD, is Director of the Genitourinary Oncology Program at Massachusetts General Hospital Cancer Center and an Associate Professor of Medicine at Harvard Medical School
Written by: Jacob Berchuck, MD, Genitourinary Medical Oncologist at the Dana-Farber Cancer Institute (Twitter: @jberchuck), during the 2022 American Society of Clinical Oncology Genitourinary (ASCO GU) Cancers Symposium, Thursday Feb 17 – Saturday Feb 19, 2022