(UroToday.com) Docetaxel chemotherapy is a standard of care treatment option in metastatic castration-resistant prostate cancer (mCRPC). Docetaxel intravenous infusion is associated with infusion reactions that require the administration of prophylactic steroids, which can cause undesired side effects especially in patients with baseline glucose intolerance or metabolic syndrome. ModraDoc006 is an oral tablet formulation of docetaxel that is administered with ritonavir (to inhibit P-glycoprotein and CYP3A4) to increase bioavailability. A prior phase 1b study suggested the safety and preliminary efficacy of this drug. In this abstract, Ulka Vaishampayan presents results from M18MDP, an ongoing multicenter phase 2b study evaluating the efficacy of ModraDoc006 in mCRPC patients who are suitable for taxane treatment. The study schema is shown below.


Of patients enrolled, more than half in each arm are still receiving treatment. Selected clinical characteristics are shown below.


Safety data to date for the Modra 20/20 arm show no incidence of hematologic toxicity, infections, infusion-related reactions, and peripheral neuropathy amongst 14 patients. The 30/20 arm consisting of 20 patients had a 15% incidence of peripheral neuropathy (Grade ½), 15% incidence of thrombocytopenia (Grade ½), 5% incidence of grade 3 neutropenia, 20% incidence of anemia (Grade ½), and no infusion reactions. There was significant GI toxicity with the 30/20 regiment. In contrast, IV docetaxel in 36 patients had had 14% incidence of leukopenia (3% grade 3), 28% incidence of neutropenia (22% Grade 3+), 3% incidence of grade 4 thrombocytopenia and 6% incidence of an infusion reaction. The comparative side effect profiles are illustrated below.


Preliminary efficacy data show that both IV docetaxel and the 20/20 regimen of Modra both have an impact on patient PSA levels, but rPFS data are not yet mature.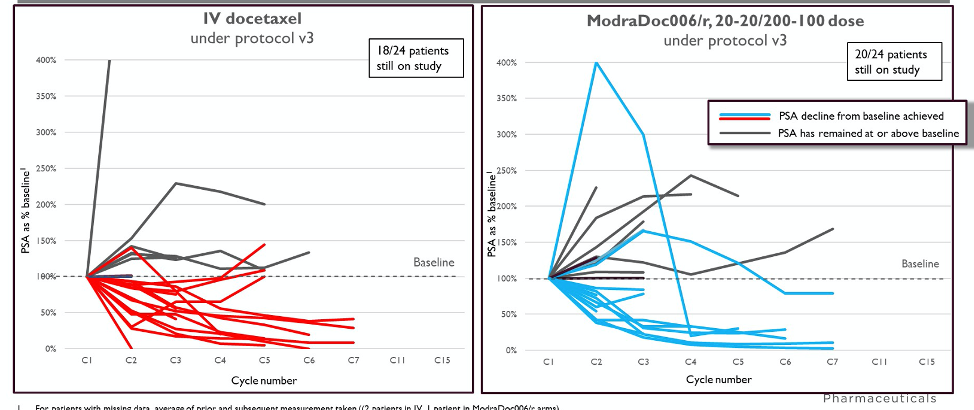 The authors of this poster conclude that ModraDoc006 with ritonavir was a convenient drug to take with oral weekly dosing, minimal hematologic and ingestion toxicity relative to IV docetaxel, but clinical efficacy data are not yet mature.
Presented by: Ulka N. Vaishampayan, MBBS, Michigan Medicine, Department of Urology, Oncology Clinic, Rogel Cancer Center.

Written by: Alok Tewari, MD, Ph.D., Medical Oncologist at the Dana-Farber Cancer Institute, at the 2021 American Society of Clinical Oncology Genitourinary Cancers Symposium (#GU21), February 11th-February 13th, 2021