San Francisco, California (UroToday.com) The second case in the challenging cases discussion was that of a 71-year-old man, a former smoker who suffers from hypertension, with moderate urinary obstructive symptoms. He was found to have a prostate-specific antigen (PSA) of 32 ng/mL, and a suspicious digital rectal examination (DRE) suggestive of clinical T3a disease. Biopsy revealed 10/12 positive cores with Gleason 4+3 = 7 pattern and a tertiary Gleason 5 pattern. Abdominal CT showed no adenopathy, but one suspicious bone lesion. That bone lesion was confirmed by 18F-PSMA-PET/CT scan. The overall diagnosis for this patient was M1b hormone-sensitive prostate cancer with a low metastatic burden.

The first question was regarding preferred systemic treatment options: (1) androgen deprivation therapy (ADT) alone, (2) ADT + docetaxel, (3) ADT + enzalutamide or apalutamide, or (4) ADT + abiraterone.

There are numerous Phase III studies supporting various therapeutic combinations in metastatic hormone-sensitive prostate cancer, summarized here.


Given these options, the discussants proposed various considerations for how to decide on treatment.




For this patient with "low volume" metastatic hormone-sensitive prostate cancer, there are multiple treatment options including ADT alone, ADT + anti-androgen, the addition of radiation therapy to the primary, and potentially docetaxel though this is under open debate in part due to differences in clinical trial patient populations.
One important point made is regarding ADT therapy alone in this patient. The panel reminded the audience of data from SWOG 9346 carried out before newer anti-androgens were available. In patients who reached a PSA > 0.2 on ADT alone by seven months of treatment, the median survival was 75 months. This is important to consider in patients whom the addition of additional agents may result in significant or intolerable side effects.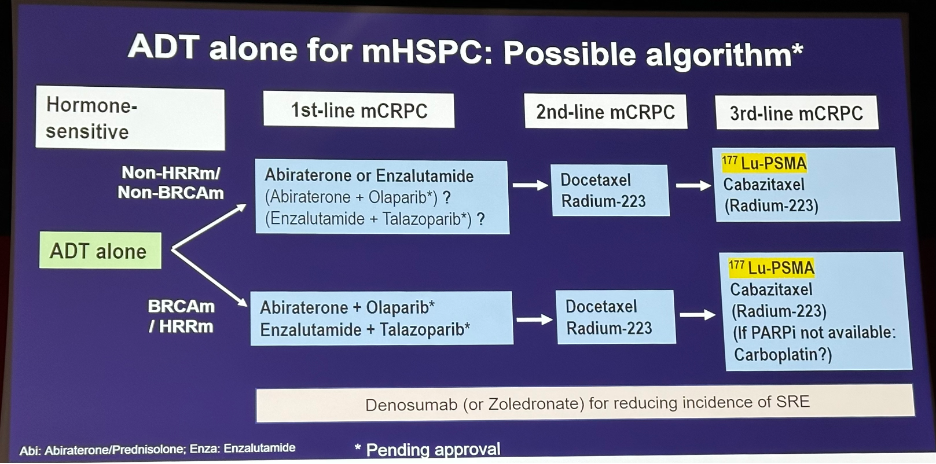 With regards to treating the primary prostatic lesion, the discussants reviewed the data from STAMPEDE1, HORRAD, and trials currently accruing patients. Another important point is that the radiation treatments vary across trials, and it may be that higher cumulative doses become the standard of care relative to the STAMPEDE regimen.




Next, the discussants posed the question of whether given the benefit of radiation therapy to the primary could be presumed as extending to cytoreductive prostatectomy. While there is an extensive rationalization of why this approach might work, it has not been shown to be beneficial in the clinical trial setting. Fortunately, there are ongoing trials focused on answering this question. In the interim, it may be reasonable as a palliative measure so long as the surgery is technically feasible.




Next, the discussants raised the question of whether the patient should receive metastasis-directed therapy to the single bone lesion detected on imaging. As discussed during Neha Vapiwala's presentation, this is a promising treatment modality that may help keep patients off of systemic therapy longer.
Finally, in the case, the patient progressed and developed disseminated metastatic disease. What would be the best next therapy? This decision in part comes down to the different side effects of the available therapies, which are detailed below.


Presented by:
Charles J. Ryan, MD—Chair: B.J. Kennedy Chair in Clinical Medical Oncology at the University of Minnesota and Director of the Division of Hematology, Oncology and Transplantation.
Markus Graefen, MD—Chair: Professor of Urology & Chairman of Martini-Klinik, Prostate Cancer Center at the University Medical Center Hamburg-Eppendorf.

Scott Eggener, MD, Professor of Surgery and Radiology, Vice-Chair of Urology, Bruce and Beth White Family Professor of Urologic Oncology, Director, University of Chicago High Risk & Advanced Prostate Cancer Clinic (UCHAP), Chicago University, Chicago, Illinois
The Urologist Perspective

Karen Elizabeth Hoffman, M.D., M.H.Sc., M.P.H.
Department of Radiation Oncology, Division of Radiation Oncology, Associate Professor, Department of Radiation Oncology, Division of Radiation Oncology, The University of Texas MD Anderson Cancer Center, Houston, TX
Radiation Oncologist
Celestia S. Higano, MD, FACP
Professor, Department of Medicine, Division of Oncology, Professor, Department of Urology, The University of Washington
Medical Oncologist
Thomas Hope, MD
Associate Professor, Radiology, School of Medicine, University of California, San Francisco
Radiologist


Written by: Alok Tewari, MD, PhD, Medical Oncology Fellow at the Dana-Farber Cancer Institute, Boston, Massachusetts at the 2020 Genitourinary Cancers Symposium, ASCO GU #GU20, February 13-15, 2020, San Francisco, California

References:

1. Parker, Christopher C., Nicholas D. James, Christopher D. Brawley, Noel W. Clarke, Alex P. Hoyle, Adnan Ali, Alastair WS Ritchie et al. "Radiotherapy to the primary tumour for newly diagnosed, metastatic prostate cancer (STAMPEDE): a randomised controlled phase 3 trial." The Lancet 392, no. 10162 (2018): 2353-2366.