(UroToday.com) The frontline standard of care for patients with metastatic renal cell carcinoma (RCC) involves either dual immune checkpoint inhibition with ipilimumab and nivolumab or a checkpoint inhibitor in combination with a tyrosine kinase inhibitor (pembrolizumab + axitinib or axitinib+ avelumab). These two treatment protocols can obtain an objective response rate between 40-60% with a CR rate of 5-10%. For patients who progress on front line immunotherapy, there is limited data on the efficacy of utilizing combination TKI/immunotherapy in the second line. This study provides data on the use of combination lenvatinib plus pembrolizumab for patients who had progressed on immune checkpoint inhibition.


The study included patients who had at least 2 doses of anti-PD1/PDL1 therapy and patients were given lenvatinib 20 mg daily with pembrolizumab 200 mg every 3 weeks. The primary objective was ORR at 24 weeks.
A total of 104 patients were enrolled and 69% of patients were still receiving treatment at the time of data cutoff. In terms of the baseline characteristics, 75% of patients had prior nephrectomy. 36% of patients had favorable-risk disease and 42% were classified as PD-L1 positive, defined as a CPS≥1.


77% of patients were men. 65% of patients had prior PD-1/VEGF combination therapy, 37% had prior ipilimumab/nivolumab, and the median prior duration of immunotherapy was 7 months, with a range of 3-13 months.


91 patients were evaluable for response. The objective response of Len/Pembro was 51%, with a median PFS of 11.7 months and median duration of response of 12 months. Only 5% of patients had progressive disease.

Almost all patients had tumor shrinkage.




The progression-free survival was 11.7 months with 45% without progression at 12 months. The overall survival was 77% at 12 months.


Patients had good objective responses regardless of priory therapy.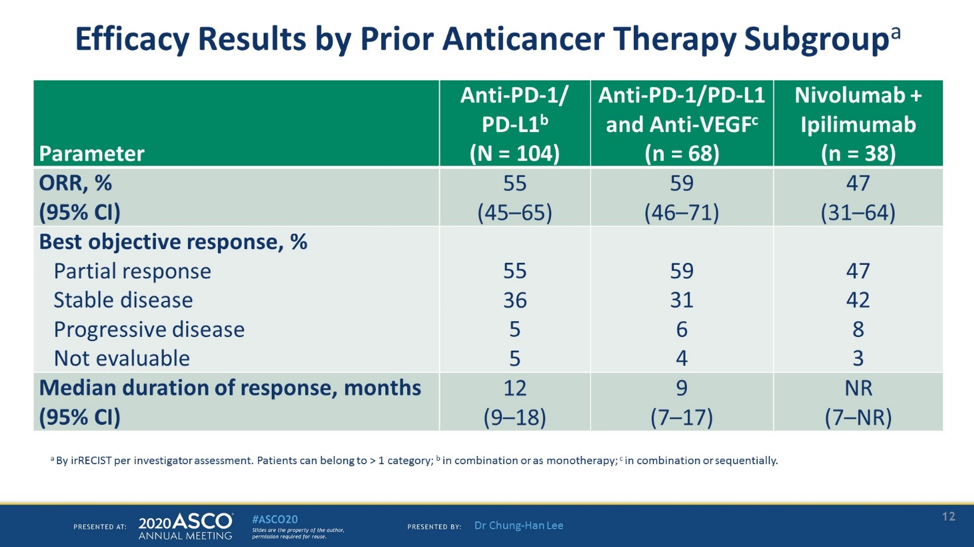 In terms of toxicities, the most common treatment-related AEs were fatigue (49%), diarrhea (44%), proteinuria (37%), hypertension (31%), nausea (31%), dysphonia (29%), stomatitis (29%), and arthralgia (27%). There was treatment-related death secondary to GI bleeding. 43% of patients required a dose reduction and 12% of patients discontinued therapy due to toxicity.


This presentation provides encouraging data on lenvatinib + pembrolizumab as a second-line option for patients with metastatic RCC who have progressed on immunotherapy. One of the inclusion criteria was that patients had two cycles of PD1/PDL1 therapy. Some tumors with aggressive biology may progress rapidly even after one cycle of checkpoint inhibition and thus this study does not likely capture those very high-risk patients. Also, the high number of patients who had prior nephrectomy in this study (75%) – this usually connotes a better risk population as they typically had to have had limited disease at some point to be a good cytoreductive nephrectomy candidate (unless they had metastatic disease develop after local treatment). Regardless, this data for combination levatinib-pembrolizumab is promising for the 1L phase III study and also supports further study in the 2L setting.

Presented by: Chung-Han Lee, MD, PhD, Medical Oncologist, Memorial Sloan Kettering Cancer Center, New York, NY
Written by: Jason Zhu, MD. Medical Oncologist, Division of Genitourinary Cancers, Levine Cancer Institute, Twitter: @TheRealJasonZhu, at the 2020 ASCO Annual Meeting, Virtual Scientific Program #ASCO20, May 29-31, 2020.

Clinical Trial Information: NCT02501096A — Multicenter, Open-Label Phase 1b/2 Trial of Lenvatinib (E7080) Plus Pembrolizumab in Subjects With Selected Solid Tumors