ORLANDO, FL USA (UroToday.com) - Dr. Malte Rieken presented predictors of cancer-specific mortality (CSM) from recurrent penile squamous cell carcinoma after primary surgical therapy. He reviewed retrospective data on 314 patients who had a recurrence over the course of 63 years. Thirty percent underwent inguinal lymphadenectomy and 41% of the patients had adjuvant radiation. Most patients with recurrence had a local recurrence, and 10% had distal metastasis.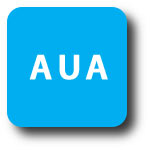 There as a 10.5 month median time to recurrence in this cohort, and on regression analysis, shorter time to recurrence, regional and distal recurrence, and nodal status were predictors of poor outcome.
Overall, this data might be used to risk stratify patients at the time of recurrence to help guide decisions regarding further therapy in the context of patient comorbidities.
Presented by Malte Rieken at the American Urological Association (AUA) Annual Meeting - May 16 - 21, 2014 - Orlando, Florida USA
New York, NY USA
Written by Phillip Abbosh, MD, PhD, medical writer for UroToday.com