ORLANDO, FL USA (UroToday.com) - In this poster, Dr. Michael Gorin presented quality of life outcomes from the Delayed Intervention and Surveillance for Small Renal Masses (DISSRM) registry. This goal of the registry is to assess the safety of active surveillance (AS) for small renal masses, 4cm or smaller, and currently includes 454 patients – 188 AS patients, 265 patients undergoing primary intervention and 21 patients crossing over from AS to intervention.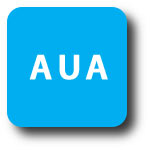 In the context of the increasing importance of patient perception of quality of life (QOL) and quality of care under the Affordable Care Act, this study aimed to evaluate the effect of active surveillance on patient QOL. The study used the SF12 questionnaire as its QOL assessment tool, which allows for separation of perception of QOL into mental and physical components. A total of 1 028 SF12 questionnaires were completed with a median follow up of 1 year.
The authors found that patients undergoing immediate intervention had higher QOL scores at baseline and up to 1 year after enrollment compared to those managed with AS. This difference was attributable to a baseline difference between the groups with regards to pre-existing co-morbidities, as patients undergoing AS had more co-morbidities at baseline, which resulted in lower QOL scores in the physical domain. There was no difference in the mental health scores for QOL between the AS and intervention groups after 6 months post-enrollment suggesting that AS does not result in significant increases in anxiety, depression, or other mental health issues. Interestingly mental health QOL scores were found to increase slightly over time in the AS group.
Presented by Michael Gorin at the American Urological Association (AUA) Annual Meeting - May 16 - 21, 2014 - Orlando, Florida USA
The James Buchanan Brady Urological Institute, Johns Hopkins Medicine, Baltimore, MD USA
Written by Timothy Ito, MD, medical writer for UroToday.com
------------------