ORLANDO, FL USA (UroToday.com) - The NCIC/SWOG/UKCCR PR7 study randomized patients with biochemical failure after radiation or surgery plus radiation and no metastases between continuous life long androgen deprivation and intermittent androgen deprivation. The trial showed no difference in overall survival or prostate cancer mortality between continuous and intermittent ADT. The authors hypothesized that in patients on continuous androgen deprivation, higher testosterone values correlate with a reduced time to development of castrate resistant PC and lower CSS. Using 626 patients in the continuous ADT arm of the PR7 trial, the relationship between testosterone and the time to androgen independent progression (PSA > 4 with testosterone < 3nm/L) was examined.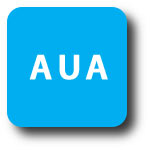 Among the 3 groups (median testosterone < 20, 20-50, and ≥ 50 ng/dl), there was a significant difference in time to hormone resistance: CRPC being not reached, 6.4 years, and 4.2 years for the 3 groups respectively. Patients with testosterone > 20ng/dL were at significantly increased risk of developing hormone resistance (HR 1.9 for T ≥ 50 ng/dL). In men with a higher median testosterone level, there was a shorter time from hormone resistance to PC death.
Dr. Klotz concluded that low nadir serum testosterone on ADT (< 0.7mMol/L or < 20ng/dL) correlates with improved duration of response to ADT in men on continuous androgen deprivation for BCR. Testosterone should be checked regularly in such patients and ADT modified to ensure levels < 0.7mMol/L or < 20ng/dL.
Presented by Laurence Klotz MD, FRCS(C) at the American Urological Association (AUA) Annual Meeting - May 16 - 21, 2014 - Orlando, Florida USA
Sunnybrook Health Sciences Centre, Toronto, ON Canada
Written by Jeffrey J. Tomaszewski, MD, medical writer for UroToday.com
.