ORLANDO, FL USA (UroToday.com) - Sipuleucel-T is a prostatic acid phosphatase-targeting immunotherapy approved for treatment of asymptomatic or minimally symptomatic, metastatic castration-resistant prostate cancer (mCRPC). Immunotherapy-induced tumor cell death may lead to release of secondary tumor antigens which can generate downstream immune responses. This "antigen spread" may contribute to tumor control and reveal post-treatment biomarkers of use in determining clinical outcomes. Dr. Simon Hall and colleagues presented data evaluating antigen spread to prostate antigens (PSA, PSMA, and hK2/KLK2) following sipuleucel-T treatment and the association of antigen spread with overall survival.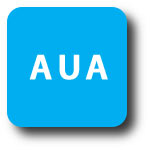 Patients from the IMPACT (n=202) and ProACT (n=33) trials were evaluated for antigen spread following sipuleucel-T treatment (based on IgG levels). In both cohorts, there was evidence of antigen spread, with elevated IgG antibodies against PSA (≥ 25%), PSMA (≥ 18%), and hK2 (≥ 33%). Following multivariable adjustment for baseline PSA, LDH, bone lesions, Gleason score, and prior bisphosphonate use, IgG response against PSA was positively correlated with improved overall survival. Median overall survival was not reached (> 33 months) in patients with IgG response to PSA compared to 22 months in patients with no antigen spread. There was no association between IgG responses to PSMA and hK2 and overall survival.
Antigen spreading appears to mediate adaption of the immune response to target multiple prostate antigens following sipuleucel-T treatment. Sipuleucel-T-induced IgG responses against PSA were predictive of overall survival and may be a potential biomarker of treatment benefit.
Presented by Simon J Hall, MD at the American Urological Association (AUA) Annual Meeting - May 16 - 21, 2014 - Orlando, Florida USA
Icahn School of Medicine at Mount Sinai, New York, NY USA
Written by Jeffrey J. Tomaszewski, MD, medical writer for UroToday.com