ORLANDO, FL USA (UroToday.com) - Multiparametic MRI (mp-MRI) provides reliable evaluation of focal areas and local staging of prostate cancer. It specifically shows extracapsular extension and seminal vesicle invasion. Francesco Porpiglia and colleagues wanted to evaluate the ability of this MRI method in identifying prostatic capsular invasion (PCI) by comparing it with histopathologic evaluation.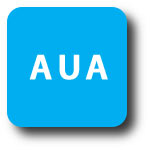 The authors included 230 patients with prostate cancer who had preoperative MRI before their radical prostatectomy. They identified the location and extent of cancer for both MRI and pathological specimens. Tumor maps were also prepared for each case.
They found that 39 tumors were pT2a-b; 120 were pT2c; 46 were pT3a and 25 were pT3b. Mp-MRI was found to correctly identify lesions in greater than 90% of cases.
The authors concluded that MRI was accurate in its assessment of prostate cancer lesion characteristics and was similar to pathologic assessment results. They suggested that mp-MRI may be a necessary piece in evaluating patients with prostate cancer. It may be necessary to validate the technique of radiology readings as many radiologists have a challenging time reading the MRIs to make classifications of invasion of prostatic capsular invasion. Authors will need to include the radiologist's method of assessing whether a particular patient's image was positive for capsular invasion as it is not clear from the abstract that was presented.
Presented by Francesco Porpiglia, MD at the American Urological Association (AUA) Annual Meeting - May 16 - 21, 2014 - Orlando, Florida USA
Orbassano, Italy
Written by Garen Abedi, MD, University of California (Irvine), and medical writer for UroToday.com